Djokovic Throwing it All Away
The Serbian superstar is sacrificing immortality to avoid vaccination.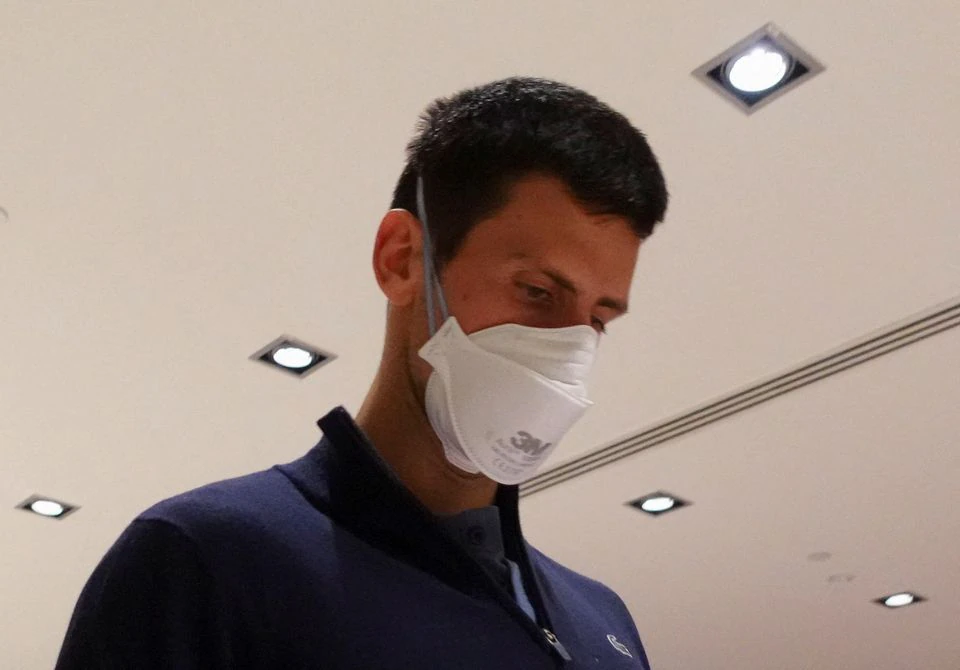 I haven't had much to say about the bizarre saga surrounding tennis great Novak Djokovic at the Australian Open. The short version is that I simultaneously agree with the decision to ban him from the tournament for failing to comply with Australian law in regards to COVID vaccination and think it rather outrageous to have allowed him to fly all the way to Australia and then not only deny him entry on a technicality but then have him dangling for days on end. It's not like his arrival or his vaccination status was a surprise. It was both unfair to him and to the other competitors in the event.
Regardless, news that he may be similarly be banned from the French Open makes this worth remarking on.
Novak Djokovic risks being frozen out of tennis as he chases a record 21st Grand Slam title, with rules on travellers who are unvaccinated against COVID-19 tightening in the third year of the pandemic and some tournaments reconsidering exemptions.

The Serbian, who has not been vaccinated, was deported from Australia on Sunday ahead of the Australian Open after losing a court case to have the cancellation of his visa overturned.

Under Australian law, Djokovic cannot get another visa for three years – denying him the chance to add to his nine titles at Melbourne Park – but the government has left the door open for a possible return next year. read more

The world number one, however, faces more immediate hurdles in his bid to overtake Swiss Roger Federer and Spaniard Rafa Nadal, with whom he is tied on 20 major titles, as he could be barred from the French Open as things stand.

The French Sports Ministry said on Monday there would be no exemption from a new vaccine pass law approved on Sunday, which requires people to have vaccination certificates to enter public places such as restaurants, cafes and cinemas.

"This will apply to everyone who is a spectator or a professional sportsperson. And this until further notice," the ministry said.

"As far as Roland Garros is concerned, it's in May. The situation may change between now and then and we hope it'll be more favourable. So we'll see but clearly there's no exemption."
So, the recap, Djokovic is tied with Federer and Nadal for most Grand Slam titles in the history of the sport. One more and he can reasonably (although certainly not undisputedly) claim the title as the greatest tennis player in history. He won three Slams, including the Australian, last year and, as the #1 seed, was the favorite to win the Australian this year. He won the French last year and would presumably be the favorite to do so this year. So, he's potentially thrown away two chances at having the record to himself and, quite possibly, the chance to make the record seemingly unreachable.
Federer is 40 years old and hasn't won a grand slam event since the 2018 Australian Open. He's been written off as done many times before and surprised folks but there's a really good chance that his career Slam total will stay at 20.
Nidal is only 35, eleven months older than Djokovic. His last title was the 2020 French Open. He's something of a clay court specialist, with that tournament accounting for 13 of his 20 Slams. He probably has another couple in him but rather obviously the path is easier with Djokovich (who himself has won at Roland Garos twice) out of the way.
All of which is to say: I can't for the life of me figure out why Djokovic is willing to throw away tens of millions of dollars and a claim to be the greatest of the great over a shot. Presumably, he could just get one jab of the Johnson and Johnson and be done with it. Or, cynically, get a Serbian doctor to fake his vaccination records.
On what possible principle would someone sacrifice so much for so little?