Obama's Citizenship and the Chain of Command
Civilian control of the military means, oddly, that civilians control the military. And it means precisely that the military does not get to decide which civilians run the country.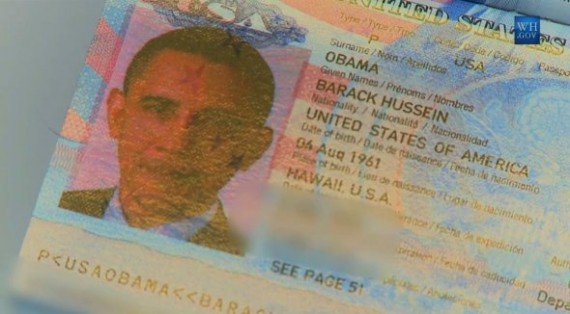 Dave Weigel reports that retired Air Force three-star Thomas McInerney, a prominent national security commentator on FOX, has signed an affidavit supporting Army LTC Terry Lakin's request demanding President Obama prove he's a citizen.
The President of the United States, as the Commander in Chief, is the source of all military authority. The Constitution requires the President to be a natural born citizen in order to be eligible to hold office. If he is ineligible under the Constitution to serve in that office that creates a break in the chain of command of such magnitude that its significance can scarcely be imagined.

As a practical example from my background I recall commanding forces that were equipped with nuclear weapons. In my command capacity I was responsible that personnel with access to these weapons had an unwavering and absolute confidence in the unified chain of command, because such confidence was absolutely essential– vital– in the event the use of those weapons was authorized. I cannot overstate how imperative it is to train such personnel to have confidence in the unified chain of command. Today, because of the widespread and legitimate concerns that the President is constitutionally ineligible to hold office, I fear what would happen should such a crisis occur today.

In refusing to obey orders because of his doubts as to their legality, LTC Lakin has acted exactly as proper training dictates. That training mandates that he determine in his own conscience that an order is legal before obeying it…Indeed, he has publicly stated that he "invites" his own court martial, and were I the Convening Authority, I would have acceded to his wishes in that regard. But thus stepping up the bar, LTC Lakin is demonstrating the courage of his convictions and his bravery. That said, it is equally essential that he be allowed access to the evidence that will prove whether he made the correct decision.

For the foregoing reasons, it is my opinion that LTC Lakin's request for discovery relating to the President's birth records in Hawaii is absolutely essential to determining not merely his guilt or innocence but to reassuring all military personnel once and for all for this President whether his service as Commander in Chief is Constitutionally proper. He is the one single person in the Chain of Command that the Constitution demands proof of natural born citizenship. This determination is fundamental to our Republic, where civilian control over the military is the rule. According to our Constitution, the Commander in Chief must now, in the face of serious– and widely held– concerns that he is ineligible, either voluntarily establish his eligibility by authorizing release of his birth records or this court must authorize their discovery. The invasion of his privacy in these records is utterly trivial compared to the issues at stake here. Our military MUST have confidence their Commander in Chief lawfully holds this office and absent which confidence grievous consequences may ensue.
Despite the assertions of some of Weigel's commentors to the contrary, McInerney is no kook.    He graduated West Point in 1959, holds a master's in international relations from Georgetown, and rose to command the 11th Air Force.  Nor is he a raving partisan.  Soon after retirement from active duty, he headed up the Pentagon's "reinventing government" initiative under Al Gore.
Now, the man's 73 years old.   But, while I can't claim to have watched him a lot lately, he always struck me as perfectly lucid when I saw him doing commentary on FOX.
But let's just say he's no Constitutional scholar.  Earlier this year, he advocated full body searches for all 18-28 Muslim men at airports and said that the only reason we're not doing so is political correctness.   The 4th Amendment, apparently, is less important to him that an obscure passage relating to concerns at the time of the Founding.
There is zero reason to doubt that Barack Hussein Obama was born in Hawaii subsequent to its admission to the Union as a state and thus a natural born citizen of the Republic.   Zero.   The fact that a significant number of people nonetheless harbor doubts doesn't change that.
Regardless, however, Lakin simply doesn't have the standing to sue here.   The determination as to whether Obama was eligible to serve was made by the Electoral College, whose members voted to make him president, and subsequently ratified by the Congress, which counted the votes and seated him without objection.  These actions render questions about the chain of command moot.    Obama is the 44th President of the United States and, consequently, commander-in-chief of the armed forces.
Granting mere lieutenants colonel the right to challenge the authority of the president is madness.   Surely, there were "widespread and legitimate concerns" as to whether Al Gore received more votes than George W. Bush in Florida during the 2000 election.   Once the Supreme Court ended the recount process and the Electoral College and Congress ratified Bush as president, however, the matter was settled.
Similarly, there were surely "widespread and legitimate concerns" during the impeachment proceedings against Bill Clinton that he had committed crimes and should be removed from office.   Once the Senate voted on the matter, however, the matter was closed for purposes of establishing whether Clinton was entitled to command the armed forces.
Any officer refusing to obey Clinton's or Bush's orders on account of qualms about the legitimacy of their holding office would rightly have taken the same trip to Fort Leavenworth that Lakin is scheduled to take.   Civilian control of the military means, oddly, that civilians control the military.   And it means precisely that the military does not get to decide which civilians run the country.  This simply could not be more clear.