Obama's Gun Plan Uses Sandy Hook, Wouldn't Have Prevented It
President Obama has unveiled a set of restrictions that wouldn't have stopped the Sandy Hook Massacre. Some are nonetheless be good policy.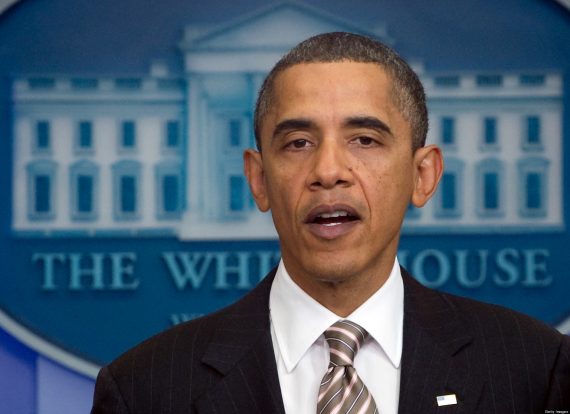 In the wake of the Sandy Hook massacre, President Obama has unveiled a set of restrictions that wouldn't have stopped the Sandy Hook Massacre. Some are nonetheless be good policy.
NYT ("Obama Unveils Proposals for Toughening Laws on Guns"):
President Obama called upon Congress on Wednesday to toughen America's gun laws to confront mass shootings and everyday gun violence, betting that public opinion has shifted enough to support the broadest push for gun control in a generation.

At a White House event at noon, Mr. Obama announced plans to introduce legislation by next week that includes a ban on assault weapons, limits on high-capacity magazines, expanded background checks for gun purchases and new gun trafficking laws to crack down on the spread of weapons across the country.

He also promised to act without Congressional approval to increase the enforcement of existing gun laws and improve the flow of information among federal agencies to keep guns out of the hands of criminals and others who shouldn't have them.

[…]

The officials said the president will call for a new and tougher ban on military style assault weapons and to limit the number of rounds that can be in a magazine to 10. That would eliminate the 30-round magazines that were used in Newtown as well as other mass shootings at Virginia Tech, a movie theater in Aurora, Colo., and a congresswoman's public event in Tucson, Ariz.

The proposals also would require criminal background checks for all gun sales, closing the longstanding loophole that allows gun buyers to avoid such checks by purchasing their weapons at gun shows or from a private seller. The background database, in place since 1996, has stopped 1.5 million sales to felons, fugitives, convicted domestic abusers and others, but today nearly 40 percent of all gun sales are exempt from the system.

In a document and in a conference call with reporters, administration officials called the enhanced background check requirements the single most important thing that could be done to prevent gun violence and mass shootings. The only exceptions would be transfers between family members and certain "temporary transfers" for hunting and sporting purposes.

The administration also said it will strengthen the background check system by addressing legal barriers that keep some mental health records out of the database, improve incentives for states to share records and direct law enforcement agencies to crack down on those who evade the background check system.

Mr. Obama called on Congress to ban the possession or transfer of armor-piercing bullets. He urged lawmakers to crack down on "straw purchasers" who can pass background checks and then pass along guns to criminals or others forbidden from purchasing them.
I'm a gun owner and supporter of gun rights. I've never encountered a rational argument against requiring those who wish to purchase a gun to pass a speedy background check to make sure they're not criminals or crazy. So long as the check isn't tantamount to a poll tax—onerously expensive or otherwise intended to deny decent citizens their Constitutional rights—I support it.
And, obviously, if we have a system of background checks, it would be odd, indeed, not to make it illegal to commit fraud  in its circumvention.
Similarly, banning armor-piercing bullets is a no-brainer. Hell, I thought we'd done that decades ago.
I'm less enthusiastic about the ban on assault weapons and larger magazines. On the one hand, there's no real "need" for ordinary people to have these things. But we allow people to have all manner of dangerous toys for which they have no need (jet skis, private planes, and the like) and a lot of them get killed as a result. They even kill other people with them through reckless use. The burden of proof, then, is on those who wish to ban these items to demonstrate that they're so inherently dangerous to others that they can't be allowed in private hands. And, if that's the case, then their possession–not merely their sale–would seem merited. After all, there's a ton of AR-15 variant rifles already out there and large magazines are a dime a dozen.
The Sandy Hook killer had no criminal record prior to that horrible morning. And he didn't buy his own guns and ammo, anyway; he used his mother's. If his mother would have passed a criminal background check, he would have been able to access any guns she left unlocked in the house, anyway. And, if she had bought the guns and magazines before they were banned, he'd have had access to them.
For that matter, while the killer uses 30-round magazines, he reportedly used several of them. Which means he changed magazines repeatedly. While having to do that presumably makes a mass shooting ever-so-slightly more difficult, the fact of the matter is that it takes a fraction of a second to accomplish and that frightened, unarmed victims—especially if they're 6 year-old children—are unlikely to have the instinct to take advantage of the interval.  Ditto the Glock and Sig Sauer pistols; the difference between the 15- and 20-round magazines with which they come standard and a 10-round magazine is largely academic.
So, the bottom line is that, while the Sandy Hook shooting was both the impetus for this push and may indeed fuel public sentiment in passing some perfectly sensible laws, the net result likely won't be fewer Sandy Hooks. If we avoid more ordinary murders—and suicides—it would nonetheless be a good outcome.
UPDATE: Ben Domenech points to an article at something called ExtremeTech from yesterday: "3D-printed 30-round AR magazine brings us ever closer to a fully 3D-printed gun." While I think it'll be awhile before 3D printing becomes cheap enough for normal people to do at home, it's definitely going to be increasingly hard to police this sort of thing.