Oklahoma Protesters Greet President Obama With Confederate Flags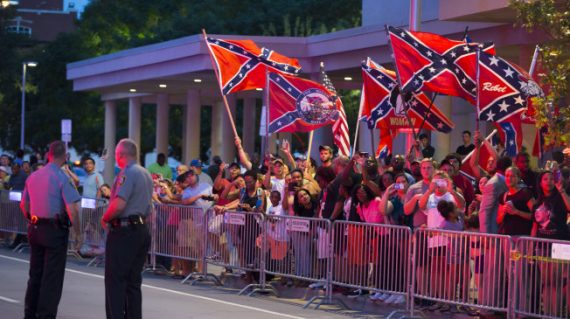 Protesters waving Confederate flags greeted President Obama when he arrived in Oklahoma last night:
Supporters of the Confederate flag rallied Wednesday in Oklahoma as President Barack Obama arrived in the state for a series of events, including the first ever visit to a federal prison by a sitting President.

About 10 people waving Confederate battle flags were among the crowd that gathered Wednesday night outside the Oklahoma City hotel where Obama was expected to stay, according to a White House pool report. One person waved an American flag and another held up a pro-Obama sign, the report noted.

Protesters also gathered earlier in the day near Durant, Oklahoma before Obama arrived at a local high school to deliver remarks on a program expanding high-speed Internet access, according to local TV station KFOR.

"We're not gonna stand down from our heritage. You know, this flag's not racist. And I know a lot of people think it is, but it's really not," one protester who said he drove up from Texas, Trey Johnson, told the news station. "It's just a southern thing, that's it."
Yea sure, it's all about heritage.
Oklahoma, of course, was not even a member of the Confederacy during the Civil War and in fact wasn't even a state at the time, when it was known as "Indian Territory." However, Native Americans were recruited by both sides to serve in the war, and there were a number of minor battles in the territory although that essentially ended just a few months after the fall of the Confederate fort at Vicksburg, Mississippi, which essentially cut Texas and the rest of the Confederacy off from what was going on in the east. Given all that, I'm not even sure what "heritage" these Oklahomans are talking about, especially since many of their ancestors likely didn't even arrive in the state until after the Civil War.