Only Obama Can Go To Morehouse
President Obama delivered another powerful speech on race.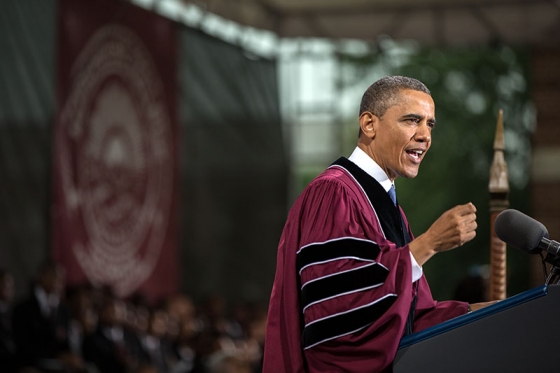 In a powerful speech at Morehouse College, President Obama challenged the Class of 2013 to be better men.
After warming up a crowd that didn't need it with some humor, the president turned serious. He reminded the graduates of their lineage:
Benjamin Mays, who served as the president of Morehouse for almost 30 years, understood that tradition better than anybody.  He said — and I quote — "It will not be sufficient for Morehouse College, for any college, for that matter, to produce clever graduates… but rather honest men, men who can be trusted in public and private life — men who are sensitive to the wrongs, the sufferings, and the injustices of society and who are willing to accept responsibility for correcting [those] ills."

It was that mission — not just to educate men, but to cultivate good men, strong men, upright men — that brought community leaders together just two years after the end of the Civil War.  They assembled a list of 37 men, free blacks and freed slaves, who would make up the first prospective class of what later became Morehouse College.  Most of those first students had a desire to become teachers and preachers — to better themselves so they could help others do the same.

[…]

Dr. King was just 15 years old when he enrolled here at Morehouse.  He was an unknown, undersized, unassuming young freshman who lived at home with his parents.  And I think it's fair to say he wasn't the coolest kid on campus — for the suits he wore, his classmates called him "Tweed."  But his education at Morehouse helped to forge the intellect, the discipline, the compassion, the soul force that would transform America.  It was here that he was introduced to the writings of Gandhi and Thoreau, and the theory of civil disobedience.  It was here that professors encouraged him to look past the world as it was and fight for the world as it should be.  And it was here, at Morehouse, as Dr. King later wrote, where "I realized that nobody…was afraid."
And how far we've come:
Now, think about it.  For black men in the '40s and the '50s, the threat of violence, the constant humiliations, large and small, the uncertainty that you could support a family, the gnawing doubts born of the Jim Crow culture that told you every day that somehow you were inferior, the temptation to shrink from the world, to accept your place, to avoid risks, to be afraid — that temptation was necessarily strong.

And yet, here, under the tutelage of men like Dr. Mays, young Martin learned to be unafraid.  And he, in turn, taught others to be unafraid.  And over time, he taught a nation to be unafraid.  And over the last 50 years, thanks to the moral force of Dr. King and a Moses generation that overcame their fear and their cynicism and their despair, barriers have come tumbling down, and new doors of opportunity have swung open, and laws and hearts and minds have been changed to the point where someone who looks just like you can somehow come to serve as President of these United States of America.
And how far we've still got to go:
But that doesn't mean we don't have work — because if we're honest with ourselves, we know that too few of our brothers have the opportunities that you've had here at Morehouse.  In troubled neighborhoods all across this country — many of them heavily African American — too few of our citizens have role models to guide them.  Communities just a couple miles from my house in Chicago, communities just a couple miles from here — they're places where jobs are still too scarce and wages are still too low; where schools are underfunded and violence is pervasive; where too many of our men spend their youth not behind a desk in a classroom, but hanging out on the streets or brooding behind a jail cell.
He then challenged the graduates:
But along with collective responsibilities, we have individual responsibilities.  There are some things, as black men, we can only do for ourselves.  There are some things, as Morehouse Men, that you are obliged to do for those still left behind.  As Morehouse Men, you now wield something even more powerful than the diploma you're about to collect — and that's the power of your example.

So what I ask of you today is the same thing I ask of every graduating class I address:  Use that power for something larger than yourself.  Live up to President Mays's challenge.  Be "sensitive to the wrongs, the sufferings, and the injustices of society."  And be "willing to accept responsibility for correcting [those] ills."

I know that some of you came to Morehouse from communities where life was about keeping your head down and looking out for yourself.  Maybe you feel like you escaped, and now you can take your degree and get that fancy job and the nice house and the nice car — and never look back.  And don't get me wrong — with all those student loans you've had to take out, I know you've got to earn some money.   With doors open to you that your parents and grandparents could not even imagine, no one expects you to take a vow of poverty.  But I will say it betrays a poverty of ambition if all you think about is what goods you can buy instead of what good you can do.

So, yes, go get that law degree.  But if you do, ask yourself if the only option is to defend the rich and the powerful, or if you can also find some time to defend the powerless.  Sure, go get your MBA, or start that business.  We need black businesses out there.  But ask yourselves what broader purpose your business might serve, in putting people to work, or transforming a neighborhood.  The most successful CEOs I know didn't start out intent just on making money — rather, they had a vision of how their product or service would change things, and the money followed.

Some of you may be headed to medical school to become doctors.  But make sure you heal folks in underserved communities who really need it, too.  For generations, certain groups in this country — especially African Americans — have been desperate in need of access to quality, affordable health care.  And as a society, we're finally beginning to change that.  Those of you who are under the age of 26 already have the option to stay on your parent's health care plan.  But all of you are heading into an economy where many young people expect not only to have multiple jobs, but multiple careers.
He went further, into territory none of his predecessors could have trod comfortably:
Just as Morehouse has taught you to expect more of yourselves, inspire those who look up to you to expect more of themselves.  We know that too many young men in our community continue to make bad choices.  And I have to say, growing up, I made quite a few myself.  Sometimes I wrote off my own failings as just another example of the world trying to keep a black man down.  I had a tendency sometimes to make excuses for me not doing the right thing.  But one of the things that all of you have learned over the last four years is there's no longer any room for excuses.

I understand there's a common fraternity creed here at Morehouse: "Excuses are tools of the incompetent used to build bridges to nowhere and monuments of nothingness."  Well, we've got no time for excuses.  Not because the bitter legacy of slavery and segregation have vanished entirely; they have not.  Not because racism and discrimination no longer exist; we know those are still out there.  It's just that in today's hyperconnected, hypercompetitive world, with millions of young people from China and India and Brazil — many of whom started with a whole lot less than all of you did — all of them entering the global workforce alongside you, nobody is going to give you anything that you have not earned.

Nobody cares how tough your upbringing was.  Nobody cares if you suffered some discrimination.  And moreover, you have to remember that whatever you've gone through, it pales in comparison to the hardships previous generations endured — and they overcame them.  And if they overcame them, you can overcome them, too.
He got personal:
Keep setting an example for what it means to be a man. Be the best husband to your wife, or you're your boyfriend, or your partner.  Be the best father you can be to your children.  Because nothing is more important.

I was raised by a heroic single mom, wonderful grandparents — made incredible sacrifices for me.  And I know there are moms and grandparents here today who did the same thing for all of you.  But I sure wish I had had a father who was not only present, but involved.  Didn't know my dad.  And so my whole life, I've tried to be for Michelle and my girls what my father was not for my mother and me.  I want to break that cycle where a father is not at home — where a father is not helping to raise that son or daughter.  I want to be a better father, a better husband, a better man.

It's hard work that demands your constant attention and frequent sacrifice.  And I promise you, Michelle will tell you I'm not perfect.  She's got a long list of my imperfections.   Even now, I'm still practicing, I'm still learning, still getting corrected in terms of how to be a fine husband and a good father.  But I will tell you this:  Everything else is unfulfilled if we fail at family, if we fail at that responsibility.

I know that when I am on my deathbed someday, I will not be thinking about any particular legislation I passed; I will not be thinking about a policy I promoted; I will not be thinking about the speech I gave, I will not be thinking the Nobel Prize I received.  I will be thinking about that walk I took with my daughters.  I'll be thinking about a lazy afternoon with my wife. I'll be thinking about sitting around the dinner table and seeing them happy and healthy and knowing that they were loved.  And I'll be thinking about whether I did right by all of them.

So be a good role model, set a good example for that young brother coming up.  If you know somebody who's not on point, go back and bring that brother along — those who've been left behind, who haven't had the same opportunities we have — they need to hear from you.  You've got to be engaged on the barbershops, on the basketball court, at church, spend time and energy and presence to give people opportunities and a chance.  Pull them up, expose them, support their dreams.  Don't put them down.
And this:
As Morehouse Men, many of you know what it's like to be an outsider; know what it's like to be marginalized; know what it's like to feel the sting of discrimination.  And that's an experience that a lot of Americans share.  Hispanic Americans know that feeling when somebody asks them where they come from or tell them to go back.  Gay and lesbian Americans feel it when a stranger passes judgment on their parenting skills or the love that they share.  Muslim Americans feel it when they're stared at with suspicion because of their faith.  Any woman who knows the injustice of earning less pay for doing the same work — she knows what it's like to be on the outside looking in.

So your experiences give you special insight that today's leaders need.  If you tap into that experience, it should endow you with empathy — the understanding of what it's like to walk in somebody else's shoes, to see through their eyes, to know what it's like when you're not born on 3rd base, thinking you hit a triple.  It should give you the ability to connect.  It should give you a sense of compassion and what it means to overcome barriers.
Finally:
That's what we've come to expect from you, Morehouse — a legacy of leaders — not just in our black community, but for the entire American community.  To recognize the burdens you carry with you, but to resist the temptation to use them as excuses.  To transform the way we think about manhood, and set higher standards for ourselves and for others.  To be successful, but also to understand that each of us has responsibilities not just to ourselves, but to one another and to future generations.  Men who refuse to be afraid.  Men who refuse to be afraid.
Morehouse isn't an ordinary college; it's one with a mission. So these men have heard these ideas many times over the last four years. I suspect they'll be more meaningful coming from the first black president. And, frankly, while they've been called "Morehouse men" for the last four years, most of them are just now coming into manhood.