Overturning Executive Orders Not as Easy as it Looks
Kevin Drum makes an important point.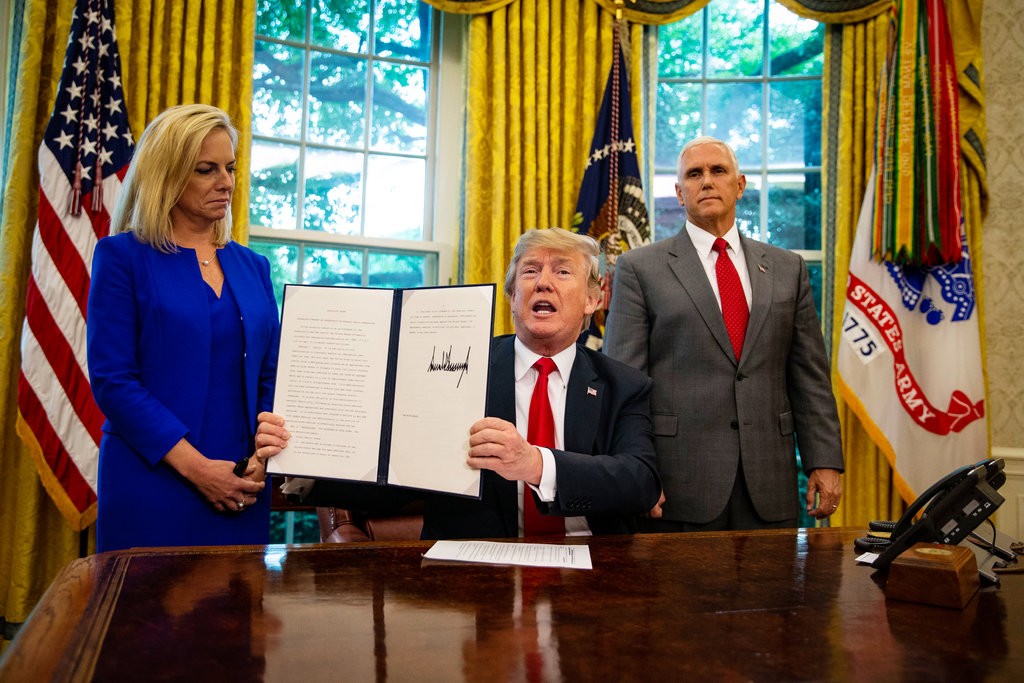 Kevin Drum uses a story from a few days back ("DACA Gets Big Win in Court From Judge Who Thinks It's Illegal")
Just before the beginning of Labor Day weekend on Friday night, a federal judge wrote that the Deferred Action for Childhood Arrivals program was illegal, and would likely fail to pass constitutional muster in the future. And yet, he ruled that it could continue for the time being.

Andrew S. Hanen of the Federal District Court in Texas said that President Obama exceeded his constitutional authority in 2012 when he created DACA, which protects undocumented immigrants brought to the U.S. by their parents from deportation. But, Hanen reasoned, ending the initiative abruptly after six years would create an unreasonable and unhelpful level of chaos. He compared the act of doing so to unscrambling an egg.

"Here, the egg has been scrambled," Hanen wrote. "To try to put it back in the shell with only a preliminary injunction record, and perhaps at great risk to many, does not make sense nor serve the best interests of this country."
to make an important point:
I only have one purpose here: to demonstrate the difficulty of repealing executive orders put in place by a previous administration. It is very much not just a "stroke of a pen" that's required, but a lot of people don't seem to get this.

There are basically two ways that an executive order can take root: time and time. In the first case, it's the time taken to produce a detailed plan supported by scientific judgment and public hearings. Once that's done and an EO is finalized, it can't simply be tossed in the ash can on a presidential whim. That's typically considered "arbitrary and capricious" and courts won't allow it.

In the second case, if an EO has been around for a while, judges will rule the same way Andrew Hanen did. He was skeptical of DACA, but after six years the public has a right to expect that it's the current law of the land unless it goes through a thorough review by the courts. Until then, the president can't just ask for a preliminary injunction and then sit back and watch the chaos unfold.
I must confess that, even though I had quite a number of Constitutional Law, Administrative Law, and like courses in my undergraduate and masters work in political science, I didn't fully appreciate this until the current administration. I'd always understood it as a quasi-legislative power held in the hands of the Chief Executive to use pretty much as he saw fit. That it seemed that way belied an underlying fact:
Generally speaking, it takes a lot of effort to get an executive order fully established: it requires real work, real policymaking, and real public consultation. Once it's in place—especially after it's been in place for a few years—it's considered well grounded and justified, and can't be arbitrarily repealed by a new president who happens not to like it. If you want to repeal it, you have to go through the same process of policymaking and public consultation to demonstrate that the original process got something wrong. That takes a while.

Oh, and generally speaking, the policymaking has to be real, not made-up. That is, you have to do real research and real cost-benefit analysis and real science. Some presidents are better at that than others.
While I disagree with President Trump on many of the policies of President Obama's that he wants to overturn, I'm generally of the Live By the Sword, Die By the Sword school. That is, if you put your policies into place by executive fiat rather than the hard work of compromise necessary to pass it into law*, you shouldn't be surprised to see them overturned by the next administration. Alas, if the administration is lazy and incompetent, it's not so easy.
Beyond the practicalities cited by Drum and Hanen, there's also the Administrative Procedures Act, signed into law way back in 1946. Essentially, Congress conceded the fact that the Executive Branch had taken over many of the enumerated powers of the Legislative Branch out of sheer practical necessity so put into place a process to ensure legislative oversight. While presidents can in fact do issue a substantial amount of direction to the agencies under their command, they're limited in their ability to make major swings in well-thought-out regulations.
__________________
*Yes, I'm fully aware that Obama faced an obstreperous Republican Congress for most of his administration. Them's the breaks.