Oxford Drops Oxford Comma
Oxford University has dropped the Oxford comma! A dark day for humanity.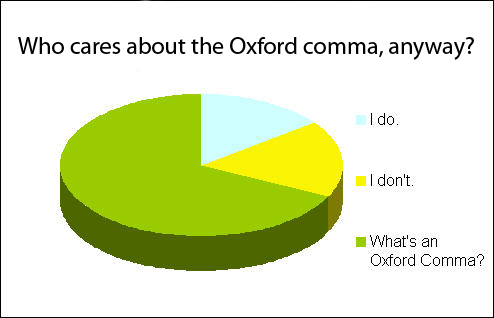 Oxford University has dropped the Oxford comma!
In its "branding toolkit," it offers the following advice:
As a general rule, do not use the serial/Oxford comma: so write 'a, b and c' not 'a, b, and c'. But when a comma would assist in the meaning of the sentence or helps to resolve ambiguity, it can be used – especially where one of the items in the list is already joined by 'and':

They had a choice between croissants, bacon and eggs, and muesli.
GalleyCat's Jason Boog notes, though, that the Oxford University Press, which is commercially and editorially autonomous, has not made the switch.
This is a distressing trend. While omitting the trailing comma in a series often doesn't change the meaning, it sometimes does with hilarious results. We would avoid these gaffes by routinely using the Oxford comma, rather than hoping people remember to add them in when ambiguity would be created.
via Brian Fung