Self-Driving Uber Kills Pedestrian
We don't yet have enough information to assign blame here. Naturally, that's not stopping anyone.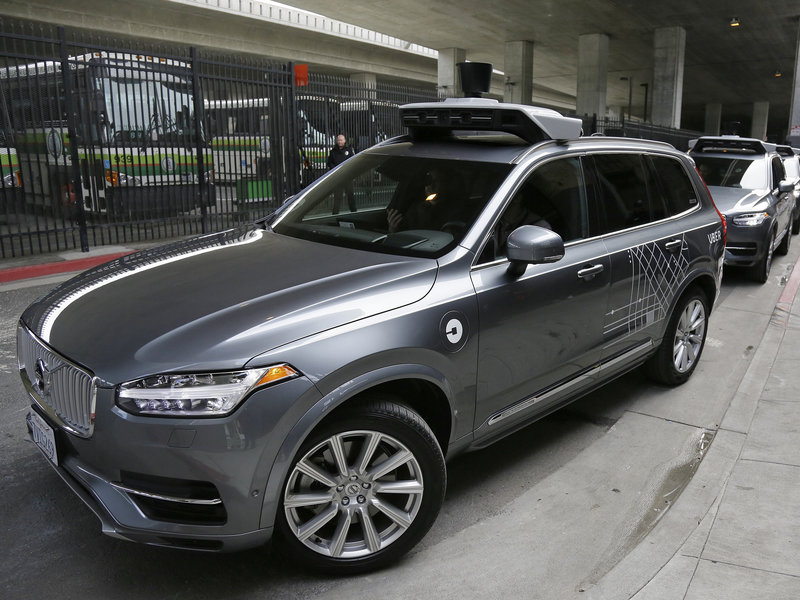 FT ("Self-driving cars under scrutiny after pedestrian death"):
Car accidents kill more than 1m people every year around the world. In the US, one person dies for about every 100m miles driven and on any given day, an average of 16 pedestrians die on American roads.

Proponents of self-driving cars point to these figures as a justification for their multibillion-dollar efforts to replace flawed and easily distracted human drivers with fully automated computer systems. Yet even the most confident of engineers would have been forced to admit that one day a robot car would probably end up killing a person.

That day arrived much sooner than the automotive and technology industries reckoned. On Sunday night, an Uber test vehicle with a human behind the wheel but under the control of its autonomous systems, killed a pedestrian as she was crossing the road in Tempe, Arizona.

Few of the dozens of tech companies, carmakers and start-ups working on autonomous systems have commented publicly since the incident but many privately worry that the first pedestrian death caused by a self-driving car will undermine — at least in the court of public opinion — their efforts to build what they see as a safer alternative.

"Thanks Silicon Valley, you just set us back at least a decade," fumed one entrepreneur working in the sector.

Uber has said its self-driving vehicles have together driven more than 3m autonomous miles to date. Since the start of its first passenger-carrying pilot programme in Pittsburgh in September 2016, Uber has expanded its North American fleet to more than 200 vehicles equipped with an extensive array of cameras, sensors, mapping equipment and navigation systems.

Others have gone further. Alphabet-owned Waymo recently surpassed 5m autonomous road miles, with millions more in computer simulations. Nonetheless, the industry's accumulated real-world experience falls far short of 100m miles — a symbolic milestone many developers of self-driving cars were quietly hoping would have been reached before any fatalities.

"The fact that this has happened well in advance of 100m miles does not tell us anything statistically," said Bryant Walker Smith, assistant professor at the University of South Carolina's law school and a legal expert on autonomous vehicles. "But it is early, particularly in light of everything that these systems already have going for them."

Unlike most regular cars, autonomous vehicles are well maintained and closely supervised by their operators, he said. "That should stack the deck in the favour of these systems."

Tempe police say Uber's Volvo was travelling at about 40 miles per hour and did not slow before hitting 49-year-old Elaine Herzberg as she stepped into the road, pushing a bicycle. Uber's human driver told investigators that his "first alert to the collision was the sound of the collision", Tempe police chief Sylvia Moir told the San Francisco Chronicle.

It will fall to the county attorney's office in Maricopa, Arizona, to determine who was at fault and whether to press charges against Uber or its driver. But other agencies are also poring over the incident.

Two US federal safety regulators, the National Transportation Safety Board and the National Highway Traffic Safety Administration, have sent their own investigators to Tempe. California's Department of Motor Vehicles, which oversees autonomous testing in Uber's home state, is also seeking information from the company about what happened.

Legal experts say their lines of inquiry are likely to focus on whether a faulty sensor or other system failure contributed to the accident; whether the car "saw" the pedestrian and how that person behaved; whether the automated driving system should or could have handed control to the human behind the wheel; and what kind of evasive action it took.
Any fatality is tragic but we don't yet have enough information to assign blame here. Naturally, that's not stopping anyone.
NYT ("Self-Driving Uber Car Kills Pedestrian in Arizona, Where Robots Roam"):
Arizona officials saw opportunity when Uber and other companies began testing driverless cars a few years ago. Promising to keep oversight light, they invited the companies to test their robotic vehicles on the state's roads.

Then on Sunday night, an autonomous car operated by Uber — and with an emergency backup driver behind the wheel — struck and killed a woman on a street in Tempe, Ariz. It was believed to be the first pedestrian death associated with self-driving technology. The company quickly suspended testing in Tempe as well as in Pittsburgh, San Francisco and Toronto.

The accident was a reminder that self-driving technology is still in the experimental stage, and governments are still trying to figure out how to regulate it.

Uber, Waymo and a long list of tech companies and automakers have begun to expand testing of their self-driving vehicles in cities around the country. The companies say the cars will be safer than regular cars simply because they take easily distracted humans out of the driving equation. But the technology is still only about a decade old, and just now starting to experience the unpredictable situations that drivers can face.

It was not yet clear if the crash in Arizona will lead other companies or state regulators to slow the rollout of self-driving vehicles on public roads.

Much of the testing of autonomous cars has taken place in a piecemeal regulatory environment. Some states, like Arizona, have taken a lenient approach to regulation. Arizona officials wanted to lure companies working on self-driving technology out of neighboring California, where regulators had been less receptive.

But regulators in California and elsewhere have become more accommodating lately. In April, California is expected to follow Arizona's lead and allow companies to test cars without a person in the driver's seat.

Federal policymakers have also considered a lighter touch. A Senate bill, if passed, would free autonomous-car makers from some existing safety standards and pre-empt states from creating their own vehicle safety laws. Similar legislation has been passed in the House. The Senate version has passed a committee vote but hasn't reached a full floor vote.

"This tragic incident makes clear that autonomous vehicle technology has a long way to go before it is truly safe for the passengers, pedestrians, and drivers who share America's roads," said Senator Richard Blumenthal, Democrat of Connecticut.
NPR ("Arizona Governor Helped Make State 'Wild West' For Driverless Cars"):
Arizona Gov. Doug Ducey began a push three years ago to attract makers of self-driving cars to the state and actively wooed Uber away from California as a venue for testing those vehicles.

Shortly after his election in 2015, the governor signed an executive order supporting the testing and operation of self-driving vehicles that he said was about "innovation, economic growth, and most importantly, public safety."

Now the "public safety" part of that order has been thrown into question and Arizona's willingness to become a testing ground for emerging driverless vehicles has come into sharp focus after Sunday's incident in which a self-driving Volvo SUV operated by Uber struck and killed a 49-year-old woman who was walking her bicycle in Tempe.

As we reported Monday, the car was in autonomous mode at the time of the crash, around 10 p.m., but had a human riding in the passenger seat to take control if necessary. The incident is now under investigation.

The year after Ducey's executive order, Arizona seized on a chance to steal a bit of driverless thunder from Silicon Valley. California had just ordered Uber to stop testing its autonomous vehicles on the streets of San Francisco until it obtained the proper testing permits. Uber balked and Arizona stepped in.

"Arizona welcomes Uber self-driving cars with open arms and wide open roads," Ducey said in a statement in December 2016.

"While California puts the brakes on innovation and change with more bureaucracy and more regulation, Arizona is paving the way for new technology and new businesses," the Republican governor said.

For its part, Uber pledged to expand its self-driving pilot program in Arizona and said it was "excited to have the support of Governor Ducey."

Arizona has also welcomed other companies working on driverless technology, leading The Arizona Republic to proclaim last year that "With major testing by Waymo, Uber, General Motors, Ford and Intel, Arizona is more than holding its own in the race to attract the self-driving car industry."
Uber is, quite naturally, suspending testing until more information is known.
One fatality is unlikely to change many minds. Instead, it'll likely reinforce pre-existing beliefs about the technology.
UPDATE: Eric Paul Dennis makes a plausible argument that the real issue isn't driverless vs. drivered car but our poor accommodation for pedestrians in traffic design.
Some people have noted that the pedestrian killed by the Uber test vehicle could have walked 100 yards and crossed at a controlled intersection. THIS is the intersection. pic.twitter.com/qiBdZ4RIZs

— Novel EPD (@EricPaulDennis) March 20, 2018
Here's an aerial view (facing south). Every entrance to that brick pathway in the median has a sign instructing you not to use it. Per the signage, it is strictly ornamental. pic.twitter.com/jW1DUjiuxb

— Novel EPD (@EricPaulDennis) March 20, 2018
Here's zoomed out. I fully admit that if I were trying to get to that bus-stop from the top-left quadrant of this landscape, I would absolutely cross at that median and not that 7(?)-lane controlled intersection a 1/4-mile out of my way. I would try to avoid traffic, of course. pic.twitter.com/k0yOResNcz

— Novel EPD (@EricPaulDennis) March 20, 2018