Will Autonomous Vehicles Lead To A Ban On Human-Operated Cars And Trucks?
As autonomous vehicles near the point where they'll become a presence on American roads, are we approaching a day when it will largely be illegal for people to drive their own car?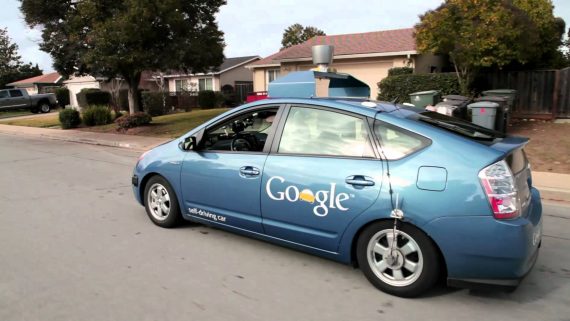 While they remain largely in the experimental stage, it seems readily apparent that the self-driving car is where the future of the automobile is head. Google, of course, continues to be among the best known companies working to perfect the technology and has had self-driving cars on the road for some time now, albeit typically with a human passenger capable of taking control of the vehicle if necessary. Elsewhere, Elon Musk says that Tesla will have self-driving cars on the road within two years and Uber is known to be working on the technology itself with the idea that, eventually, the car you order on your Uber app will pick you up and take you to your destination without human assistance of any kind. There are even companies working on autonomously driven tractor-trailers, a technology that could revolutionize the way that goods are moved across the country. One interesting statistic from the early testing of driverless cars on the roads has been the fact that driverless cars seem to be more likely to be involved in accidents that cars driven by humans, but this finding has several caveats, the most important of them being the finding that these accidents are, generally, minor accidents such as fender-benders that have not resulted in serious injuries or property damage and, more often than not caused by human error rather than computer error. In many cases, the accidents appeared to be caused by the fact that the self-driving car did not act in a way that the human driver anticipated, typically because self-driving cars are prohibited by their programming from doing anything other than strictly obeying all applicable traffic laws. When you look at the numbers, though, the actual number of accidents involving self-driving cars is fairly low and barely proportional to their presence on the road, facts which reinforce the idea that these cars are, in the end, far safer than vehicles driven by humans.
All of this leads Kevin Drum to ask an interesting question:
[H]ere's a more interesting question: after driverless cars become widely available, how long will it be until human-driven cars are made illegal? I say ten years. It will vary state to state, of course, and there will likely be exceptions of various kinds (specific types of commercial vehicles, ATVs meant for fun, etc.). Still, without a special license they'll become broadly illegal on streets in fairly short order.
I tend to think that Drum is overestimating things here just a little bit, both in terms of how quickly self-driving vehicle technology will become available to the public and the rate at which the law and the culture will change based on the monumental change that autonomous vehicles represent. In the first respect, even with the success that Google has had with its autonomous driving project, there remains much work to be done before a car with no driver can be said to be ready for general use. For example, as anyone who drives on a regular basis knows driving means regularly encountering the unexpected. This can include everything from vehicles in front of you that stop quickly for some unknown reason, pedestrians who don't obey applicable laws about where and when to cross a street, bad road conditions, construction, obstacles in the street such as a truck that is double parked in order to make a deliver, and any other number of situations that require quick action on the part of a vehicle operator. Obviously, there could likely be a technological solution to these types of situations, and much of it may involve programming these vehicles with systems that have the ability to learn and adapt quickly to road conditions. Until that technology is perfected to a greater degree, though, it seems unlikely that autonomous vehicles are not going to become common on America's roadways.
Beyond the technological issues, which as I said can probably be solved, there are other reasons why Drum's projection of the seemingly imminent end of human-operated vehicles in the near future seems unlikely. For one thing, it seems to me unlikely that people are going to be willing to give up their cars as he seems to think. In many respects, we still live in a culture where having a car, and having the freedom to go wherever one wishes at the turn of a key is something that people still take seriously. If you dwell in a major city where mass transit is widely available and one can walk, or take an Uber car, to night life or other activities, perhaps the transition to autonomous cars won't take so long. In other parts of the country, one anticipates it will take a lot longer and that the idea of actually banning people from driving on public roads will be a hard sell to say the very least. Additionally, we're still at the point where it's unclear where autonomous vehicles will fit into the economy. Will people actually own their own autonomous car? Or, will everything become like Uber where you summon an autonomous vehicle via the Internet and take it where you need to go, perhaps renting it or some extended period of time? If it's an individual ownership situation, then it seems clear that it will be some time before autonomous vehicles become ubiquitous and even longer before we reach the point where the idea of barring human operated vehicles from the roads would be something that could be discussed as a public policy option. Finally, even if we reach the point where autonomous vehicles are proven to be cheaper, safer, and more convenient than vehicles driven by humans there will be some significant portion of the population that will still want the freedom of being able to drive on their own represents. As long as that's the case, the idea of banning human operated vehicles is going to be a hard sell politically.
All of that being said, there are some situations where banning or restricting human operated vehicles could happen as quickly as Drum anticipates. The downtown areas of major cities such as New York City, for example, would seem to be one area where an 'autonomous vehicles only' policy would be seen as a means of reducing traffic congestion and increasing public safety. Similarly, designated lanes for autonomous vehicles on interstate highways and similar roads is something that could be adopted rather quickly, and which may be advanced largely as a means of adapting to the idea of autonomously driven tractor trailers. Beyond these limited cases, though, the idea that we are fast approaching a day when the only vehicles on the road will be autonomously driven vehicles ignores several complicating issues such as those noted above. The day may come when we're all zipping around as passengers in computer-controlled cars, but it's going to be awhile before we get there I think.