Uber Sets $50 Billion Valuation Target In New Funding Drive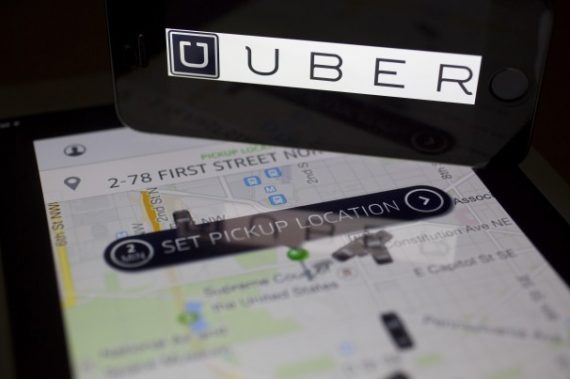 Uber, the mobile phone based car service that has upended the taxi industry across the nation and around the world, is raising another round of funding from private investors, and aiming for a valuation of $50 billion:
Uber Technologies Inc., the world's most highly capitalized startup, plans to raise another large round of funding.

The San Francisco-based ride-sharing company briefed investors on its plans to raise between $1.5 billion and $2 billion in new funding, said people familiar with the matter. It expects the funding to value the company at $50 billion or higher, the people said, although they said Uber's plans could change.

At that level, Uber could become the most valuable venture-backed startup in history. Only Facebook Inc. attained a $50 billion valuation before going public. Goldman Sachs Group arranged a private offering of shares of the social network at that valuation in 2011.

Uber's valuation could rise as it meets with investors, the people said. A May 2014 funding round began with discussions of a roughly $10 billion valuation and closed at an $18 billion valuation. A round in December 2014 began at around $30 billion and closed at $41 billion.

While of a similar scale, Uber's round would far surpass Facebook in terms of how highly valued it is relative to its revenue. Facebook, when it raised money at a $50 billion value in early 2011, was worth about 25 times its prior-year revenue of $2 billion. Uber, meanwhile, had revenue—after accounting for how much it pays drivers—last year of roughly $400 million, The Wall Street Journal has previously reported. That means Uber may now worth more than 120 times its trailing revenue.

Facebook also turned a $600 million profit in 2010, while Uber has been losing money, The Wall Street Journal has reported.

This revenue multiple may a reflection of Uber's faster growth potential. Uber has told some investors it expects revenue to grow 400% to $2 billion this year, The Wall Street Journal has reported. Facebook grew revenues by 89% the year it was valued at $50 billion. But some venture capitalists have also said that valuations are reaching frothy levels driven by "fear of missing out" on fast-growing companies.

Uber has matched an aggressive expansion into some 250 markets around the globe with a ferocious fundraising machine, securing more than $5 billion in debt and equity from investors in the five years since launching.

The company has spent big on marketing the service to riders and prospective drivers, offering subsidized promotions like a $5 flat-fee carpooling option to compete with ride-sharing rivals such as Lyft Inc.

(…)

In recent months, Uber also has boosted its investment in developing new technologies, including a partnership with Carnegie Mellon University to build robotic cars and new mapping software. In March, the company announced its purchase of a 40-person mapping startup called deCarta, its first publicly disclosed acquisition. It also is bidding as much as $3 billion for Nokia's Here mapping subsidiary, which is dominant in car navigation systems.
Another major difference between Uber and Facebook, of course, is the fact that Uber's method of revenue generation is far easier to understand that Facebook's, which relies largely on the ephemeral world of online advertising and depends to no small degree on advertisers continuing to believe that paying to advertise online at the rates Facebook is demanding is a worthwhile investment on their part. Uber, on the other hand, generates hard cash from providing a service, and for the most part has been able to do that in a manner that has proven to be highly popular, especially among younger consumers, people who live in large cities and heavily populated suburban areas, and those who are very into technology. While it's likely that other market entrants will find their own ways to compete against Uber in this market, and with the arrival of companies such as Lyft that has already happened, Uber will always benefit from being the first entrant in the market and the brand loyalty that has helped generate. The expansion of this business, someday, into a network of driverless cars available at the call of an app, could prove to be somewhat revolutionary.
Eventually, of course, Uber will go public.. I would anticipate that will be an IPO that will get nearly as much media attention as Facebook's did, if not more.