Virginia Goes To War Against Uber, Lyft, And Free Enterprise
The Virginia DMV is threatening to crackdown on companies providing innovative car services to consumers.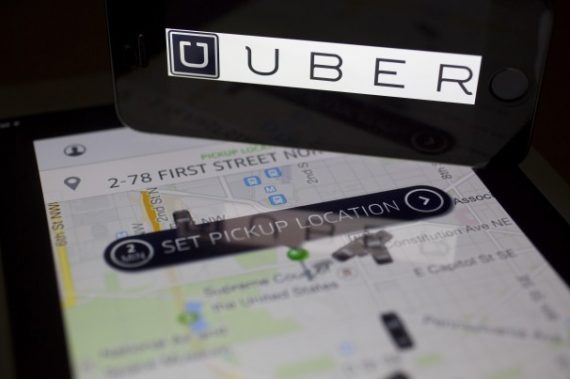 In a very short period of time Uber, a car service that essentially consists of drivers using their own cars to pick up and deliver customers to requested locations with everything being scheduled via a smartphone app, has become, along with its lesser known competitor Lyft, a sensation. Especially in large cities such as New York, Washington, D.C., and the big cities on the West Coast, it grown virtually overnight into something that, while not nearly as big as most taxi services, is certainly on its way to becoming a major competitor. The main reasons for the success, it seems can be found in a combination of price, convenience, and the fact that Uber's cars tend to be cleaner, newer, and more comfortable than the typical big city taxicab.
Not surprisingly, the rise of these services has not gone unnoticed by the companies that hold taxi monopolies in various parts of the country or the people who regulate those industries. Taxi unions in American cities such as Washington, New York, and San Francisco have engaged in various forms of protest against the car services and both they and the companies they work for have leaned heavily on regulators to try to stop these new competitors from gaining a foothold. Now that Uber is trying to branch out internationally, even London's cabbies are getting into the "stop Uber" action. The company is also facing opposition to its efforts to expand the  service into France.
The basic argument that's generally made is that Uber and Lyft are operating unfairly because they don't have to comply with the same regulations that taxi companies do. Additionally, there have been efforts to over hype isolated reports of Uber drivers engaging criminal activity as an argument against the companies even being allowed to operate. Given the rather obvious threat that companies like Uber pose to the monopoly holders, it's not surprising that they'd object to the new competition. Indeed, established businesses using their legal influence to try to stop new competition is nothing new.
The latest round in the battle over these upstart car services is being fought in Virginia, where the Department of Motor Vehicles is threatening to go after Uber and Lyft because their companies are allegedly violating the law:
The war between app-based ride-sharing services Uber and Lyft and the state of Virginia  is escalating.

Earlier this year, Virginia officials slapped the app-based services with more than$35,000 in civil penalties for operating with out proper permits. On Thursday, Richard D. Holcomb, commissioner of the Virginia Department of Motor Vehicles, sent a cease and desist letter to both companies.

"I am once again making clear that Uber must cease and desist operating in Virginia until it obtains proper authority," Holcomb said in the letter. (You can see copies of both letters below)

Officials at both companies said they will continue to operate in the state, despite Thursday's order.

"We've reviewed state transportation codes and believe we are following the applicable rules," Lyft spokeswoman Chelsea Wilson said in an e-mailed statement. "We'll continue normal operations as we work to make policy progress.

She added that: "Virginia residents have enthusiastically embraced Lyft as an affordable and reliable transportation alternative that increases safety by going above and beyond what is required by existing transportation services. As many of the current regulations surrounding taxis and limos were created before anything like Lyft's peer-to-peer model was ever imagined, we're committed to continuing to work with state officials to craft new rules for this new industry. We truly believe that if we approach situations like this positively and collaboratively, we can work together with local leaders to greatly improve transportation access, safety and affordability."

Even though Holmb noted in his letter that the department has been warning Uber about the state's rules for more than six months, a spokesperson for the company called the state's actions, "shocking and unexpected."

"Uber has been providing Virginians with safe, affordable and reliable transportation options for months and has continued to work in good faith with the DMV to create a regulatory framework for ridesharing," Taylor Bennett wrote in an emailed response. "We look forward to continuing to work with the Virginia DMV to find a permanent home for ridesharing in the Commonwealth."
In addition to these statements, Uber is also mobilizing its customers to prompt action out of the Commonwealth, sending an email to every one of its Virginia-based users asking them to contact the DMV and other state authorities about the matter. I received a copy of the email myself. This is a strategy that the company has used in its battles with taxi companies across the nation, and it's met with some degree of success in that its gotten people to come to meetings that otherwise would have been dominated by taxi drivers and their employers and make the case for these car services from the consumers point of view.
Leaving aside the legal merits of the claims that the Virginia DMV is asserting, it strikes me that the attitude that the Commonwealth is taking with Uber and Lyft is not one that is in the best interests of Virginia residents or consumers due to the manner in which it is essentially designed to limit competition and consumer choice. While there may well be a reasonable case to be made for some regulation of these car services in order to ensure that they are complying with safety requirements and other such matters, this ought to be done in a manner that fosters competition rather than restricting it. Of course, since the Virginia DMV is likely being lobbied by the same entrenched interests as regulators in other parts of the country, it's not surprising that their actions are designed more to stifle innovation than encourage it.
Here's the DMV letter to Uber:
And here's the DMV letter to Lyft :
Photo via The Washington Post