Self-Driving Cars Better Than You-Driving Cars
We are fast approaching an era where robot-driven cars will not only be practical but mandatory.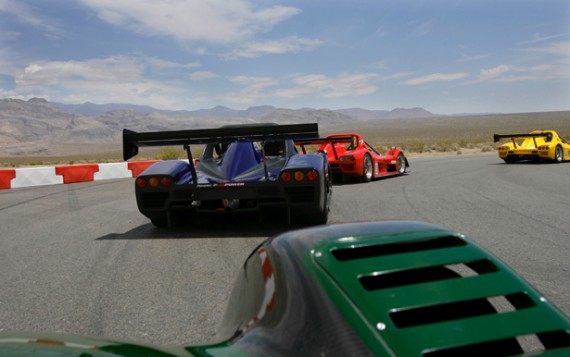 Rachel Swaby asks, "In a Race Between a Self-Driving Car and a Pro Race-Car Driver, Who Wins?"
A self-driving car and a seasoned race-car driver each speed around Northern California's three-mile Thunderhill Raceway loop. Which car will get the fastest time?

Before you place your bets, a little setup: Send a pro out on a racetrack, and the driver will automatically find what is mathematically the quickest route around it. They navigate with such adept muscle memory that elite drivers can handle sudden changes in friction on the road without increasing cognitive workload.

The autonomous vehicle is a creation from the Center for Automotive Research at Stanford (CARS). "We tried to model [the self-driving car] after what we've learned from the best race-car drivers," explained Chris Gerdes, the program's director, yesterday at The Atlantic's Big Science Summit in San Jose, California.

So who would win in a battle between skilled human and a wheeled robot imitator? Humans, of course. But only by a few measly seconds.

"What the human drivers do is consistently feel out the limits of the car and push it just a little bit farther," explained Gerdes. "When you look at what the car is capable of and what humans achieve, that gap is really actually small."

[…]

Ninety percent of accidents occur because of human error, and even a really smart algorithm isn't going to maneuver a car out of every dangerous situation. Gerdes spoke specifically about the problem with recognizing pedestrians. You can teach a car to recognize something with two arms and two legs as something to avoid, but "Go to [San Francisco's] Castro for Halloween, and the pedestrian system needs to recognize strange cases." Costumes or not, Gerdes believes that by teaching a car to operate at the level of our most skilled drivers, we're better equipping them to take care of us.

Gerdes can imagine a scenario where cars would assist drivers in difficult situations. Hit a nasty ice patch? All that skidding around Thunderhill Raceway has taught the cars — and their programmers — how best to deal with the slippery situation.
Two things are noteworthy here.
First, the comparison is between the very best human drivers and a self-driving technology that could be easily replicated. That means the self-driving cars are already better than most of us. And they're only going to get better.
Second, tough, this is in a very controlled environment. While racing at very high speeds is dangerous, there are fewer variables at work than would be encountered in an ordinary commute. I'm not sure I'd be ready to put my fate–much less those of my girls–in the hands of a robot car while dealing with the hazards of driving in the DC metro area.
Still, that self-driving cars are already this good is impressive, indeed. It shouldn't take long for them to be safer and more efficient than human drivers even under the most complicated conditions. And, at some point, that will make it unreasonable to let human beings drive their own cars, given how hazardous that has proven to be.