Google's Self-Driving Car
Once the province of science fiction, a car that can drive itself is now a reality, thanks to Google and DARPA. The implications are mind boggling.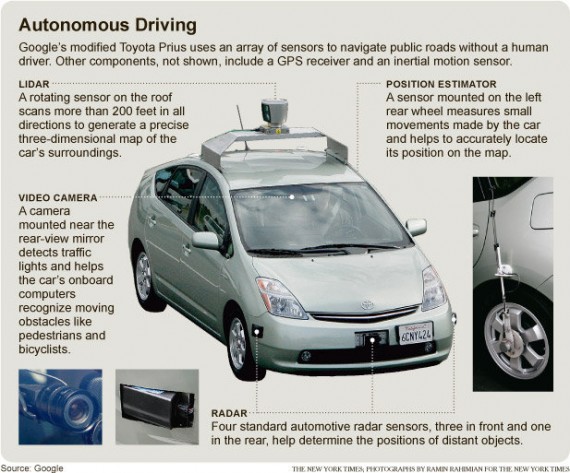 Once the province of science fiction, a car that can drive itself is now a reality.
The car is a project of Google, which has been working in secret but in plain view on vehicles that can drive themselves, using artificial-intelligence software that can sense anything near the car and mimic the decisions made by a human driver.

With someone behind the wheel to take control if something goes awry and a technician in the passenger seat to monitor the navigation system, seven test cars have driven 1,000 miles without human intervention and more than 140,000 miles with only occasional human control. One even drove itself down Lombard Street in San Francisco, one of the steepest and curviest streets in the nation. The only accident, engineers said, was when one Google car was rear-ended while stopped at a traffic light.

Autonomous cars are years from mass production, but technologists who have long dreamed of them believe that they can transform society as profoundly as the Internet has.

Robot drivers react faster than humans, have 360-degree perception and do not get distracted, sleepy or intoxicated, the engineers argue. They speak in terms of lives saved and injuries avoided — more than 37,000 people died in car accidents in the United States in 2008. The engineers say the technology could double the capacity of roads by allowing cars to drive more safely while closer together. Because the robot cars would eventually be less likely to crash, they could be built lighter, reducing fuel consumption. But of course, to be truly safer, the cars must be far more reliable than, say, today's personal computers, which crash on occasion and are frequently infected.

[…]

The project is the brainchild of Sebastian Thrun, the 43-year-old director of the Stanford Artificial Intelligence Laboratory, a Google engineer and the co-inventor of the Street View mapping service. In 2005, he led a team of Stanford students and faculty members in designing the Stanley robot car, winning the second Grand Challenge of the Defense Advanced Research Projects Agency, a $2 million Pentagon prize for driving autonomously over 132 miles in the desert.
Thun has a longish blog post explaining the impetus behind this program.  A snippet:
According to the World Health Organization, more than 1.2 million lives are lost every year in road traffic accidents. We believe our technology has the potential to cut that number, perhaps by as much as half. We're also confident that self-driving cars will transform car sharing, significantly reducing car usage, as well as help create the new "highway trains of tomorrow." These highway trains should cut energy consumption while also increasing the number of people that can be transported on our major roads. In terms of time efficiency, the U.S. Department of Transportation estimates that people spend on average 52 minutes each working day commuting. Imagine being able to spend that time more productively.
I wouldn't bet against Google or DARPA on this one.   Fortune's Seth Weintraub points out,  "It doesn't have to happen all at once.  Most people have cruise control in their cars.  New technology like lane assist is keeping people between the lines."  Indeed, Technologist Robert Scoble agrees, noting that his 2010 Prius has "senses the road ahead and a camera that looks at lane markings."
One wonders, though, how long human-driven cars will even be allowed on the road once this technology is perfected? Robots, presumably, will be less aggressive, follow all laws, and generally be less prone to making mistakes.
Some observations from around the Web:
Technologizer's Harry McCracken has a "Brief History of Self-Driving Cars," going as far back as a 1933 Popular Mechanics article marveling at "recent breakthroughs such as automatic garage door openers and power steering" and a 1958 Popular Science piece titled "The Car That Drives Itself."  It's worth a look.