Parties Play to Win the Game
Parties are in politics primarily to win the vote of the median voter, not to join together and sing Kumbaya.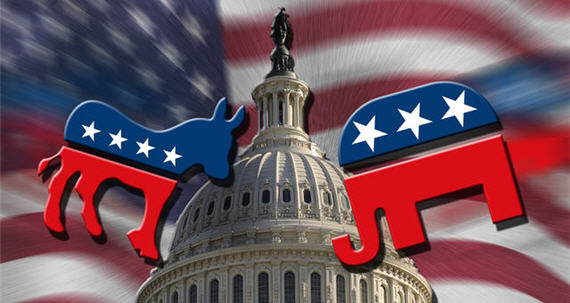 In response to the op-ed version of Thomas Mann and Norman Ornstein's new book, both Matt Steinglass and Kevin Drum go out of their way to hold Democrats blameless in the current state of affairs in Washington, typified by strong polarization between the two major parties. Drum claims:
[T]he truth is that both sides haven't moved away from the center. Only Republicans have, and Democrats have spent the past 20 years chasing them in hopes that eventually they could reach some kind of reconciliation. But it never did any good. The Democratic move rightward was interpreted not as a bid for compromise somewhere in the middle, but as a victory for a resurgent conservative movement that merely inspired them to move the goalposts even further out.
This is, I suppose, a rather clever argument but it leaves out a major actor here: the voters themselves. As Republicans have been running to the right and (in Drum's view at least) Democrats have struggled to keep up, the electorate has continued to give around the same share of the vote to each party and return roughly equal numbers of Democrats and Republicans to Congress, all resulting in very little tangible harm to the good of the nation as a whole, even if the old gentlemen's agreement between the pre-Newt GOP and Democrats in Congress that the former would merely stand athwart history shouting "please slow down a little" has fallen by the wayside. If the voters are concerned about this state of affairs, thus far they've done remarkably little to show it—instead, they've been busily purging both parties' moderates from Congress at most every turn.
More importantly, the idea that the Democrats have moved to the right in a bid for reconciliation and compromise is, in a word, risible. They've moved to the right, at least to the extent that they have done so (after all, there's plenty of left-wing red meat like the "Buffett Tax" circulating in Democratic circles these days too), because Democrats representing swing districts in Congress—correctly, as it turns out—feared for their jobs in the face of a reinvigorated Republican opposition and voters angry about excessive government spending.
In the face of a public that has become more fiscally conservative in their orientation and more concerned about high gas prices than spotted owls, this is a perfectly sane, rational response by Democrats, but let's not pretend that adopting positions formerly held by the Rockefeller Republicans is somehow part of a high-minded effort to restore comity to the halls of the Capitol and the broader republic.