Yes, The GOP Can, And Likely Will, Repeal ObamaCare in 2013 If They Win In November
If the GOP wins in November, there will be very few actual barriers in the way if they really want to repeal the PPACA.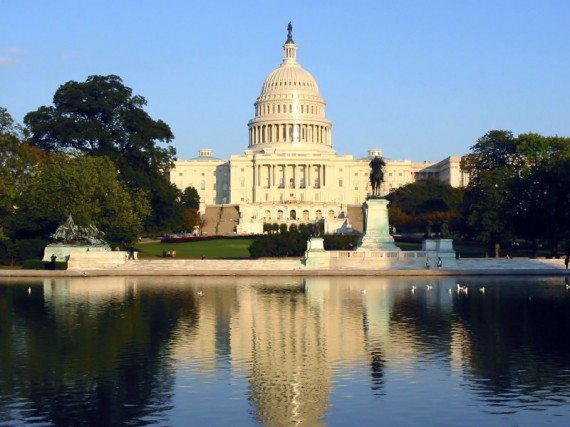 In contrast to the doubts that the GOP would able to repeal the Affordable Care Act as Mitt Romney promised again yesterday that I expressed in my post yesterday, and which Steven Taylor expands upon in his post today, Matthew Yglesias sends out a warning signal to his fellow liberals that the law is most assuredly in danger if the GOP wins in November:
[O]nce the basic framework of the law is in place, it'll be all but impossible to kill. That's probably why no country that's instituted a universal health insurance program has ever rolled it back—even strong conservatives like Margaret Thatcher in the United Kingdom or the current right-wing government in Canada leave existing programs in place.

The problem for Democrats is that if Romney takes office in 2013, none of this stuff will have actually happened yet. Repealing the law in its abstract form is a bit politically risky for Republicans but not nearly as risky as it will become in the future. Already in 2011, House Republicans were thrilled to vote for a "Repeal the Job-Killing Health Care Law Act," even though it was obvious that the president was never going to sign it. If in January 2013 Republicans control all three branches of government, there's no reason to think they'll grow more timid. In a statement immediately following the Supreme Court's decision, Romney promised to "act to repeal Obamacare" on his "first day if elected president of the United States" and if Congress puts a bill to that effect on his desk, he'll do it.

Still, though Republicans seem likely to win control of the Senate in any scenario where Romney becomes president, it's exceedingly unlikely that they'd score the 60 votes needed to overcome a filibuster. Technically speaking, since repealing the bill would increase the budget deficit, it should be ineligible for the budget reconciliation process that Democrats used to pass the bill in the first place with only 59 votes. In reality, this is unlikely to make a difference to a determined GOP. Back in 2001 and 2003, Republicans were able to find gimmicks to pass giant tax cuts under reconciliation orders, and in this case conservatives sincerely believe that the CBO is mistaken and repeal would reduce the deficit.

Scrapping the law, in other words, should be a pretty easy lift for Republicans—if they win the election.
Politico goes through the steps of how the GOP might be able to accomplish this, assuming that all of the electoral cards are in their favor:
Republican hopes to repeal the health care law may come down to a bank shot: A GOP sweep in November and a simple Senate majority — along with some arcane budget procedures — could kill the individual mandate in 2013.

The House will hold a symbolic vote to repeal the law on July 11, but the real long-term strategy for rolling back the law is already under way. Republicans are stoking voter anger over the law until Election Day, which they hope will produce a Mitt Romney presidency and an all-Republican Congress. And it ends by employing budget rules that would allow a fast-track repeal with a 51-vote majority in the Senate, circumventing a Democratic minority and potential filibuster.

That process — known on Capitol Hill as budget reconciliation — would give Republicans a serious shot at repealing the individual mandate and the heart of the law before 2014 when much of it is scheduled to take effect.

So it's not surprising that the word "reconciliation" was on the tip of virtually every Republican tongue Thursday, just hours after the landmark Supreme Court ruling upholding most of the health care law.

South Dakota Sen. John Thune, chairman of the Republican Conference, said budget reconciliation could be a "vehicle" for repeal, promising Republicans would make "every attempt" under a GOP Senate majority and Republican White House to do just that.

"I've already heard discussions that it can be done through 51 votes in the Senate, which is an easier threshold," said Washington Rep. Cathy McMorris Rodgers, a member of House GOP leadership and a key Romney adviser.

"With a 50-vote majority in the Senate, Republicans could do the same thing Democrats did with 50 votes on Obamacare — and that is to use the reconciliation process — to reverse the more onerous provisions of Obamacare and replace them with what Republicans have been talking about," Senate Minority Whip Jon Kyl (R-Ariz.) said.

Of course, a lot has to go right for Republicans between now and then.

Obama would have to lose the White House, Republicans would have to pick up three Senate seats — and hold the House — and the GOP would have to show 100 percent unity if it was serious about repealing a law that has been found constitutional by the Supreme Court.

On top of that, some budget experts believe not every part of the health care law could be repealed using the simple-majority rules of reconciliation — only the parts that have a direct budget impact. Still, major portions, including the individual mandate, could be targeted by reconciliation.
This is a good point, and its one that I raise in my own post yesterday, but Kevin Drum argues that the worrying over reconciliation is kind of silly:
[T]his whole conversation has always struck me as faintly ridiculous. First, if you repeal all the budget-related aspect of Obamacare, you've essentially gutted the law. Who cares if it takes a few more years to do the mopping up via amendments to must-pass bills? Second, I'm not sure 60 votes is actually out of reach for the regulatory parts of the law anyway. If the law is already in tatters because the funding is gone, there might very well be a dozen Democrats willing to join Republicans in getting rid of the rest of it and starting over.

And third — well, look. Can we stop pretending to be children here? As Matt Yglesias points out, the last time Republicans had a problem with reconciliation, they just fired the Senate parliamentarian and hired a new one willing to make the rulings they needed. They can do the same thing this time, or they can skip the drama and just ask Vice President Rubio to overrule the parliamentarian. All they need is a determination that the entire law is so tightly intertwined that, taken as a whole, it's a budgetary matter.
Would the GOP take this route? Yglesias and Drum sure seem to think so, and Ezra Klein agrees, although they admittedly may be being a little overdramatic about all of this in order to raise awareness of this issue among their readers. If you look to the manner in which the GOP has governed since taking over the House, though, I think you can make a plausible case that a Majority Leader Mitch McConnell, who once said that his primary task was to assure that President Obama did not have a second term, would use these kind of tactics to push through legislation that would repeal the law that epitomizes that same President domestic agenda. It would be far too tempting for Republicans, after having won the White House and taken control of the Senate, to follow up a defeat of Barack Obama in November with action to repeal his signature piece of legislation some three months later. Additionally, it's worth noting, as Klein and Yglesias point out, that the GOP has done this before. The Bush Tax Cuts were passed under reconciliation, and then Senate Majority Leader Trent Lott even went so far as to fire the Senate Parliamentarian when he wasn't making rulings on what constituted a "budget" matter that were favorable to the Senate Republicans. Morever, when the Democrats pushed the final round of ObamaCare through the Senate, they also relied on reconciliation because they knew they could not get the 60 votes to invoke cloture. Anyone want to bet that they GOP wouldn't do the same thing in 2013? Yglesias doesn't think so:
That is how you get things done in Washington when you want to get things done. And my view is that Republicans, at this point, really do want to repeal the Affordable Care Act. They don't like that it raises taxes, they don't like that it spends money on the poor, they don't like that it rolls back Medicare privatization, and they don't like that it pushes health insurance companies in the direction of becoming regulated utilities. If they genuinely lack the votes for repeal, they won't repeal it, but they're not going to let interpretive disputes over what is and isn't a budgetary measure hold them up.
But what, you might ask, about those provisions of the PPACA that are popular such as the bar on denying coverage for pre-existing conditions and the provisions that allow parents to keep children on their policy until the age of 26? Wouldn't the GOP be reluctant to repeal these provision for fear of voter backlash? Perhaps, but as Drum argues above, once you repeal the individual mandate and, more importantly, the employer mandate (which the GOP is also targeting), the economic rationale for the rest of the law essentially collapses into dust. If Congress were to leave these provisions intact after repealing the mandates, the impact would either be that insurance companies would start jacking up premiums to cover the increased risk, or you'd see a lot of people dropping health insurance before they cannot afford it, perhaps both. It would just make the situation worse. So regardless of how popular those provisions are, there's no rationale for keeping them in place if the real meat of the law is gone.
If there's anything that might restrain the GOP in 2013, it's the fact that there will be several other thins that will need to be dealt with in 2013 including the extension of the Bush tax cuts, the extension of the payroll tax cut, the Medicare "Doc Fix," a probable need to raise the debt ceiling, and the question of what happens to the sequestration cuts that were part of the August 2011 debt ceiling deal. It's all part of what people in Washington are starting to call the "fiscal cliff," and dealing with all of that is going to require the expenditure of a lot of political capital and a lot of legislative time. Depending on the urgency of the situation, the GOP may have no choice but to put repeal off, or make it part of a "Grand Bargain" deal on taxes and spending.
Notwithstanding all of that, though, and notwithstanding the doubts I expressed yesterday about whether the GOP would actually follow through with repeal, I believe Yglesias, Drum, and Klein all make good points here. As Yglesias says above, if the GOP doesn't have the votes to repeal the PPACA they aren't going to pursue it, but if they do they aren't going to let a few Senate rules stand in their way.