Paywalls and Collusion
The days of free news on the Internet may be coming to an end.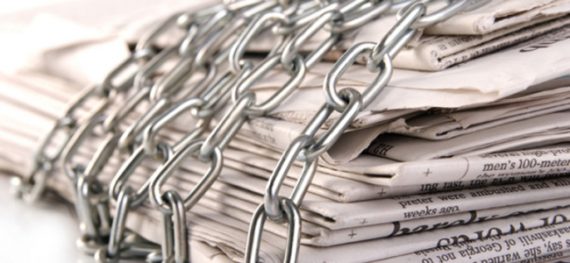 Felix Salmon starts a column on "How paywalls are evolving" with this:
Last week, I hypothesized that the publishing industry was going to informally settle on a single management-consultancy company to ask for paywall advice from. That consultancy, having seen everybody's internal figures, could then tell everybody else what "industry best practice" was. It's the time-honored management-consultancy m.o., reselling other clients' confidential information, suitably anonymized, of course, so that everybody learns from everybody else's successes and failures.

This is a winner-takes-all business: it works best if everybody hires the same consultancy. And now it's pretty clear which consultancy is going to win: Mather Economics. They say they've worked for pretty much everybody, at some point, and that they directly manage some $2 billion of subscription revenues for their clients. And today, fresh off a $1.75 million funding round, the paywall provider MediaPass has announced that it's going to bake all that Mather knowledge into its own product. Given all the data being generated and analyzed by Mather and MediaPass, it looks like they have a pretty unassailable position in this particular niche.
Well, good for Mather, I guess. But my immediate reaction was: Why is this legal?
One longstanding critique of newspaper paywalls has been that few of us are going to fork over money for ordinary news—as opposed to niche information valuable to our business—when there are so many quality sources outside of paywalls. So, the only way for, say, the New York Times to successfully implement a paywall was for all its peer competitors to also go behind a paywall at the same time. But, given that paywalls had a poor track record of success, that erecting them is somewhat expensive, and that putting them up cut down on pageviews and thus advertising revenue, a Catch-22 existed.
But apparently MediaPass is going to allow these companies to engage in virtual collusion. They will, through a third party vendor, share their business information so as to stifle natural competition so as to be able to mutually raise prices. More than that, really, since they'll be going from free to pay; it's an infinite price increase.
Further, the amount of data being collected an shared is frightening in its own right:
[A]lthough readers hate the kind of extreme opacity practiced by the FT, where there's basically no rack rate and nobody knows what anybody else is paying, from a revenue prospective it makes a lot of sense. The FT knows quite a lot about its registered readers, so it can be quite effective at charging the highest prices to people with the greatest willingness to pay, while charging much lower rates to readers in, say, India.

[…]

I's not all that hard to tell who's likely to be willing to subscribe, and who isn't. Print subscribers, for instance, are much more likely to be willing to pay for a digital subscription than a reader who doesn't already pay for the print version. And people who visit frequently, and who read a lot of local news, or sports news, are also more likely to subscribe.

In general, the trick is to get as many subscribers as you can — because once a person subscribes, they generally turn out to be surprisingly loyal and price-inelastic. You can keep on charging their credit card, even at steadily-rising rates, and they're not going to unsubscribe. And then, for the 90% of readers who don't subscribe, it's a good idea to find content for them, too. The paywall shouldn't just be a "pay here or get nothing" option: the "no thanks" button should take you to valuable free content.
So, a group of ostensible competitors are pooling extremely valuable data—again, through a third party rather than directly—in order to fix prices against consumers at an individual level! If you took out the third party, that would almost certainly be illegal. Add in a vendor, though, and it's suddenly a mere business model.
Paywalls may be the only sustainable model for high quality news. As such, they may in the long run be good for consumers. But the road there is paved with bad intent.