Times Paywalls a Bust?
After three months, Rupert Murdoch's strategy of walling off the Times websites isn't looking so smart.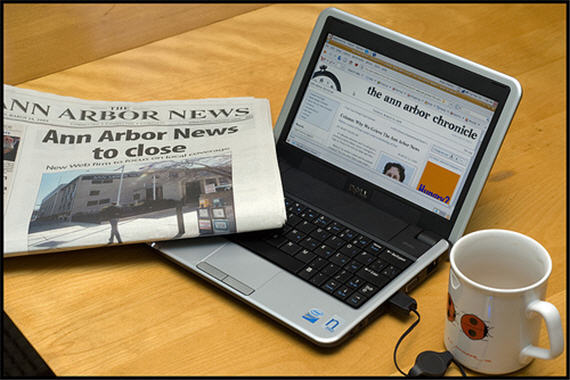 The Times of London and Sunday Times websites, owned by NewsCorp, went from being open properties to behind paywalls in July.   They claim a rousing success:
According to a release from the group, the Times and Sunday Times have more than 105,000 "paid-for customers to date". This figures includes subscribers to the websites and to the Times' iPad app and Kindle editions. Around half of these are monthly subscribers, News International says, adding that "many of the rest" are either single copy or pay-as-you go sales.

There are an additional 100,000 joint digital and print subscribers, who have started a digital subscription since the launch of the new websites or iPad app launch.

The publisher is calculating a total paid audience figure of "close to 200,000", which it says allows for some duplication within digital customer sales. News International has not released figures for its digital revenues from the sites in today's announcement.

[…]

"We are excited by the progress that we have made in a very short space of time. In the few months since we launched these products, the total paid circulation of the times has grown. This reinforces our belief that our journalism is valuable and that customers will respond to investment, innovation and quality that are hallmarks of our titles and our company," says James Murdoch, chairman and chief executive, Europe and Asia, News Corporation, in the release.
So, they went from zero paying customers viewing their website to "close to 200,000."   Maybe half of those are actual new customers, with the rest people who already paid for print copies.   So, what's the upshot?
The Guardian's Roy Greenslade is skeptical:
But the figures hide much more than they reveal. They are just not transparent enough to give us a clear picture.

For instance, the figure of 105,000 – to use a verb apt for the occasion – bundles "pure" online subscribers with people who have bought the iPad app.

[…]

Most importantly, there is no clear breakdown of the 105,000 total figure to show how many people have subscribed monthly, weekly or daily.

(It is important to grasp the difference between 105,000 'sales' and 105,000 'subscribers'. The reason for News Int stressing that the former is the true state of affairs is that some people have been serial subscription buyers. To avoid confusion, therefore, it refers to sales).

Naturally enough, there is no indication of News Int's financial take. Then again, how could there be? It is only three months since the wall was built, free trials are still in progress and the iPad deal is in its second phase, with new offers being tested.

I understand, from a good Wapping source, that the iPad numbers are close to 45,000. If true, that would mean revenue of just under £450,000 for a month (subject to churn, of course).
GigaOm's Mathew Ingram, though, thinks "It's Official: News Corp.'s Paywalls Are a Bust."
The bottom line is that News Corp. has managed to attract just over 50,000 paying monthly subscribers in the four months since it has been running its paywalls at its two British papers — which charge $1.60 for a day's access to the site or $6.40 $3.20 for the week — and along the way has managed to sign up 100,000 or so who were already subscribing to the print edition, who are paying nothing (although holding on to those subscribers is likely a key part of Murdoch's strategy).

Times editor Jeremy Harding told the BBC that the paper is okay with the loss of readership because "we were engaged in a quite suicidal form of economics, which was giving our news away for free" (the editor added that online media was mostly a "huge echo chamber" anyway). News Corp. executive Rebekah Brooks, meanwhile, said that the company was pleased with the results, and that "each of our digital subscribers is more engaged and more valuable to us than very many unique users of the previous model."

It's hard to see how much more valuable they could possibly be, however: a number of major advertising players have said they are less interested in working with the Times and Sunday Times now as a result of the paywalls, and even an optimistic estimate of the amount of revenue the company is bringing in from its paywalls and iPad app only comes to about $8 million (and that's before Apple's cut for the iPad app) which for News Corp. is almost a rounding error. Meanwhile, the newspapers have been cut off from the news flow on the broader Internet, and the potential benefits of attracting links and commentary from other sites that could help to promote their content. Not a great trade, no matter how you slice it.

This looks even worse when you compare it to the total readership the Times and Sunday Times had before the paywalls went up, which according to Nielsen was about 3 million unique visitors a month. In other words, after four months of selling its new paywall system, News Corp. has only managed to convince a little over one-and-a-half percent of its readers to pay something for the newspapers' content — and has only been able to convert half of that already tiny figure into actual monthly subscribers. Meanwhile, the site's overall traffic has collapsed by almost 90 percent, although News Corp. is painting this as a success.
I was skeptical of the paywall experiment from the outset, so tend to agree.   But Harding makes a reasonable enough point: Giving away something it costs quite a bit of money to produce is a bad business strategy.  And it's not one where you can make it up in volume.
The question, then, is twofold.  First, what's the net effect on revenue?  That is, has the subscription money offset loss in advertising revenue lost by the decreased pageviews?   Second, how does the revenue compare with outlays?  Is the combination of newspaper and Web subscriptions plus newsstand sales sufficient to pay all expenses?   If not, then something's got to be done to sustain the business.