Even With Paywalls, Newspapers Are Still Bleeding Cash
Adding paywalls isn't stopping the decline of the newspaper industry.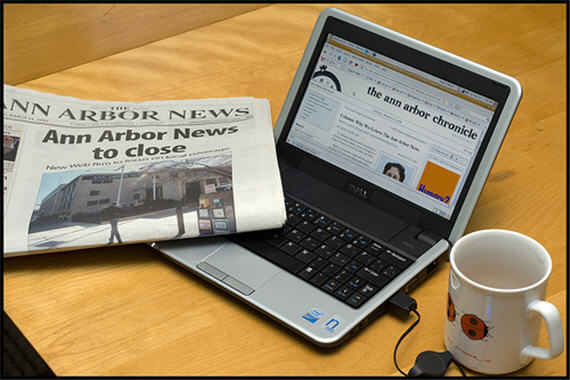 With newspaper circulation, and more importantly advertising revenue, continuing to plummet due largely to the rise of online and other alternative sources of information, newspaper companies have responded by adding paywalls requiring people to subscribe in order to read content. Initially, the paywall idea was limited to papers such as The Wall Street Journal and The Financial Times, but in recent years we've seen them implemented at The New York Times, The Boston Globe, and The Washington Post. I've also noticed paywalls in place at websites for smaller circulation papers around the country. It's an understandable business decision given the fact that revenue from online advertising is not nearly as large as what newspapers used to make from print advertising, and at least in the case of nationally prominent papers like the Times and the Post it does appear that there is a decently sized subscription base for the websites. For the industry as a whole though, it seems clear that the paywall era isn't stopping newspaper companies from bleeding cash:
Circulation growth, mobile ads and digital paywalls narrowed newspapers' losses, but failed to offset declining advertising revenue as newspaper income continued to drop in 2013.

Overall revenue was off 2.6% to $37.6 billion, a sharper drop than the 2% decline from 2012, according to a report from the Newspaper Association of America.

Ad revenue accounted for the entirety of the losses for newspapers. Print ad revenues fell 8.6%, and overall, ad sales for newspapers declined 6.5%.

A 3.7% jump in circulation revenue, including digital paywalls helped alleviate some of the losses.

Digital advertising growth, while not growing as fast as some in the industry have hoped, continued to climb. Mobile ad spending soared 77%, although it still accounts for less than 1% of total newspaper revenue.

Continued revenue declines have forced publishers to make difficult decisions about the viability of the newspaper model. Some outlets have limited their editions, like the Times-Picayune of Louisiana, which now prints just three days a week.

Others have found willing backers in their digital competitors. Digital news outlet Alaska Dispatch recently bought Alaska's largest newspaper, the Anchorage Daily.
As this chart shows, though, the rise of paywalls hasn't stemmed the downward trend in ad revenues: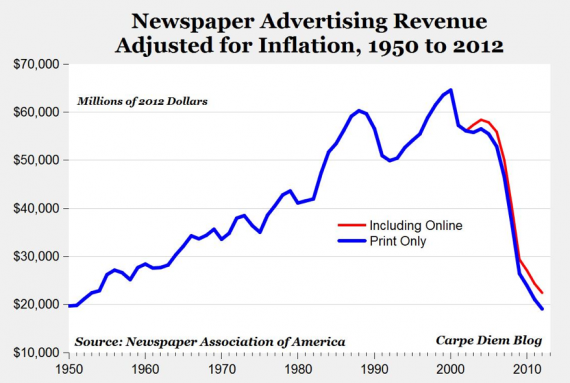 Even with the additional revenue generated online, advertising revenue is at roughly the same place it was sixty years ago. And it's unclear that paywalls are ever going to generate the revenue needed to make up for the loss in advertising. Even in the days when print newspapers were rolling in cash, the revenue from circulation was, for most newspapers, a small part of annual earnings, and it certainly would not be enough to keep the paper running on its own. This is likely even more true when discussing paywalls since subscription rates online are, at least so far, well below those of print newspapers. Given the plethora of  news sources available online, on cable news, and elsewhere, it's unlikely that large numbers of people are going to start paying for news any time soon.
At some point, of course, the bleeding will stop and we'll reach a baseline for revenue that will allow news organizations to survive. Perhaps we'll even see some sort of innovations in the online news delivery business that will make someone very rich (Jeff Bezos seems to have something planned for The Washington Post, for example). Whenever we do reach that point, though, the "newspaper" industry, or whatever it ends up being called in the future, will likely be much smaller than it is today. Large national news organizations, sites devoted to covering large metropolitan areas, and specialty news sites like the Wall Street Journal will likely survive. Sites that specialize in what is coming to be called "hyper local" news will also probably do quite well. A lot of news sites aren't going to make it, though, or if they do it will be because they were acquired by some larger company. Some will no doubt mourn the loss of the daily "newspaper," but its loss is just another example of the creative destruction of free market capitalism. Nobody mourns the decline of the candle industry after the invention of the electric light, or the horse and buggy business after Henry Ford made the automobile something more than just a curiosity. In the end, nobody will mourns the loss of a "newspaper" industry that has been going out of style for at least 20 years now.