The Declining Market for News
Reading habits continue to evolve, not necessarily for the better.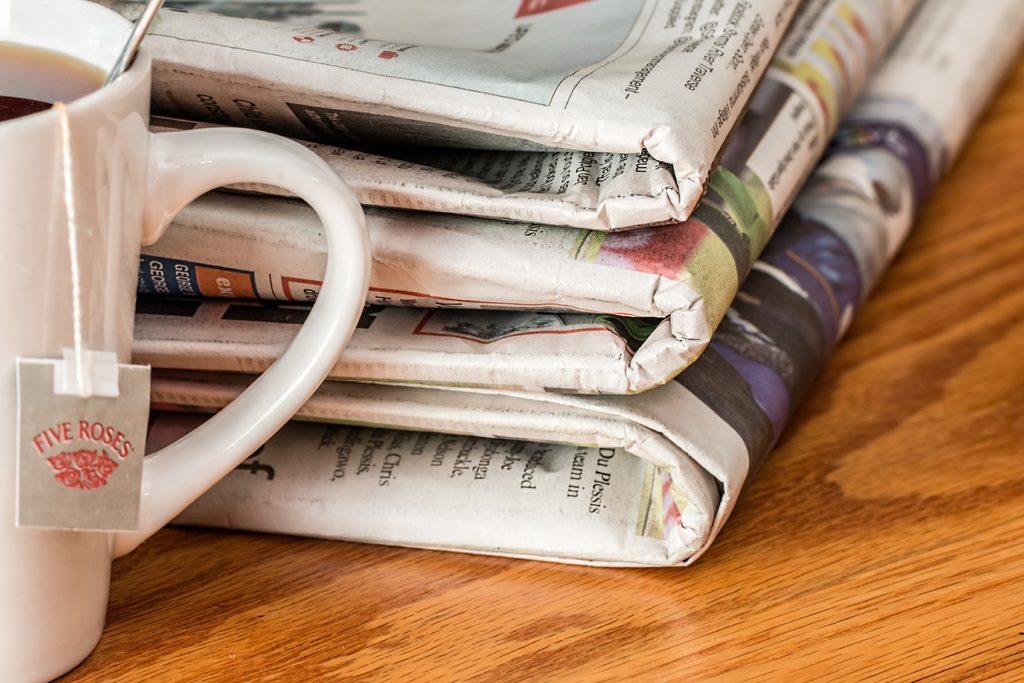 Two stories highlight the radical changes still underway in the news business. At WaPo, editors Robert G. Kaiser and Steve Luxenberg bid "Farewell to Outlook, and nearly 70 years of essays, arguments and criticism." After a longish, graphic-filled encomium for the Sunday thumbsucker section, they finally explain,
The decision to retire the Outlook section, and to consolidate the paper's opinion journalism in the editorial department, is a measure of how dramatically the newspaper business has changed in its march from print to digital publication.

Twenty years ago, the Sunday edition was key to the paper's prosperity. More than 900,000 people bought a copy every week. It was bursting with advertising — inserts, pages and pages of classifieds, and so many display ads that the main news section routinely added more pages to accommodate them. Outlook was a vital part of that Sunday package, which at its peak was delivered to more than 70 percent of households in the Washington metropolitan area. No U.S. paper anywhere could match that figure.

Today, The Post has nearly 3 million paying subscribers. Fewer than 275,000 take the Sunday edition. This article will be read primarily by that dwindling and aging print audience, as well as online readers who might bump into the story while browsing the internet with their phones, tablets or laptops. Many of The Post's digital readers don't know an Outlook section ever existed. They know only the many discrete Outlook articles that went viral. And the unheard voices that Outlook editors were among the first to seek out now crowd the internet, where social media offers instant access to all.

After years of shrinking revenue and circulation, an economic transformation is again underway at The Post. The newspaper's staff has doubled since Jeff Bezos, founder of Amazon, bought the paper in 2013. The Post has opened new bureaus all over the United States and around the world. Editing hubs in London and Seoul allow The Post to act as a global news service, constantly refreshing its stories, photos and film clips. The Post's YouTube channel, featuring the work of the video division, has 2 million followers.

The "brains section" fulfilled its mission, a mission designed for a print audience. The Post now plays in a different league, which requires new strategies. But wherever Post journalism goes next, Outlook's spirit of inquiry will live on.
Meanwhile, Poynter's Rick Edmonds compiles lots of data and anecdotes that "Traffic to local news websites has plummeted" and asks "What happens now?" The problem, ultimately, is a Catch-22.
That in turn leads to consideration of which factors a publisher can control and which they cannot. For instance, high levels of education and income or huge interest in sports are positives for paid circulation — but are givens a publisher cannot change.

As digital subscription efforts mature, retention strategies should naturally get equal weight with acquisition strategies, Frank said. But another preliminary finding will cheer journalists who think round after round of cuts is making news reports too thin to satisfy readers.

"There appears to be a high correlation," she said, "between newsroom size and digital penetration." Which is to say that more investment in news goes with better subscription results. Frank cautioned, though, that this is a case where correlation may not be the same as causation — papers that are prospering can afford bigger newsrooms.

One of my publishing sources agreed that news quality was a key variable that could be controlled. "We have to be interesting (to readers) every day with something worth looking at," he said. "We are looking again at each type of coverage — politics, culture, sports and business — and finding that a lot of time (our approach) is kind of stale."
So, declining circulation (whether of print subscriptions, digital visits, or both) reduces revenue which in turn incentivizes staff cuts which reduces the quality of the content which leads to lower circulation.
Among the attractions of digital subscriptions is that the cost of serving each additional customer is close to zero. Not so with print. Each additional customer runs up printing and delivery costs. Passing that on with aggressive price increases, in turn, pushes subscribers away and lessens appeal to advertisers.

I would look for more papers to consider dropping days of print delivery and focusing their best content (especially for an older print reading base) in Sunday editions and other remaining days — as The Atlanta Journal-Constitution has been reportedly planning. That's a partial cure with its own risks, however, since not all print loyalists will embrace the alternative of an e-replica edition.
But note what's happening with Outlook: one of the country's flagship newspapers—owned by an Internet mega-billionaire, no less—is cutting a long-running Sunday feature section because that model is outmoded.
As I've shared countless times before in the nearly two decades I've been writing this blog, I subscribed to the print edition of the local newspaper wherever I happened to be living for the first twenty years or so of my adult life. The last of those, upon my move to Northern Virginia in August 2002, was the Washington Post. It was then and remains a great paper.
As blogging became the primary impetus for my news consumption, though, the value of the print edition of WaPo—and, indeed, print magazines and even broadcast news—declined precipitously. Stories that I encountered in print and couldn't link were nigh unto useless to me as a blogger.
I don't recall if I was still subscribing to the paper when I married in October 2005 but I know that my late first wife very much liked to have the print edition of the Sunday Post, so we took it for years and years, probably until her death in 2011. Quite often, I would get an offer to have the other six days' papers delivered for free so they could inflate their circulation numbers but, if I ever took them up on it, I quickly decided that it wasn't worth the trouble of collecting the paper seven days a week just to throw it in the recycle bin.
Both because of my blogging habit and the nature of my work, I subscribe to the digital versions of way more outlets than any normal person could justify. These include four newspapers NYT, WaPo, WSJ, and the Dallas Morning News—the latter two only because they offered absurdly cheap promotional rates and the last only for their sports reporting. But, aside from the DMN sports page, I really don't read any of them as newspapers anymore and haven't in a very long time. I read articles there just as I do any other website—through various news aggregators, social media referrals, Google searches, and the like.
Obviously, my experience is atypical. But most people can get more news than they have time to read, through one perfectly good source or the other, for free. That's great for consumers but terrible for the news business. I would say this model is unsustainable but it has looked that way for going on twenty years now and, even though several long-running metropolitan newspapers have shuttered or been reduced to a fraction of what they were, continues to be the case.
For national and international news, at least. For state and local news, much less so.
On the rare occasion when I see a story in the LA Times, Boston Globe, Chicago Tribune, or other local paper that I want to read, they're almost always paywalled. There's possibly some way to circumvent the paywall but it's usually not worth the trouble to figure out. And, as good as though papers may be, they just don't have enough unique content to justify my subscribing to them as a non-local.
For that matter, even though I subscribe to WaPo, which is my de facto local paper, I don't actually live in DC but rather in Fairfax County, Virginia. The Post covers our state and politics to some degree but it's hardly their primary focus and it's not often highlighted in a way that's easy to find. And, since my professional interest is in foreign and defense policy and my blogging interest is in US national politics, there's not a lot of incentive for me to work very hard to seek out local news.
And, again, that's a way better situation than most would-be news consumers are in. I at least have access to high-quality journalism on major political stories on my state and local government, even if it's not as in-depth as it would be if I had a true local paper. Most folks can't get that even if they're willing to pay for it.
Edmonds ends his piece with this:
The tough times coincide with slow progress on proposals for federal help for local news outlets to hire more journalists. There seems general consensus now that local news is in trouble, but Congress is still a step or two away from doing anything about it.
I honestly can't imagine that this is ever going to be a high priority for Congress. While I'm much more amenable, for a number of reasons, to beefing up PBS and NPR with tax dollars than I was a decade ago, I can't imagine how it would work to fund thousands of local outlets. Even aside from the costs, I don't see how oversight would work.
Regardless, I do worry about the sorry state of our information ecosystem. Whatever the merits of the old days of everyone getting 30 minutes a day of Walter Cronkite or another middle-aged white dudes reading the news to them, there was something to be said for a common sight picture of the state of affairs. And, jokes about "yesterday's news in your bushes, today" aside, knowing what the hell was going on at City Hall and the State Capitol is really important to a working democracy.