Paywalls Not Saving Newspapers?
Newspapers are still finding it hard to live in the Internet Age.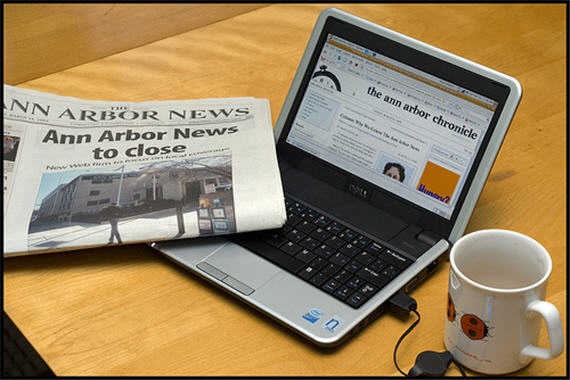 The Wall Street Journal reports that newspapers are not finding much success with those fancy new paywalls they've been putting up in recent years:
As more newspapers close the door on free access to their websites, some publishers are still waiting for paying customers to pour in.

The numbers of readers signing up so far suggest that at many papers, "paywalls" aren't about to reverse publishers' deteriorating finances. Yet the results aren't discouraging industry executives, who say their efforts are succeeding in shoring up the core print business after years of declines.

(…)

So far, the Star Tribune in Minneapolis has attracted 14,000 digital subscribers—equivalent to about 5.7% of its existing weekday print subscribers—since it started charging readers for its website in November. The Boston Globe has sold about 16,000 digital subscriptions, which include those for mobile devices, in the three months after it launched a paid website last fall, compared with its daily print circulation of about 200,000. Meanwhile, Newsday in New York had fewer than 1,000 paying digital subscribers two years after erecting an online paywall.

The industry has little choice but to keep trying. Over the past decade or so, with newspapers' content available free online, their finances have been devastated. Newspapers saw weekday circulation drop by nearly 10 million from 1999 to 2009, about 17% of the total, according to the Editor & Publisher International Yearbook. Print advertising revenue was cut almost in half in that period, according to the Newspaper Association of America.

The rate of decline has slowed recently, but online advertising revenue isn't growing nearly fast enough to make up for the erosion of print.
This is hardly surprising. Online ad rates are unlikely to bring in the kind of revenue that print ads did for newspapers back in the glory days. A banner ad from Macy's for example, isn't going to bring in nearly as much revenue as one of those four-page, full-color ads in the A Section of The New York Times that you see around the holidays or whenever there's a big sale going on. Furthermore, advertisers still remain wary of the power of online advertising to do what they need, and they're unlikely to be willing to pay top dollar for something that probably isn't going to do that much good for them.
That's why the industry has looked to paywalls as a way to make up for all that lost advertising revenue. After all, these companies aren't going to survive by giving their content away for free. As noted above, though, the paywall experiment doesn't always work out so well. For one thing, it goes against the general ennui of the Internet, where information has been freely available since the birth of the World Wide Web. Tell people that they have to pay to access your website, and they're just going to go to one of the many sites out there where the news is available for free. There are exceptions, of course, but they are exceptions that have mostly proven the rule and don't really provide a good guide for the rest of the industry:
Some big newspapers have had success with paywalls. The Wall Street Journal, which has restricted access to some online content since the mid-1990s, had about 537,000 digital subscribers as of last fall, according to the Audit Bureau of Circulations. About 80,000 of them read versions for tablets, smartphones or e-readers, while the rest get the online edition. Pearson PLC's Financial Times, which launched its current pay model in late 2007, had 267,000 digital subscribers as of the end of last year, the company said.

Since New York Times Co. began charging for online access to its flagship paper last March, it has signed up 380,000 paid digital subscribers. That is about half of its daily print circulation.

But these may be the exceptions more than the rule. The Journal and the Financial Times preceded the rest of the industry, and offer specialized business-news content. And the Times started with more than 30 million monthly unique visitors to its website in the U.S., according to comScore Inc. That large number was an advantage for conversion rates, said Martin Nisenholtz, who retired in December as senior vice president of digital operations at New York Times Co.
The other advantage that papers like the Journal and Financial Times have is that, in many cases, the subscriptions are paid for by the employers of the people in the financial industry who write it off a business expense. For the average American, though, the cost of a subscription to one of these sites can really only be justified if you have a specific need for the type of reporting they do. As for The New York Times, it strikes me that they've actually handled the transition to a paywall pretty smartly. For one thing, their package for online access includes the ability to use mobile apps, something that no doubt appeals to some significant portion of their readership. For another, the Times also exempts most content from the paywall if it's accessed via Twitter or an RSS feed, meaning that's possible to read much more than the 20 free articles per month that they offer if you know how to do it. Finally, not every newspaper is The New York Times and they arguably have a better shot at getting people to pay to access their content online than, say, the publisher of the Minneapolis Star-Tribune.
Because of this, many newspapers seem to be finding the going to be a little tough:
Last year, researchers at the Project for Excellence in Journalism persuaded six companies that own 121 newspapers to share private data about the financial performance of many of their papers. And the findings were grim.

On average, for every new dollar the newspapers were earning in new digital advertising revenue, they were losing $7 in print advertising revenue. The papers seemed not to be diversifying their revenue streams or coming up with innovative products at a fast enough clip.

"Some of those we talked to seem frustrated and even uncertain about how to proceed," said Tom Rosenstiel, the director of the project, which is part of the nonprofit Pew Research Center. "But we also found signs that, if you can break out of old cultural patterns, there is another way."
Of course, part of the problem seems to be that the industry itself still hasn't adapted to the new world:
"The papers that are succeeding," he said in an e-mail, "are those that have pushed harder to change their sales staffs, have pushed digital even at the risk of putting less effort into the old categories that pay the bills, have taken more risks — have fought against the deep 'inertia' that many of the executives describe."

The report identifies no shortage of challenges for newspapers on the sales side. Some of the papers it studied have struggled to sell mobile ads, recruit digital advertising sales representatives and profit from so-called daily deals similar to Groupon coupons.

"Only 40 percent of papers say targeted advertising is a major part of their sales efforts," the report states. "Most papers are not putting major effort into selling 'smart' or customized digital ads, the category expected to soon dominate local advertising."
There's an old saying, adapt or die. If the industry doesn't do the former, it's going to face increasing risk of the later.
H/T: mistermix