POL 101: Balanced Budget Nonsense (Part I)
Talk of passing a balanced budget amendment is nonsense.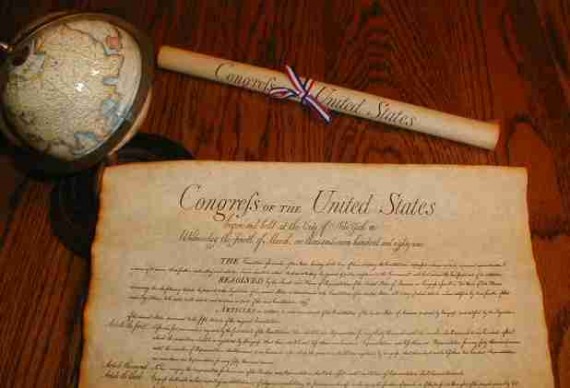 Look, I understand the appeal of a balanced budget.  I, myself, would like a balanced budget, at least as a general proposition.*  Of course, to say that one wants a balanced budget one has to acknowledge that the implementation of such a measure would require one of the following:  massive cuts, massive tax increases, or some combination of both.  Indeed, the very debates we are having now over deficit reduction are nothing compared  to the debates needed to balance the budget—especially on a year-in, year-out basis.
Without getting into all of that for the moment, let's get down to the basic issue:  amending the constitution is hard.
To wit:  to formally propose an amendment requires either a 2/3rds vote in both chambers of Congress or the request of 2/3rds of the states.  Since we have never gone the latter route, the former is what in on the table here.
So the fundamental question is:  what are the odds that 2/3rds of both chambers of the US Congress would agree to send a balance budget amendment to the ratification stage?**
Well, the partisan breakdown of the two chambers is as follows:
House:  240 (R), 192 (D), and 3 vacancies.  That means 55.2% Republican and 44.1% Democratic.  As such, it seems extremely unlikely that 67% of the chamber (290 votes) is likely to vote for the amendment.  Does anyone actually see 50 Democrats voting for the amendment?
Senate:  51 (D), 47 (R), and 2 Independents (both of whom caucus with the Ds).  So, that 53% D+I and 47 R.  Who among the readership sees 20 Democratic Senators joining the GOP to amend the constitution?
The numbers are utterly against a Republican initiative of this nature (and that is without even getting into the specifics of the proposal).  As such, this demand is nothing more than political theater and the GOP leadership has to know this.  As such, at least a third of the "Cut, Cap, and Balance" proposal is a joke from the get-go.  I state this, by the way, because the demand (as I understand it) is not just for a vote on an amendment, but on passage.  At least rhetorically (who knows what politicians actually believe) you can't have cut, cap, and balance without the amendment passing.
In the next installment I will examine the text of the proposed amendment.
—-
*Of course, a major problem with balanced budgets is that there are issues of things like disasters, wars, and economic downturns (to name three) that make it all a lot more difficult to achieve that much of the rhetoric would suggest). That is yet another conversation.
**The options are either 3/4th of state legislatures or 3/4 of conventions called at the state level.  The legislature route is far more likely (we have only done the conventions route once).