Police Didn't Clear Protestors for Trump Photo-Op?
Don't believe your lying eyes.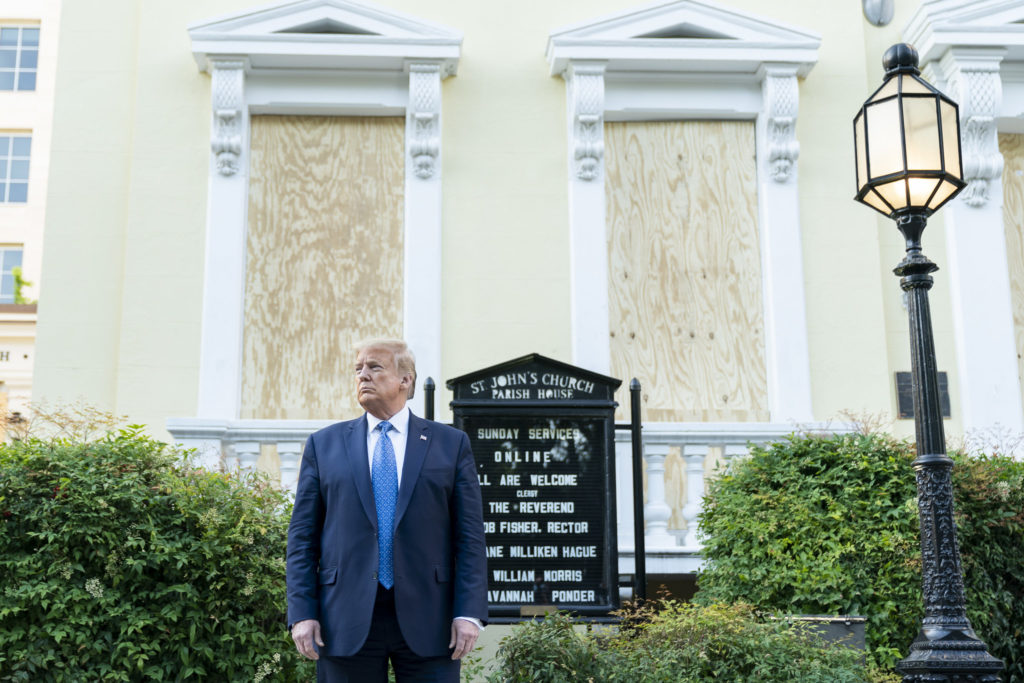 An investigation by the Interior Department's Inspector General returns a rather surprising finding. But there's less to it than meets the eye.
NPR ("Watchdog Report Says Police Did Not Clear Protesters To Make Way For Trump Photo-Op"):
The U.S. Park Police did not clear protesters from a park outside the White House so then-President Donald Trump could take a photo-op at a nearby church, an Interior Department inspector general's report found.

"[T]he evidence established that relevant USPP officials had made those decisions and had begun implementing the operational plan several hours before they knew of a potential Presidential visit to the park, which occurred later that day," Interior Department Inspector General Mark Greenblatt wrote in a statement with the report's release Wednesday. "As such, we determined that the evidence did not support a finding that the USPP cleared the park on June 1, 2020, so that then President Trump could enter the park."

Trump walked to St. John's Church, which had been damaged the day before during protests over racial injustice. As he did, law enforcement violently cleared what had been mostly peaceful protesters in Lafayette Park.

As those scenes unfolded, Trump posed for photographs, holding up a Bible outside the church.

The report noted that the Park Police made the decision "to allow a contractor to safely install antiscale fencing in response to destruction of Federal property and injury to officers."

The report, however, "does not clear law enforcement on use of force and acknowledges problem with its response. … This report does not address allegations of individual use-of-force incidents, as those are the subject of separate inquiries as well as ongoing lawsuits." [emphasis mine – jhj]
ABC News ("Police did not clear Lafayette Square so Trump could hold 'Bible' photo op: Watchdog") adds:
U.S. Park Police did not clear Lafayette Park and the nearby area of protesters on June 1, 2020, so President Donald Trump could walk from the White House over to St. John's Church, but learned of his interest in surveying the site hours after they already had begun planning to clear the area to put up new fencing, according to a new watchdog report.

The Interior Department's inspector general did not determine whether law enforcement acted inappropriately against demonstrators last year and did not focus on individual incidents of police use of force, but found that poor communication between agencies and ineffective dispersal warnings "may have contributed to confusion during the operation and the use of tactics that appeared inconsistent" with initial plans.

Specifically, the report found that Bureau of Prisons officers on the scene used pepper spray against protestors and that Metropolitan Police officers used tear gas, despite orders from Park Police not to do so.

Additionally, Secret Service deployed against protestors before the first dispersal orders were given – and warnings asking demonstrators to disperse were not heard by protestors before police started aggressively clearing the park. [emphases mine -jhj]
The NYT ("Park Police Had Planned to Clear Area Before Trump's Walk to Church, Watchdog Says") adds:
[T]he report's author was careful to warn it was not to be seen as a definitive account of the day, in part because so many other law enforcement agencies were involved. The inspector general, Mark L. Greenblatt, noted that it was not in his jurisdiction to investigate what the Secret Service and other law enforcement agencies knew and who might have ordered them to use force to clear the park.

"It was a fulsome review of everything in our jurisdiction," Mr. Greenblatt said in an interview. "The unfortunate thing is not everything is in our jurisdiction."

[…]

The head of operations for the Park Police learned about Mr. Trump's plan when Mr. Barr came to inspect the area, the report said.

"Are these people still going to be here when POTUS comes out?" Mr. Barr asked, according to the report, referring to the president of the United States.

The operations commander replied to Mr. Barr, "Are you freaking kidding me?" He then hung his head and walked away, the report said.

Shortly after that, the confrontation turned violent.

The report said Mr. Greenblatt did not seek to interview Mr. Barr, White House personnel or the Secret Service, among others, regarding decisions that did not involve the Park Police. Other agencies involved that day included the National Guard, the United States Capitol Police and the Bureau of Alcohol, Tobacco, Firearms and Explosives. [emphases mine -jhj]
Glenn Greenwald is touting this as yet another media smear campaign against Trump that turned out to be a lie and some Internet rando is demanding that I apologize for my posting based on the initial reporting titled "Protestors Tear Gassed to Clear Way for Trump Photo Op." But nothing here changes my mind about the incident. As I noted the morning after,
There's no proof Trump himself gave the order. But we know the whole scheme was concocted yesterday morning and that "U.S. Secret Service uniformed officers, military police and other law enforcement" were the ones who ordered the protesters to disperse and fired tear gas on them when they didn't do so.
That still seems to be the situation. The Trump-appointed Inspector General at the Interior Department has cleared the US Park Police of wrongdoing. Let's assume, for the sake of argument, that this was an honest accounting of what the Park Police did that day.
The report pointedly does not clear other law enforcement agencies, notably the Secret Service. Indeed, they confirmed what we saw with our own eyes on the numerous videos taken by news organizations: the Secret Service, Bureau of Prisons, and DC Metro Police used pepper spray against protestors without so much as issuing audible orders to disperse or giving them time to do so.
So, the story remains what it was a year ago and yesterday morning: someone, or multiple someones, ordered teargas to be fired on peaceful protestors to force them to disperse so that Trump could stage a photo-op at a church.