Portland Mayor Tear-Gassed
Federal agents deployed nonlethal force against peaceful demonstrators.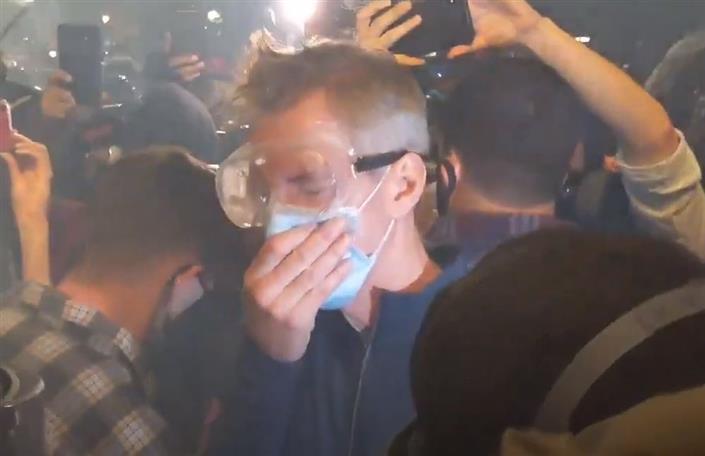 CNN ("Portland mayor tear gassed after speaking with protesters on presence of federal agents"):
Mayor Ted Wheeler was tear gassed in downtown Portland early Thursday morning, according to video and posts on Twitter from a New York Times journalist."It stings. It's hard to breathe. I can tell you with 100% honesty I saw nothing that provoked this response," Wheeler said to the Times camera. "I'm not afraid but I am pissed off."

It's unknown at this time who is responsible for deploying the tear gas and at this point, there is nothing to indicate the mayor was targeted. CNN has reached out to the mayor's office for additional comment.

The video appeared to come after Wheeler joined crowds to listen to protesters and answer their questions after violent clashes between demonstrators and federal forces.

Wheeler addressed the presence of federal officers in his city who have been deployed by the Trump administration and are heavily opposed by local leaders across the state and nation. The President said the effort was to protect federal property, but protesters say the action itself has fueled the public's outrage. Demonstrations in the city, many of which have been peaceful, have been ongoing for more than 50 days."It is an unconstitutional occupation. The tactics that have been used by our federal officers are abhorrent. They did not act with probable cause, people are not being told, who they are being arrested by, and you're been denied basic constitutional rights," the mayor told the crowd.

The mayor's comments come after the state's US Attorney called for an investigation into why some protesters were taken by federal agents without badges and put into unmarked vehicles.

"That is a use of police force, federal police force for political ends," Wheeler said. "That is not an acceptable solution anywhere in America," the mayor told the crowd."Some of the remarks from Wednesday's crowd echoed each similar concerns."I've been violated repeatedly, I've been shot with tear gas and munition, my body is bruised and swollen," one protester who identified themselves as a high school administrator told the mayor. "I want to know what you're going to do, to commit to me — as an educator committed to my community to make sure that my First Amendment right is upheld?"The mayor responded: "I will absolutely do everything in my power to go get rid of the federal troops and to reform the Portland Police Bureau. We need to do both."
NYT ("Federal Officers Hit Portland Mayor With Tear Gas") adds some perspective:
The mayor of Portland, Ted Wheeler, was left coughing and wincing in the middle of his own city Wednesday night after federal officers deployed tear gas into a crowd of protesters that Mr. Wheeler had joined outside the federal courthouse.

Mr. Wheeler, who scrambled to put on goggles while denouncing what he called the "urban warfare" tactic of the federal agents, said he was outraged by the use of tear gas and that it was only making protesters more angry.

"I'm not going to lie — it stings; it's hard to breathe," Mr. Wheeler said. "And I can tell you with 100 percent honesty, I saw nothing which provoked this response."

He called it an "egregious overreaction" on the part of the federal officers, and not a de-escalation strategy.

"It's got to stop now," he declared.

But the Democratic mayor, 57, has also long been the target of Portland protesters infuriated by the city police's own use of tear gas, which was persistent until a federal judge ordered the city to use it only when there was a safety issue. As Mr. Wheeler went through the crowds on Wednesday, some threw objects in his direction, and others called for his resignation, chanting, "Tear Gas Teddy."

After a large wave of tear gas sent Mr. Wheeler away from the scene, some protesters mocked him, asking how it felt. Mr. Wheeler said that joining the protesters at the front of the line was just one way he was going to try to rid the city of the federal tactical teams.
In an actual riot situation, tear gas is preferable to the alternatives: allowing the rioters to harm others or destroy property on the one hand or using deadly force on the other. But police, at both the state and local and now the federal level are abusing this tool, escalating the situation rather than controlling it.
Citizens have a right to peaceably assemble to express their grievances to their public officials. That certainly includes the right to protest the police.