Federal Agents Using Strong-Arm Tactics in America's Cities
Portland may be a preview of what's to come.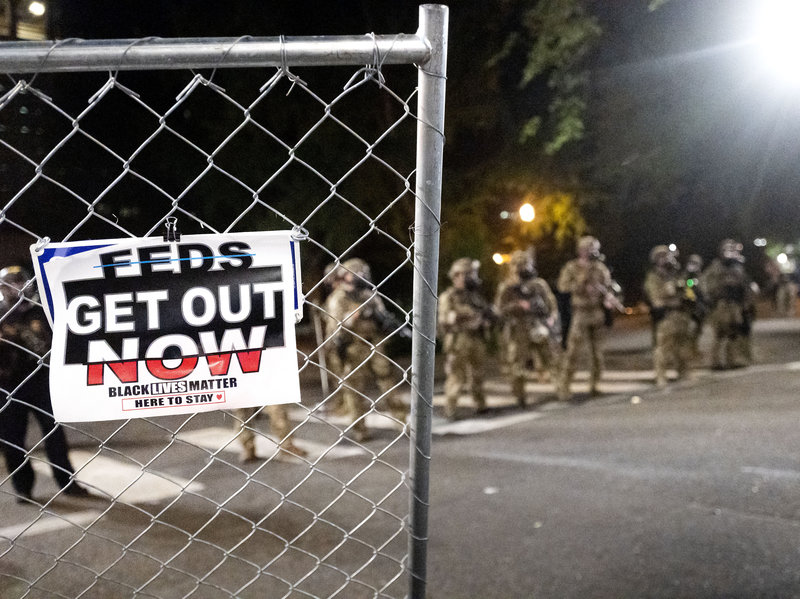 There have been murky reports in recent days about mysterious federal agents snatching peaceful protestors from the streets and disappearing them. Details are starting to emerge.
The best overall account I've seen comes, oddly, from USA Today ("Federal agents in unmarked cars, 'wall of moms': Here's what's happening in Portland"):
In Portland, a city where protests are not uncommon, demonstrators and police have clashed for weeks with protesters lighting fires and law enforcement firing tear gas and other munitions.

Heightening tensions during the protest is the presence of federal law enforcement agents. Video shared on social media from last week showed what appear to be federal officers in unmarked cars arresting people without explanation, prompting outcry and lawsuits.

[…]

Federal agents were first seen in Portland on June 27, according to the Oregonian.

The newspaper reported that after protesters tore down a statue of George Washington in June, the city came under President Donald Trump's scrutiny. Trump mentioned the city at his Tulsa campaign rally, and the day after he signed an executive order on monuments, federal officers in camouflage were seen outside the federal courthouse, the Oregonian reported.

The presence of federal authorities in the city has ramped up ever since, and acting Homeland Security Secretary Chad Wolf last Thursday during a visit to the city called the demonstrators "violent anarchists."

The agents come from the U.S. Marshals Special Operations Group and an elite U.S. Customs and Border Protection team based on the U.S.-Mexico border and have been deployed to protect federal property.

Last week, video also surfaced of the federal authorities using unmarked vehicles to detain people, seemingly without an explanation.

Conner O'Shea, 30, a Portland resident who's been attending protests for almost two months, told USA TODAY that early Thursday morning he and a friend were walking back to their car after leaving a protest when they were pursued by men they believed to be federal agents.

O'Shea said after being warned by other protesters that federal agents were driving around in unmarked vans "snatching people," a van pulled over to the side walk and "four of five dudes in camo jump out and start charging at us."

O'Shea did not see any sort of identifying markers on their camouflage uniforms. He said he got away, but his friend, Mark Pettibone, 29, was arrested and booked by federal agents.

In a statement Friday, the U.S. Customs and Border Protection confirmed that it detained a protester but disputed accounts that it did so without reason. The agency, which did not name Pettibone, said agents had information about a person suspected of assaulting federal agents or destroying federal property. The statement did not address the use of unmarked vans.

[…]

Portland's mayor and state officials have repeatedly blasted the presence of federal law enforcement in the city and taken legal action.

On Sunday, Mayor Ted Wheeler said federal officers "are not wanted here. We haven't asked them here. In fact, we want them to leave."

"What we're seeing is a blatant abuse of police tactics by the federal government," Wheeler, a Democrat, said Sunday.

Oregon Attorney General Ellen Rosenblum filed a lawsuit Friday against several federal agencies alleging agents in unmarked vehicles grabbed people off Portland's streets without a warrant.

The lawsuit says the agents violated the civil rights of Oregon residents by using unlawful tactics. It also asks the court to require federal agents to identify themselves and their agency before conducting an arrest and give an explanation to any person being detained for the arrest.
NPR ("'They Just Started Waling On Me': Violence In Portland As U.S. Agents Clamp Down") adds:
"There's absolutely no question that by having the presence of federal officers here, it's simply like adding gasoline to a fire," Oregon Gov. Kate Brown said in a weekend interview with NPR.

[…]

Oregon Public Broadcasting reported Friday that federal law enforcement officers have been using unmarked vehicles in downtown Portland to grab and detain protesters.

In an interview Sunday with NPR, Portland Mayor Ted Wheeler blamed the federal government for making things worse in the city.

"We have an already heightened situation. It's already tense," Wheeler said. "But after nearly five weeks of demonstrations, we are starting to see that small handful of people who were engaged in criminal activity — it was dissipating. It was calming down. We believed a week ago it would be over by this weekend. But what happened instead is the feds stepped in with a very heavy-handed approach, and it blew the lid off the whole thing."

"With the federal government, they won't even identify who they are," Wheeler said. "We don't know why they're here. We don't know the circumstances under which they're making arrests. We don't know what their policies are or what accountability mechanisms there are, to the point where even the U.S. attorney here in the state of Oregon is calling for an investigation, wondering, where was the probable cause to pull these people off the streets into unmarked cars?"
Sending in federal agents to deal with protestors is odd in itself. While the President has authority to do so under the Insurrection Act, it's usually reserved for much for serious situations than what's going on in Portland.
To the extent that federal police are warranted, US Marshals make sense. Protecting federal courthouses is squarely in their remit. What possible business the Border Patrol—let alone a special tactics unit in Army-style camouflage—is doing there escapes me.
Similarly, the use of unmarked vehicles here makes no sense. Yes, every police department of any size has them. But they're typically used for traffic enforcement and surveillance. In a riot control situation, one would think maximum visibility would be desired.
At the anecdotal level, it gets worse.
WaPo ("A Navy vet asked federal officers in Portland to remember their oaths. Then they broke his hand."):
He came to the protest with a question. He left with two broken bones in a confrontation with federal officers that went viral.

Christopher David had watched in horror as videos surfaced of federal officers in camouflage throwing protesters into unmarked vans in Portland. The 53-year-old Portland resident had heard the stories: protesters injured, gassed, sprayed with chemicals that tugged at their nostrils and burned their eyes.

David, a graduate of the U.S. Naval Academy and former member of the Navy's Civil Engineer Corps, said he wanted to know what the officers involved thought of the oath they had sworn to protect and defend the Constitution.

So, he said, on Saturday evening, he headed to downtown Portland to ask them.

[…]

Just as he was about to leave, David said, the federal officers emerged. They rushed a line of protesters nearby, knocking them to the ground. David walked toward a gap in the line, calling out to the officers.

"Why are you not honoring your oath?" he bellowed. "Why are you not honoring your oath to the Constitution?"

An officer trained his weapon on David's chest as several agents pushed him, sending David stumbling backward. But he regained his center and tried again. Another agent raised his baton and began to beat David, who stood unwavering with his arms at his sides. Then another officer unloaded a canister of chemical irritant spray into David's face.
His hand was broken in two places.
NYT columnist Michelle Goldberg ("Trump's Occupation of American Cities Has Begun"):
The month after Donald Trump's inauguration, the Yale historian Timothy Snyder published the best-selling book "On Tyranny: Twenty Lessons From the Twentieth Century." It was part of a small flood of titles meant to help Americans find their bearings as the new president laid siege to liberal democracy.

One of Snyder's lessons was, "Be wary of paramilitaries." He wrote, "When the pro-leader paramilitary and the official police and military intermingle, the end has come." In 2017, the idea of unidentified agents in camouflage snatching leftists off the streets without warrants might have seemed like a febrile Resistance fantasy. Now it's happening.

[…]

There's something particularly terrifying in the use of Border Patrol agents against American dissidents. After the attack on protesters near the White House last month, the military pushed back on Trump's attempts to turn it against the citizenry. Police officers in many cities are willing to brutalize demonstrators, but they're under local control. U.S. Customs and Border Protection, however, is under federal authority, has leadership that's fanatically devoted to Trump and is saturated with far-right politics.

"It doesn't surprise me that Donald Trump picked C.B.P. to be the ones to go over to Portland and do this," Representative Joaquin Castro, Democrat of Texas, told me. "It has been a very problematic agency in terms of respecting human rights and in terms of respecting the law."

It is true that C.B.P. is not an extragovernmental militia, and so might not fit precisely into Snyder's "On Tyranny" schema. But when I spoke to Snyder on Monday, he suggested the distinction isn't that significant. "The state is allowed to use force, but the state is allowed to use force according to rules," he said. These agents, operating outside their normal roles, are by all appearances behaving lawlessly.

Snyder pointed out that the history of autocracy offers several examples of border agents being used against regime enemies.

"This is a classic way that violence happens in authoritarian regimes, whether it's Franco's Spain or whether it's the Russian Empire," said Snyder. "The people who are getting used to committing violence on the border are then brought in to commit violence against people in the interior."

Castro worries that since the agents are unidentified, far-right groups could easily masquerade as them to go after their enemies on the left. "It becomes more likely the more that this tactic is used," he said. "I think it's unconstitutional and dangerous and heading towards fascism."

On Friday, the House speaker, Nancy Pelosi, tweeted about what's happening in Portland: "Trump and his storm troopers must be stopped." She didn't mention what Congress plans to do to stop them, but the House will soon vote on a homeland security appropriations bill. People outraged about the administration's police-state tactics should demand, at a minimum, that Congress hold up the department's funding until those tactics are halted.

Through the Trump years, there's been a debate about whether the president's authoritarianism is tempered by his incompetence. Those who think concern about fascism is overblown can cite several instances when the administration has been beaten back after overreaching. But all too often the White House has persevered, deforming American life until what once seemed like worst-case scenarios become the status quo.
This is all a wee bit histrionic. I'm old enough to remember when it was controversial when the NRA referred to federal agents as "jack booted thugs."
Still, while I'm sympathetic with the President's desire to quell the lawlessness that has been part and parcel of these protests, I fully agree with local officials that heavy-handed policing here is just making matters worse. (Indeed, the protests originated as a reaction to police violence.)
Chris David, who was commissioned the same year I was, should know better than to engage in screaming confrontations with riot control officers, who are naturally going to be on a hair trigger.* But he was well within his rights as a citizen to do so.
Granting Snyder's incentives to overhype the situation, his explanation for why the Border Patrol is being used is all too plausible. They are, almost by design, the most thuggish of federal law enforcement.
And, while Castro is using hysterical language, the fact that the agents in question are wearing what looks to be standard-issue Army fatigues does indeed make it easy for those looking to go crack some heads to do so while plausibly seeming to do so under the color of authority.
Alas, Trump appears ready to escalate.
WaPo ("Trump threatens to deploy federal agents to Chicago and other U.S. cities led by Democrats"):
Homeland Security officials said Monday they are making preparations to deploy federal agents to Chicago, while President Trump threatened to send U.S. law enforcement personnel to other Democratic-led cities experiencing spates of crime.

Trump made the pronouncement as he defended his administration's use of force in Portland, Ore., where agents have clashed nightly with protesters and made arrests from unmarked cars. Calling the unrest there "worse than Afghanistan," Trump's rhetoric escalated tensions with Democratic mayors and governors who have criticized the presence of federal agents on U.S. streets, telling reporters at the White House that he would send forces into jurisdictions with or without the cooperation of their elected leaders.

"We're looking at Chicago, too. We're looking at New York," he said. "All run by very liberal Democrats. All run, really, by the radical left."

"This is worse than anything anyone's ever seen," Trump continued. "And you know what? If Biden got in, that would be true for the country. The whole country would go to hell."

With his poll numbers sinking amid widespread frustration at his response to the coronavirus pandemic, Trump has cast himself as a law-and-order strongman who will pacify U.S. communities roiled in recent months by spreading disease, the economic crisis and large street protests for racial justice. Trump has wielded images of violent demonstrations, though the vast majority of racial justice protests have been peaceful.

Three Department of Homeland Security officials said Monday that the agency has been making preparations to deploy agents from U.S. Immigration and Customs Enforcement (ICE) to Chicago, but the officials said operational details are not yet finalized.
Leaving aside that "cities led by Democrats" is damned near redundant (only 13 of the 50 largest cities and 29 of the 100 largest cities have Republican mayors, it's a desperate show of force.
I don't see fascism at work here so much as desperation. Trump is frustrated that these protests are making him look weak and hurting his chances for reelection. Still, it's a dangerous turn of events.
*UPDATE: I'm referring here to the world as it is, not as it should be. See my previous postings on this subject, notably:
There are dozens of these in the archives but not everyone has been reading for 17-1/2 years.