Trump and the F-word
Not that one. The other one.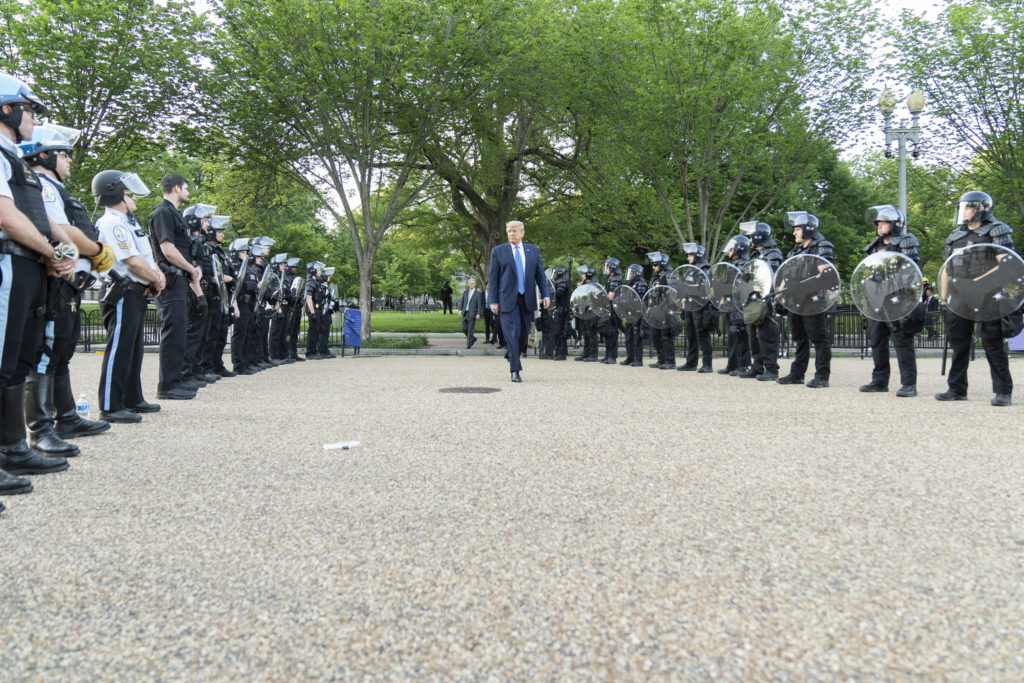 Is Donald J. Trump a fascist? Or, to perhaps be kinder (if one can be kind when using these terms), is he acting in a fascistic manner in response to national protest? I think these are fair questions (and chilling ones to ask about a sitting US president).
Without getting into a long political science discussion of fascism (I did a little bit of that here in 2015) I will say that violent rhetoric and use of force all in the name of a vaguely defined "order" can fairly be described as fascistic. Further, I would say that policies and pronouncements that foster treating citizens as the enemy for the security forces of the government to dominate are fascistic.
So, is it fair to ask the questions above of Trump?
I think these are fair questions when one notes that the photo at the top of this post is one of Trump going to have a photo-op after his government had used security forces to clear Lafayette Square of peaceful protestors. (And it is remarkable that this is one of precious few times in his presidency that a church was even a destination).
I think these are fair questions when we listen to Trump and cabinet members talking on Monday of this week about domination and speaking of our cities as battle spaces:
Trump:
"You have to dominate. If you don't dominate, you're wasting your time. They're going to run all over you, you'll look like a bunch of jerks. You have to dominate, and you have to arrest people, and you have to try people and they have to go to jail for long periods of time."
SecDef Esper:
"And so, in my urging I agree, we need to dominate the battle space…resources in the guards. I stand ready the chairman stands ready, the head of the National Guard stands ready to fully support you in terms of helping mobilize the guard and do what they need to do. Again, most of the guard has not been called up. There's only a few states that…two states where more than 1,000 troops have been called up. I think the sooner that you mask and dominate the battle space, the quicker this dissipates, and we get back to a — the right normal."
AG Barr:
"Law enforcement response is not gonna work unless we dominate the streets, as the President said. We have to control the streets."
Dominate, dominate. This is the law and the prophets, according to Donald and his disciples.
It is force over reason.
It is the language of abuse of the citizenry.
One does not need to strain to hear the fascistic ring to it all.
I think these are fair questions when Trump talks about sending the US military into states.
If a city or a state refuses to take the actions that are necessary to defend the life and property of their residents, then I will deploy the United States military and quickly solve the problem for them.
I recognize the appeal to the law and order crowd, but these words are extreme: troops will be deployed in your state and in your cities to attack and put down American citizens even if not requested by governors.
The message is clear: force will solve these problems.
I think these are fair questions when the federal government is deploying law enforcement groups without identification.
No names, no badge numbers, no insignia sum to a license for impunity. This is not a democratic usage of state force. It is the stuff of authoritarianism.
I think these are fair questions when we see video after video of police violence against peaceful citizens because his words encourage those actions. When we see the video of Buffalo police shoving a 75-year-old man to the ground, it is hard not to remember words like these spoken by the President:
"When you see these towns and when you see these thugs being thrown into the back of a paddy wagon, you just see them thrown in, rough, and I said, 'Please don't be too nice,' " Trump told the audience of law enforcement officers at Suffolk County Community College in Brentwood, N.Y.

"Like when you guys put somebody in the car and you're protecting their head, you know, the way you put their hand over, like, don't hit their head and they've just killed somebody, don't hit their head, I said, 'You can take the hand away, OK?' "
That's the rhetoric of abuse. It helps deepen the notion that people accused of crimes are the enemy and that law enforcement officers are in a war against other Americans. And these are the words of the President to the police.
Words matter.
I think these are fair questions when we consider Trump's history of violent rhetoric aimed at fellow citizens. During the campaign, he constantly used violent rhetoric as I noted in a 2018 post called Radicalizing Rhetoric. Some example from that post:
"Maybe he should have been roughed up, because it was absolutely disgusting what he was doing. I have a lot of fans, and they were not happy about it. And this was a very obnoxious guy who was a trouble-maker who was looking to make trouble." From an interview on the Sunday edition of Fox and Friends on November 22, 2015 speaking about a black protester at a campaign event in Birmingham, AL. (video here).

"If you see somebody getting ready to throw a tomato, knock the crap out of them, would you? Seriously. Just knock the hell — I promise you, I will pay for the legal fees." Speaking to a campaign rally on February 1, 2016.

"I'd like to punch him in the face" and "In the old days [protesters would be] carried out on stretchers." At a campaign event, February 22, 2016.

"You know, part of the problem and part of the reason it takes so long is nobody wants to hurt each other anymore, right?" At a campaign rally to the crowd on March 11, 2016. (roughly 7:30 mark of the video).

"The audience hit back. That's what we need a little more of." March of 2016 in response to a black protest being sucker-punched by a supporter as he was being escorted out of a campaign event.

"Hillary wants to abolish, essentially abolish, the Second Amendment. By the way, and if she gets to pick her judges, nothing you can do, folks. Although the Second Amendment people, maybe there is, I don't know. But I'll tell you what, that will be a horrible day." On the campaign trail, August 9, 2016.
Force. Will. Violence. Treating political opponents as enemies.
This is fascistic language.
The disheartening fact is that I could go on. I could talk about his inflammatory rhetoric aimed at immigrants (including the time he "joked" about shooting them). Or the time he praised a co-partisan for assaulting a reporter.
Fascism is an ugly word that has an ugly history. It is not a word I use lightly. It has its origins in Mussolini's Italy, where the word was embraced, and was applied to Nazi Germany. It is further associated with Franco's Spain and could arguably be applied to the actions of many Latin American dictatorships such as Argentina and Chile in the 1970s.*
The word is often used imprecisely and as an epithet. I am not using it as an epithet here. I am using it as a reasonable descriptor of what we are seeing on our streets and from the White House.
I recognize that force is part of governing and that force has to be deployed at times, even against citizens. But when force is used, like against that man in Buffalo or in Lafayette Square, as though force is more important than morality, then we are in very dangerous territory.
Indeed, the specific murder of George Floyd, and the deployment of force against African-Americans in general, is fascistic. It says that force trumps right. The entire logic that it is acceptable in any way for the police to dole out a death sentence to a US citizen save in extreme cases is fascistic.
Authority over right (and rights) and submission on pain of death are not democratic values. Order at all costs is authoritarian, not democratic.
And yes order in a general sense is a clear goal of government. And I am not here defending looting or other violence by citizens. It is reasonable for the state to wish to stop criminality. But how it is done matters. And there is no denying that we have seen plenty of examples of law enforcement simply trying to dominate rather than serve and protect. We have seen escalation when the goal should be de-escalation.
And we have seen precious little in terms of addressing the underlying reasons for where we are right now in terms of justice.
George Floyd is dead, in part, because we have been telling law enforcement that they are in a war with crime. And the current rhetorical of domination is just furthering that message from the loudest bullhorn in the land.
I am profoundly concerned that the President of the United States is openly embracing rhetoric and actions that have clear fascistic undertones. And, worse, that his party is not calling him out on it (but, rather, are cowardly looking to the next election knowing that he is their only path to retaining the White House).
And to answer my questions directly, I would not classify Trump as fascist in the full sense of the term (that would require a different conversation and this post is already too long). But, clearly, he and his administration are both acting fascistically and promoting fascistic behavior.
And that assessment is more than bad enough.
---
*I don't want to stretch the term too far, and if I were fully defining the regime types of, say, Pinochet's Chile (1973-1990), I would not call it a fascist regime, per se. However, I would say without a doubt that things like Operation Condor (as a prominent example) were fascistic.