Hitler Comparisons and Bad History
Contrary to popular belief, Adolf Hitler didn't come to power by democratic means or because of his ability to whip the public into a frenzy.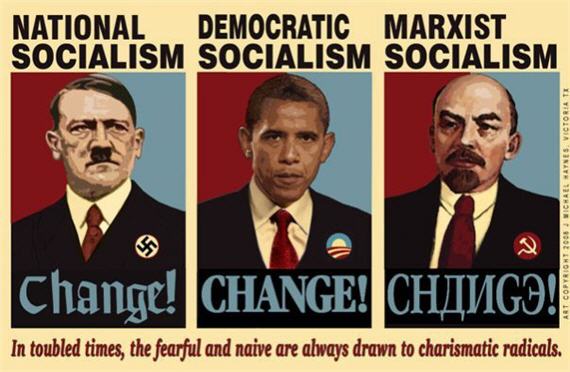 Note:  the following is an updated version of a post I originally wrote at PoliBlog on November 9, 2008.  Indeed, the proximate cause of the original post was a comment to a post at OTB that was at least in the family of Obama-Hitler comparisons, so in many ways the circle is now complete.
As James Joyner noted earlier this week, Thomas Sowell penned a column for Investor's Business Daily in which he asserts "In our times, American democracy is being dismantled, piece by piece, before our very eyes by the current administration in Washington, and few people seem to be concerned about it."  This dismantlement is likened to Hitler's reign in Nazi Germany with a cameo appearance by V. I. Lenin, father of the Russian Revolution and supreme leader of the USSR.
Sowell writes:
during the worldwide Great Depression, the German Reichstag passed a law "for the relief of the German people."

That law gave Hitler dictatorial powers that were used for things going far beyond the relief of the German people — indeed, powers that ultimately brought a rain of destruction down on the German people and on others.
This is compared to the establishment of the BP escrow fund which, on its face, strikes me as a problematic comparison, to put it mildly (and, in reality, is an absurd one).  At a minimum we have here a corporation voluntarily entering into an agreement designed to help it manage its massive liabilities and deal with significant PR problems (and which its investors rather liked).  While there is always room for criticism of such actions, likening it to the granting of dictatorial powers to Hitler as Weimer Germany slid into authoritarianism is a stretch of gargantuan proportions.  In fairness to Sowell's argument, such as it is, he indicates that it goes beyond just the issue of the escrow fund, although he does not enumerate his evidence.
Further (and this the main point of this post), Sowell makes a rather fundamental analytical error in his comparison.  Specifically, he writes from the perspective that Weimar Germany (i.e., Germany in the interwar period as governed by the Weimar constitution) and the contemporary United States are somehow equivalent cases in terms of democratic development.  This is not the case.  Further, the economic and political crises facing Germany at the time were substantially worse than what the US is currently facing.  There are, by the way, others areas where one could with Sowell's assertions, but I am focusing on a portion (and only a portion) of the Hitler comparisons here.  People simply don't know (or willfully ignore) history.  It is especially surprising by someone like Sowell, who holds a Ph.D. from Chicago and degrees from Columbia and Harvard and who is currently a Senior Fellow at the Hoover Institution at Stanford and has been, amongst other things, a full professor of economics at UCLA. It is worth noting that a former Vice Presidential candidate has endorsed Sowell's column, as has a member of the US House of Representatives, making debunking the comparisons (which have manifested in other forms elsewhere) worth debunking.
The case of Adolph Hitler is often used as a cautionary tale about how a charismatic leader can ride his appeal to a democratic victory and then go on to subvert democracy because of the power of his personality (indeed, note the poster at the top of the post). However, is this really an accurate reading of the situation?
First off, Hitler did not personally come to power via election. Indeed, he never even stood for election to the Reichstag (the German legislature), as he wasn't a German citizen until 1932-he was an Austrian who had renounced his citizenship in 1925, but did not become a German citizen until right before his 1932 run for the presidency (Bullock, 142). In that race, his only attempt at electoral office, he lost badly. In the 1932 election, Hitler challenged incumbent president Hindenburg and won only 30.1% of the vote in first round and 36.8% in the second. Here are the numbers:
(Source: Childs, 496.)
Hitler would later become Chancellor (i.e., Prime Minister) via a desperation deal made by Hindenburg—not through democratic means or even though clever deployment of his charismatic skills.
While it is true that the National Socialist German Workers Party (the Nazis) were able to win a plurality in the German legislature in 1932, the notion that the operative factor in their electoral victory was was Hitler's charisma is problematic. Consider the following:
(Source: Frey and Weck, 411)
Just the unemployment figures alone cited in the table should clue us all in that there was a lot more going on in interwar Germany than a charismatic politician who could attract large crowds. This doesn't even touch on hyperinflation or the general effects of the loss in WWI.
There is an awful lot that can be said about why Weimar Germany's democracy collapsed into Nazi totalitarianism, but it is not the case that we should understand as an example of charisma über alles.  There certainly is no direct analog between Hitler's time as Chancellor and Obama's tenure in office to date in terms of the severity of the economic crisis.
Indeed, if one looks at the political parties that were competing in the German elections, the majority of them in terms of winning seats were anti-regime parties. By this I mean that they did not support the Weimar Constitution and sough power as a means of doing away with it and were anti-democratic (they did not want to continue the system as it existed—none of which is true about any of the parties in the US Congress). The Nazis were clearly an anti-democratic party. Then there was the Communist Party (KDP), the third largest party in the 1932 Reichstag, also an anti-regime party. The German National People's Party (DNVP) which was a monarchist party. The Nazis had 230 seats, the KDP 89, and the DNVP 37 for at least 356 out of 608 (or 58.6%) of the seats belonging to parties opposed to the regime and to democratic governance (I say "at least" insofar as I think some of the smaller parties may have been anti-regime as well, but I am not certain and am not inclined to do the research at the moment). That is hardly a healthy situation that goes beyond issues of Hitler's charisma.
It is hardly a shock that as Germany's unemployment rate skyrocketed to 52.4% that the anti-regime, nationalistic Nazi's were able to translate that into a plurality of seats in the Reichstag.
While there is a whole lot more that can be said about the collapse of Weimar Germany and the rise of Hitler (indeed, a great deal has been written on the subject for those who care to look for it), even this cursory look should clearly demonstrate that one cannot look at Nazi Germany as an example of a democratic regime subverted by a charismatic politician who used oratory to fool the voters and government officials into giving him power. Not only was Hitler's rise to power not accomplished primarily via elections (indeed, he himself was never elected), but it is hardly the case that Weimar Germany was an especially healthy democracy (to put it mildly).
---
References
Bullock, Alan. 1964. Hitler, A Study in Tyranny. New York: Harper Torchbooks.
Childs, Harwood L. 1932. The German Presidential Election of 1932. The American Political Science Review. 26,3 (June):486-496.
Frey, Bruno S. and Hannelore Weck. 1983. A Statistical Study of the Effect of the Great Depression on Elections: The Weimar Republic, 1930-1933. Political Behavior. 5,4:403-420.