How Do You Defeat An Incumbent President?
The odds are against anyone who challenges an incumbent President. So, how do you do it?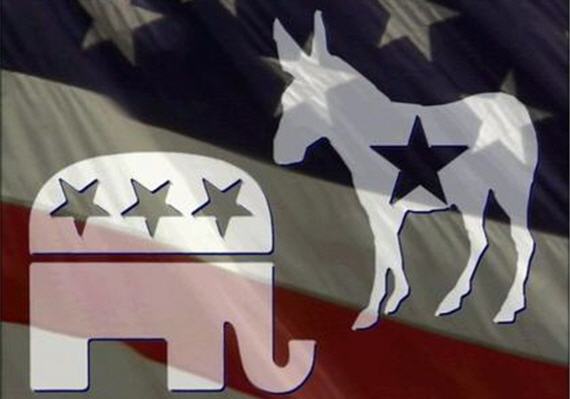 It's not easy to defeat in an incumbent President. Even in the 19th Century, which is replete with one-term Presidencies, there were only five occasions on which an incumbent President was defeated in a General Election bid for re-election (1800, 1828, 1840, 1888, and 1892 — in most cases the 19th century one term Presidents failed to even get the nomination of their party, or declined to do so). In the 20th Century it also only happened five times (1912, 1932, 1976, 1980, and 1992) and two of those cases (1912 and 1992) are races in which the incumbent was dealing with multiple challengers on the General Election ballot. That's ten elections in 200-odd years in which an incumbent was unseated, this stands in contrast to sixteen occasions (not counting Washington in 1792) in which an incumbent was reelected. This means that, since Jefferson's re-election in 1804, an incumbent has been re-elected 61% of the time they have stood for re-election (if you throw in Washington's re-election, the odds increase to 62.96%). Clearly then, the odds are that if a President decides to run for re-election he is going to be re-elected absent some kind of extraordinary circumstances, which leads to the question of exactly how a challenger and their party should approach the task of beating an incumbent.
Like many conservatives, Thomas Sowell seems to think that one does so by drawing stark ideological contrasts with the incumbent:
How does anyone ever defeat a sitting president then? They do it because they have a message that rings and resonates. The last Republican to defeat a sitting president was Ronald Reagan. He was the only Republican to do so in the 20th century.

He didn't do it with polls. At one point during the election campaign, President Jimmy Carter led Ronald Reagan with 58 percent to 40 percent in the polls. So much for the polls that so many are relying on so heavily today.

The question is not which Republican looks better against Barack Obama in the polls today, before the general election campaign begins. The question is which Republican can take the fight to Barack Obama, as Reagan took the fight to Carter, and win the poll that ultimately matters, the vote on election day.

The biggest fighting issue for Republicans is ObamaCare. Can the author of RomneyCare as governor of Massachusetts make that an effective issue by splitting hairs over state versus federal mandates? Can a man who has been defensive about his own wealth fight off the standard class warfare of Barack Obama, who can push all the demagogic buttons against Mitt Romney as one of the one-percenters?

Rick Santorum, and especially Newt Gingrich, are fighters — and this election is going to be a fight to the finish, with the fate of this country in the balance.
Let's leave aside the hyperbole, because as I've addressed before the idea that this election is one in which the "the fate of the country" hangs in the balance, or that the results in November would represent some massive ideological shift in the direction of the nation isn't really supported by the facts. Yes, we've had those kind of elections in this past but, many times, what seems like a "change" election usually just ends up being more of the same. What really strikes me about Sowell's column, though, or at least this portion of it, is the way that it clearly seems to be viewing history through a political lens, thereby distorting it and drawing the wrong conclusions.
As I noted above,  the odds of defeating an incumbent are low to begin with. For example, Sowell's observation that Reagan was the only Republican to defeat a Democratic President in the 20th Century is largely meaningless. For one thing, other than the Election of 1916 and perhaps 1948, the election between Ronald Reagan and Jimmy Carter was the only realistic chance Republicans had to defeat a Democratic incumbent in the entire 20th Century. Republicans never had a realistic shot of beating FDR they blew their chance to beat LBJ by nominating Goldwater, and that's it. Wilson, Truman, and Carter, those were the only Democrats that could have been unseated in 100 years and the GOP went 1-for-3, which isn't all that bad actually.
The bigger problem, though, is that Sowell makes the same mistake that many on the right do when they look back at the 1980 election and conclude that the reason Ronald Reagan won was because he campaigned as a "true conservative," whatever that means. In reality, it's pretty clear that 1980 falls into the same pattern that the other 20th century races that unseated an incumbent have fallen into. Each of these five elections, I would argue, can be put into one of two categories:1
Elections in which there was some extraordinary political event in play. In 1916 and 1992, that would have been the presence of more than one serious challenger on the ballot (In 1916, in fact, Wiliam Howard Taft came in third in both popular and electoral votes behind Willson and Teddy Roosevelt). In 1976, the incumbent President was a man who had never been elected as either President or Vice-President and took office after what was arguably the most serious political crisis in the nation's history (even so, Ford nearly won that election); and,
Elections in which the economy is in extraordinarily bad shape This applies both to 1932, at which point the Great Depression was entering its worst phase, and 1980, when the nation was suffering through a combination of economic stagnation, high interest rates, high unemployment, and inflation. Arguably, 1992 would also fit into this category, although the economic situation in that year was nowhere near as severe as it had been in either of the other two cases.
Based on these elections, the most likely conditions under which a President is defeated would be where there is something extraordinary going on politically, such as a strong third party candidate, or the economic situation is in such dire straits that the public is in the mood to fire the incumbent. If the economy in 1980 had been completely different, and taking the international situation that existed that year off the table as well, does anyone really think that the Republicans would have been able to defeat Carter so easily? Perhaps they would have won the election anyway, if only because Reagan himself was an extraordinary candidate and campaigner who ended up garnering large amounts of personal good will. But, there was only one Ronald Reagan and there's nobody running for President this year that even comes close to him as a public speaker and a candidate. Any other Republican, running against an incumbent in a time when there doesn't seem to be any good reason to change horses, would have had a very rough time indeed I submit
Daniel Larison adds this about Sowell's argument:
It obviously never hurts to have an appealing message, but Sowell's claim isn't correct. In order for incumbents to lose presidential elections, they must not only be perceived as having failed, but economic and/or international conditions have to be poor. The poor conditions make a challenger's message resonate. Absent poor conditions, a challenger might have a very bold message that theoretically ought to be appealing, but it will not be enough to persuade most voters to support the challenger. After all, the main decision that voters are making is not whether they want to endorse the challenger's vision, but whether they want to throw out the incumbent. The election is not going to turn on the Republican nominee's ability to condemn the individual mandate with zeal and credibility.
The desire among conservatives to have a nominee that will "take the fight" to Obama is, in the end, a fool's errand because it doesn't recognize the reasons why voters are willing to fire an incumbent. If they continue living with their distorted version of history, they are going to find themselves disappointed come November.
1 I'm leaving the 19th century elections out of this mostly because I would submit that American politics has changed so significantly since that time that they aren't particularly instructive, not to mention the fact that the manner in which we selected Presidents, and candidates, was far different.