Obama and the Road to Tyranny
President Obama is following the example of his predecessors in abusing his power to enact his preferred policies. Has he gone too far?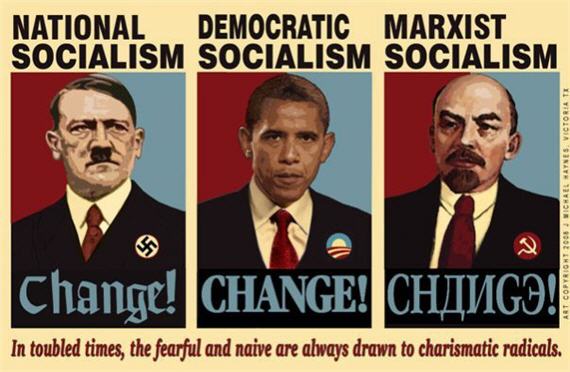 The venerable economist Thomas Sowell asks,  "Is United States is Now on the Slippery Slope to Tyranny?"
His intro sets the bar quite high, indeed:
When Adolf Hitler was building up the Nazi movement in the 1920s, leading up to his taking power in the 1930s, he deliberately sought to activate people who did not normally pay much attention to politics.  Such people were a valuable addition to his political base, since they were particularly susceptible to Hitler's rhetoric and had far less basis for questioning his assumptions or his conclusions.

"Useful idiots" was the term supposedly coined by V.I. Lenin to describe similarly unthinking supporters of his dictatorship in the Soviet Union.

Put differently, a democracy needs informed citizens if it is to thrive, or ultimately even survive.

In our times, American democracy is being dismantled, piece by piece, before our very eyes by the current administration in Washington, and few people seem to be concerned about it.
Now, look, I've got plenty of concerns about the Obama administration.   But, seriously, Hitler and Stalin?!  Two men who, between them, are responsible for the slaughter of tens of millions of innocents?  Who notoriously employed secret police forces that arrested, tortured, and killed anyone who dared disagree?  I'm pretty sure that we're not only light years away from there but also quite a ways away from a slippery slope leading there.
Anyway, that rhetorical throat-clearing out of the way, here's Sowell's first substantive argument:
Just where in the Constitution of the United States does it say that a president has the authority to extract vast sums of money from a private enterprise and distribute it as he sees fit to whomever he deems worthy of compensation? Nowhere.

And yet that is precisely what is happening with a $20 billion fund to be provided by BP to compensate people harmed by their oil spill in the Gulf of Mexico.  Many among the public and in the media may think that the issue is simply whether BP's oil spill has damaged many people, who ought to be compensated.

But our government is supposed to be "a government of laws and not of men."  If our laws and our institutions determine that BP ought to pay $20 billion — or $50 billion or $100 billion — then so be it.

But the Constitution says that private property is not to be confiscated by the government without "due process of law."

Technically, it has not been confiscated by Barack Obama, but that is a distinction without a difference.  With vastly expanded powers of government available at the discretion of politicians and bureaucrats, private individuals and organizations can be forced into accepting the imposition of powers that were never granted to the government by the Constitution.
Now, I actually agree with Sowell's basic argument here.   Indeed, I made something like it last week in "Obama Takes Godfather Approach to BP."  I'm very, very leery of the use of strong-arming by executive branch authorities, whether they be presidents, governors, or local district attorneys.
But tyranny?
If you believe that the end justifies the means, then you don't believe in constitutional government.

And, without constitutional government, freedom cannot endure. There will always be a "crisis" — which, as the president's chief of staff has said, cannot be allowed to "go to waste" as an opportunity to expand the government's power.

That power will of course not be confined to BP or to the particular period of crisis that gave rise to the use of that power, much less to the particular issues.
I agree with every word of that. But Sowell again goes off the deep end in the next sentence:
When Franklin D. Roosevelt arbitrarily took the United States off the gold standard, he cited a law passed during the First World War to prevent trading with the country's wartime enemies. But there was no war when FDR ended the gold standard's restrictions on the printing of money.

At about the same time, during the worldwide Great Depression, the German Reichstag passed a law "for the relief of the German people."  That law gave Hitler dictatorial powers that were used for things going far beyond the relief of the German people — indeed, powers that ultimately brought a rain of destruction down on the German people and on others.
The conflation of FDR's taking the US off the gold standard and Hitler's Enabling Act is not only slanderous but absurd.
The man appointed by President Obama to dispense BP's money as the administration sees fit, to whomever it sees fit, is only the latest in a long line of presidentially appointed "czars" controlling different parts of the economy, without even having to be confirmed by the Senate, as Cabinet members are.
Again, I'm no fan of "czars," not only because they operate outside the normal checks and balances of our system but because they're inefficient:  They are able to operate without oversight precisely because they don't control large budgets and staffs.  But we've had "czars" at least as far back as the Reagan administration without serious infringement on our liberty.
Those who cannot see beyond the immediate events to the issues of arbitrary power — vs. the rule of law and the preservation of freedom — are the "useful idiots" of our time. But useful to whom?
But the inability to distinguish between democratically accountable politicians pushing the envelope — something that, in our system, has provenance as far back as the earliest days of George Washington's presidency — and the worst abuses of the worst tyrants in modern history are idiots without the virtue of usefulness.