Republicans Want to Ban Czars
House Republicans want to do away with the increasing number of "czars" in the White House.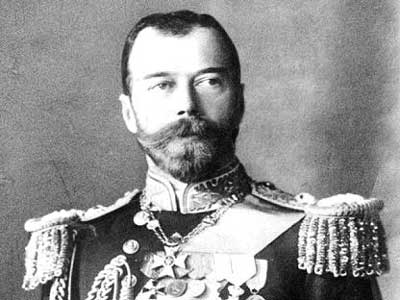 House Republicans want to do away with the increasing number of "czars" in the White House.
A group of House Republicans introduced a bill on Wednesday to rein in the various "czars" in the Obama administration.

Rep. Steve Scalise (R-La.) and 28 other House Republicans introduced legislation to do away with the informal, paid advisers President Obama has employed over the past two years.

The legislation, which was introduced in the last Congress but was not allowed to advance under Democratic control, would do away with the 39 czars Obama has employed during his administration.

The bill defines a czar as "a head of any task force, council, policy office within the Executive Office of the President, or similar office established by or at the direction of the President" who is appointed to a position that would otherwise require Senate confirmation.

Republicans had complained about the president's use of czars to help advance his agenda in Congress. In particular, the GOP had harped about the personal history of Van Jones, the president's czar for "green jobs," over past comments Jones had made about Fox News came to light. Jones eventually resigned.

Another prominent czar over the past year was Carol Browner, the president's energy and environmental adviser. She helped head up efforts in response to the Gulf of Mexico oil spill, and the ultimately unsuccessful effort for an energy and climate bill from Congress.
Now, this is exceedingly unlikely to go anywhere, since Democrats still control the Senate.  Even if it somehow passed both Houses of Congress, Obama would surely veto this slap at his prerogatives.  And there's no way the Republicans muster the two-thirds votes in both Houses necessary to override.
As an empty gesture, though, this isn't bad.  I happen to agree that these "czars" are extra-constitutional and just generally a bad idea.  And I can't think of a single problem that's ever been solved by one of these people.
Still, it should be noted, Obama didn't exactly invent the practice.  Here's a list from Wikipedia, which looks to be close enough to accurate for our purposes (it's preceded with the disclaimer "The list is subjective and imprecise, since frequently individuals or offices might be referred to by the nickname "czar" by some publication or a political opponent, yet the actual governmental official, a majority of publications and others do not use the term."):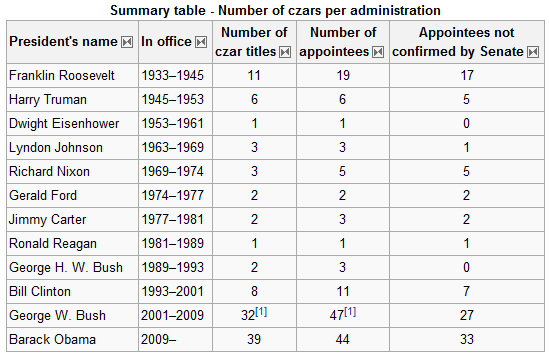 Until looking it up, I was under the mis-impression that Ronald Reagan had invented the concept when he appointed Bill Bennett drug czar.  That's wrong on three counts:  the czar concept began with FDR, the drug czar position was created by Richard Nixon, and Bennett didn't become drug czar until the GHW Bush administration (he was Reagan's NEH chair and Education Secretary).
Regardless, it's arguable that a difference in degree becomes a difference in kind.  We had 11 tsars at the height of WWII and the Great Depression and had only one or two at a time until the Clinton administration.  But the real explosion came under George W. Bush, who took it from 8 to 32 — nearly triple FDR's!   Obama's escalation has been comparatively small.
My favorite of the positions is held by John Goss.  In addition to being Director of the Office of Economic Opportunity, he's also the "Asian Carp czar."   No one seems to be responsible for other varieties of carp or, indeed, other fish species.