Jeb Bush Wants You To Know He's In Favor of Killing Baby Hitler
Give Jeb Bush a DeLorean or a TARDIS and he'll be traveling back in time to Hitler in no time!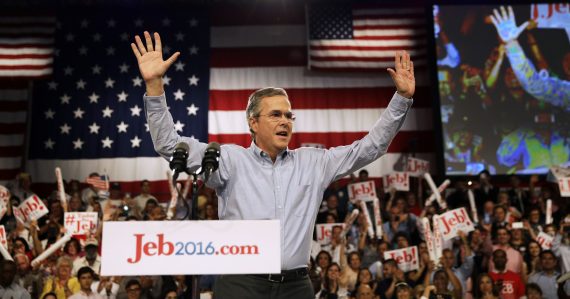 Jeb Bush wants America to know that he would be all in favor of going back in time and killing Adolf Hitler as a baby:
MOULTONBOROUGH, N.H. — Have you ever wondered whether, if given the opportunity, Jeb Bush would go back in time to kill Adolf Hitler in his crib?

Well, wonder no more.

"Hell yeah, I would!" the former Florida governor told HuffPost. "You gotta step up, man."

The question initially arose when The New York Times Magazine polled its readers last month and found that a plurality of respondents said they would, in fact, kill Hitler as a baby.

Bush was then asked the question directly via the email address that he distributes widely to public audiences: Je*@je*.org. But he did not answer the inquiry until asked on camera by HuffPost, while riding on his campaign bus in New Hampshire.

Bush did acknowledge that murdering the future German dictator before he had the chance to ignite World War II would be an act that could set in motion unknown consequences.

But the 2016 Republican presidential candidate remained emphatic that he would, in fact, kill Hitler — even if the future leader of the Third Reich were an especially cute baby.

"It could have a dangerous effect on everything else, but I'd do it — I mean, Hitler," Bush said with a shrug.
The question was, apparently, prompted by a feature that The New York Times ran polling readers on whether or not they would go back in time and kill Hitler as an infant knowing what they know today. That article in turn spawned a number of fun articles from various science fiction and other web sites about about the morality and consequences of an action that, presumably, would have prevented the rise of the Third Reich, World War II, and the Holocaust all in one fell swoop. It's also a question that has been at the center of the Alternative History sub-genre of Science Fiction for decades now, with many authors spinning tales about the consequences of preventing all of the events linked to Hitler for history, sometimes with a history far better than what we've ended up with and some far, far worse. It's also the inspiration for one of the best, and most frequently shared, humor pieces online called "Everyone Kills Hitler Their First Time," in which future time travelers keep preventing others from taking actions that stop Hitler's rise to power.
On a more serious level, Dylan Matthews wrote in the wake of the original New York Times piece about the philosophical questions that killing Hitler in the past would raise, as did other writers. The biggest point to keep in mind, I think, is that the presumption of the question, that killing Hitler would have obviously led to a better state of affairs in the world isn't necessarily true. Something resembling Nazism could very well have arisen in Weimer Germany without him under the auspices of men like Ernst Rohm, Rudolf Hess, Heinrich Himmler, or many of the others involved in the Nazi Party's rise to power. The lack of a strong Nazi movement in 1920s Germany could have meant that the Communists would have come to power in Germany, leading to revolutionary conflicts throughout Europe that likely would have led to war. Or, of course, the lack of a strong Germany could have led to a more aggressive Soviet Union under Stalin that began to move west to export its ideology.
Or, perhaps something else would have happened:
If you want to ask a Republican presidential candidate a trick question, ask if they'd abort baby Hitler.

— Ryan Teague Beckwith (@ryanbeckwith) November 9, 2015
What if Hitler became an evil monster because of all of the time travelers who tried to kill him as a child? — Doug Mataconis (@dmataconis) November 9, 2015
It's a fun topic to talk about, especially for those of us with an interest in history, but I'm not sure why it was a relevant question for a candidate for President of the United States. Unless the U.S. Government has access to a DeLoreon equipped with a flux capacitor or a TARDIS — and I'm pretty sure we don't — this isn't exactly something that's any of these candidates would have to deal with if they were actually elected. Now that Jeb Bush has chimed in, though, I'm sure we'll see the other candidates asked about it. Because, of course, everyone will want it to be known that even though time travel to the past is probably impossible, they'd still use it to kill baby Hitler in his sleep.