Trump Threatens Troops to 'Dominate' and 'Put Down' Movement
The President of the United States is on the precipice of fascism.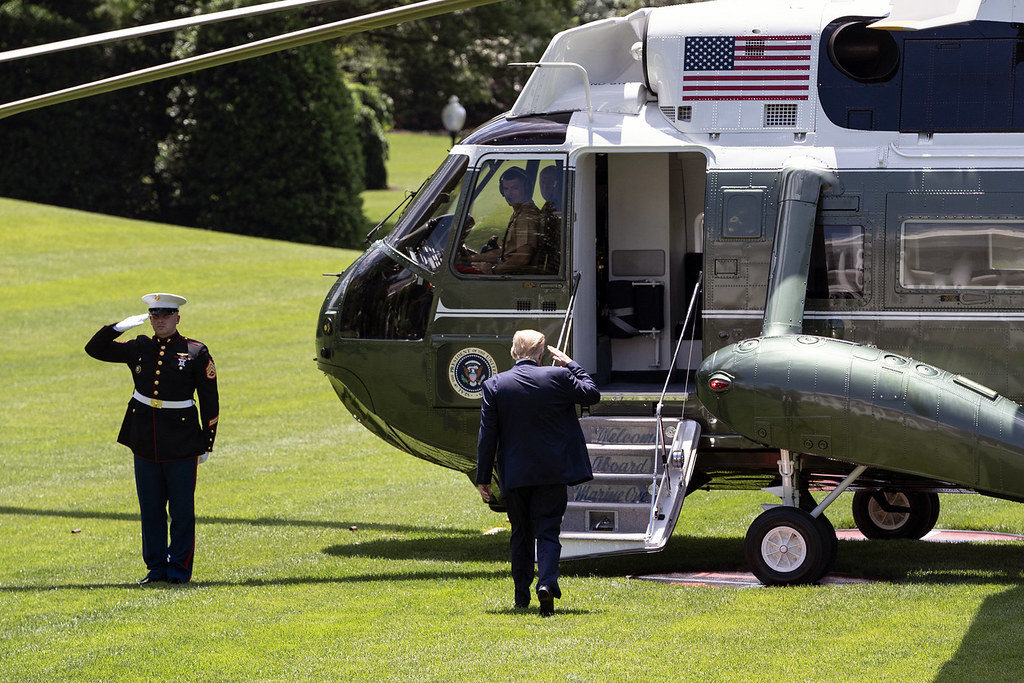 We've been sending off our students, who graduate via a virtual ceremony tomorrow, the last couple of days so I needed to cut short my writing this morning. What started as a single post about the outrages President Trump committed yesterday quickly became long enough for at least two posts but time did not permit.
As I wrote early this morning, President Trump's having federal police and military spraying protestors with tear grass to stage a photo op, was enough to knock the mayhem in cities across the nation off of the headlines. But, shockingly, that was not the worst thing he did yesterday. Yet, sadly, events are moving so quickly that this news is already hard to find on the top news sites in the country.
WaPo ("Trump threatens military action to quell protests, and the law would let him do it"):
President Trump has the legal authority to deploy active-duty military personnel to states to help quell violent protests across the country over the death of a black man in police custody — though the dramatic move he threatened Monday would probably generate strong pushback from some state and local officials, analysts said.

In a televised speech, Trump said he had recommended Monday "to every governor to deploy the National Guard in sufficient numbers that we dominate the streets."

"Mayors and governors must establish an overwhelming law enforcement presence until the violence has been quelled," Trump said.

"If a city or a state refuses to take the actions that are necessary to defend the life and property of their residents, then I will deploy the United States military and quickly solve the problem for them."

[…]

The deployment of active-duty military personnel, though — particularly to states that may not want them — would represent a further escalation of Trump wielding his considerable presidential powers.

"I am mobilizing all available federal resources, civilian and military, to stop the rioting and looting, to end the destruction and arson, and to protect the rights of law-abiding Americans," Trump said.
As frustrating and provocative as Trump's public comments were, his private remarks earlier in the day in a call with the nation's governors were downright frightening. NPR ("Governors Push Back On Trump's Threat To Deploy Federal Troops To Quell Unrest"):
President Trump, in a conference call Monday with the nation's governors, threatened to deploy the U.S. military to restore order unless states hit by days of unrest "put down" violent demonstrations, urging leaders to "dominate" lawbreakers or risk looking like "a bunch of jerks."

[…]

Trump took a tough line with the governors, saying he was putting Attorney General William Barr in charge of the federal law enforcement response. The president said the White House was "strongly looking for arrests."

"You have to arrest people and you have to try people. And they have to go to jail for long periods of time," the president said.

"If people are running amok, you have to dominate. If you aren't dominating, you're wasting your time," he said. "They're going to run over you; you're going to look like a bunch of jerks."

"It's a movement. If you don't put it down, it will get worse and worse," Trump said. "The only time it's successful is when you're weak and most of you are weak."
Especially in the context of his tweets about shooting looters, the "dominance" language is especially scary. Worse, still, his talk of "putting down" a "movement" seems to go much further than simply taking aggressive action against perpetrators of mayhem. His animus seems literally directed against law-abiding citizens exercising their fundamental right to petition their government for redress of grievances.
The reaction of the governors was almost universally negative, drawing rebuke from at least some Republicans. Sadly, not all.
While some governors, such as South Carolina's Henry McMaster, a Republican, praised Trump's calls for a crackdown, others took umbrage at the president's combative tone and questioned his authority to unilaterally deploy federal troops to the states.

During the conference call, Illinois Gov. J.B. Pritzker, a Democrat, warned the president that the "rhetoric coming out of the White House is making it worse," to which Trump snapped back, "I don't like your rhetoric that much either."

"I had to speak up, and I told him that his rhetoric is inflaming matters, that it's making things worse, and that we need to call for police reform," Pritzker told NPR's Morning Edition on Tuesday. "We need to call for calm, that that's what the president should do and we need national leadership in this regard."

"He unfortunately — you know," the governor added, "he reacted badly."
Pritzker also said that what Trump's suggesting is "illegal."

"The governor of a state has to ask for federal help. I don't know any governor that intends to do that," he said. "And secondly, you know, you can hear in his rhetoric that he is simply trying to make himself sound like a strong man — almost like a dictator, as if he's going to be responsible for bringing order all the way."

In Michigan, where police and protesters have skirmished in Grand Rapids despite many demonstrations remaining peaceful, Gov. Gretchen Whitmer, a Democrat, called the president's remarks "dangerous" and said they should be "gravely concerning to all Americans."

The president's comments, she said, "send a clear signal that this administration is determined to sow the seeds of hatred and division, which I fear will only lead to more violence and destruction."

"We must reject this way of thinking. This is a moment that calls for empathy, humanity, and unity," Whitmer said in a statement. "This is one of the most challenging periods in our nation's history, but as Americans, we must remember our enemy is racial injustice, not one another."

The Republican governor of Massachusetts, Charlie Baker, said he wasn't surprised by the president's "incendiary words."

"At so many times during these last several weeks, when the country needed compassion and leadership the most, it simply was nowhere to be found," he said following the phone call with Trump.

"Instead, we got bitterness, combativeness and self-interest. That's not what we need in Boston, it's not what we need right now in Massachusetts," he said as his voice cracked with emotion, "and it's definitely not what we need across this great country of ours either."
Washington Gov. Jay Inslee, a Democrat, called the president's remarks the "rantings of an insecure man trying to look strong after building his entire political career on racism."

On the subject of the deploying of federal troops, Democratic New York Gov. Andrew Cuomo told CNN that he would respond to such an offer by saying, "Thank you, but no thank you."

"He wants to make this about looting because he doesn't want to talk about the killing of Mr. Floyd," Cuomo said. "[He] doesn't want to really talk about racism and discrimination."
As to the claims of Pritzker and Cuomo that Trump lacks the power to do this, they're almost certainly wrong.
A law called the Posse Comitatus Act prohibits the domestic use of military for law enforcement purposes without specific congressional authorization, said Stephen Vladeck, a professor at the University of Texas Law School. But a different law, the Insurrection Act, provides the president authorization to do so under certain circumstances, he said.
According to a Congressional Research Service report, the act has been invoked "on dozens of occasions" throughout U.S. history, though its recent use has been "exceedingly rare." The act was invoked in 1992 during riots in California over the beating of motorist Rodney King, though in that instance, the state's governor requested it.

It was also used during the civil rights movement, including when President Dwight D. Eisenhower sent the Army into Little Rock to desegregate its schools, Vladeck said. The law says the president can intervene if state authorities are unable to give their residents the protection of law.

"I think there's a reason why the statute allows him to act even if states don't ask him," Vladeck said. "I don't think the situation is as dire as the drafters of the statute might have contemplated, but invocation of the Insurrection Act here seems much less controversial to me as a legal argument than many of Trump's other actions."
That's a low bar, indeed.
Gary Solis, retired law professor at the U.S. Military Academy at West Point and a retired Marine judge advocate, said the act, "does give the executive extraordinarily broad power to assemble federal troops to restore order in the various states." But, he said, if Trump were to invoke it now, state and local officials likely "would fight tooth and nail to keep federal troops out."
One suspects he'd win in court and, frankly, he might well ignore any preliminary injunctions, simply declaring the emergency requires him to take strong action.
Another NPR report ("What Is The Insurrection Act That Trump Is Threatening To Invoke?") sheds further light:
Before invoking it, the president "must first issue a proclamation ordering the insurgents to disperse within a limited time, 10 U.S.C. § 334.4. If the situation does not resolve itself, the President may issue an executive order to send in troops," according to a 2006 report by the Congressional Research Service.

That is the same year the act was amended to expand the instances in which the president may invoke the law, after the federal government's response to Hurricane Katrina a year earlier was criticized.
It authorizes "the President to employ the armed forces during a natural disaster or terrorist attack."

As to whether a state must request the presence of those military forces in the state, that's "not necessarily" the case, according to experts.

A section of the law (§251) says (emphasis ours):

"[T]he President may, upon the request of its legislature or of its governor if the legislature cannot be convened, call into Federal service such of the militia."

But the next section (§252) says:

"Whenever the President considers that unlawful obstructions, combinations, or assemblages, or rebellion against the authority of the United States, make it impracticable to enforce the laws of the United States in any State by the ordinary course of judicial proceedings, he may call into Federal service such of the militia of any State, and use such of the armed forces, as he considers necessary to enforce those laws or to suppress the rebellion."
While I've become much less conservative on a host of issues over the last two decades, one area where I've remained steadfast is this one: any grant of plenary power to the President or agency of government is almost certainly going to be abused down the line in ways not intended by those granting the power. So, if you're fine with George W. Bush having the power, you need to reconcile yourself to Barack Obama using it as he sees fit. Likewise, if you're fine with Obama having the power, see how much you like it when it's Trump's turn.
As much as I opposed Trump's nomination and eventual election in 2016 and condemned so many of his actions since taking offices, I've pushed back against charges of fascism or authoritarianism. Last night's tear-gassing incident may well have crossed the line into those territories. Actually ordering out U.S. military forces to conduct extrajudicial killings would certainly be authoritarian. Using them to put down a largely peaceful movement would be the act of a fascist.
We can only hope that these words are simply bluster.