Professor-Cop Blames Victims of Police Violence
17-year veteran of the LAPD says, "If you don't want to get hurt, don't challenge me."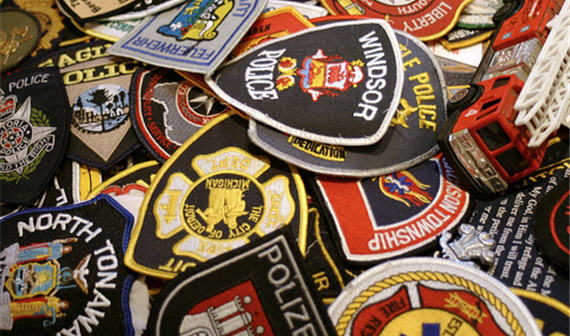 Sunil Dutta, an adjunct homeland security professor at Colorado Tech and 17-year veteran of the LAPD, has an op-ed in the Washington Post headlined, "I'm a cop. If you don't want to get hurt, don't challenge me." While authors seldom write their own headlines, in this case, it conveys the article's message exactly.
Dutta is highly accomplished. He has his PhD in plant biology from UC Davis (1995) and an MA in homeland security from the Naval Postgraduate School (2012) and an impressive bio:
Dr. Sunil Dutta is a full time law enforcement professional working in Los Angeles (LAPD). He has been with the LAPD for sixteen years. His assignments have included Watch Commander, Internal Affairs Investigator, Special Projects Unit Officer-in-Charge, field supervisor, patrol officer, Staff Researcher, and Collision Investigator. Prior to joining the LAPD, Dutta was a scientist with a specialization in biochemistry (host-pathogen interactions, plant hormones, carbohydrate metabolism, and regulation of dormancy). He is a published author and amateur musician. Dr. Dutta has published several articles related to terrorism and criminal justice.

Dr. Dutta's teaching experience goes back two decades and includes teaching police academy instructors as well as high-level police and military professionals at the International Law Enforcement Academy. He has taught at all levels, including high school, community college, and university.
Yet, all that education and experience hasn't removed the "respect my authoritay" attitude. Indeed, he cites it at the outset:
Working the street, I can't even count how many times I withstood curses, screaming tantrums, aggressive and menacing encroachments on my safety zone, and outright challenges to my authority.
Note that "outright challenges" to his "authority" rank higher on his pecking order of the vicissitudes of the job than "aggressive and menacing encroachments." His advice to the citizens he's sworn to protect follows naturally:
Even though it might sound harsh and impolitic, here is the bottom line: if you don't want to get shot, tased, pepper-sprayed, struck with a baton or thrown to the ground, just do what I tell you. Don't argue with me, don't call me names, don't tell me that I can't stop you, don't say I'm a racist pig, don't threaten that you'll sue me and take away my badge. Don't scream at me that you pay my salary, and don't even think of aggressively walking towards me. Most field stops are complete in minutes. How difficult is it to cooperate for that long?
Note that none of those things, save perhaps the "aggressive walking," justify the use of force by police officers. And that citizens are seldom under any obligation to do what police officers tell them. Yet, while he is "aware that corrupt and bully cops exist," his advice is for citizens to become sheep in their presence.
But if you believe (or know) that the cop stopping you is violating your rights or is acting like a bully, I guarantee that the situation will not become easier if you show your anger and resentment. Worse, initiating a physical confrontation is a sure recipe for getting hurt. Police are legally permitted to use deadly force when they assess a serious threat to their or someone else's life. Save your anger for later, and channel it appropriately. Do what the officer tells you to and it will end safely for both of you. We have a justice system in which you are presumed innocent; if a cop can do his or her job unmolested, that system can run its course. Later, you can ask for a supervisor, lodge a complaint or contact civil rights organizations if you believe your rights were violated. Feel free to sue the police! Just don't challenge a cop during a stop.
Now, that's certainly prudent advice in the presence of an armed bully with legal sanction to employ violence and who will almost certainly be given the benefit of the doubt by prosecutors and society when he does. But it's the same advice we give to citizens confronted by armed robbers and hijackers.
Similarly, while this is prudent, is puts the onus on the wrong party:
Did I just get a radio call of a shooting moments ago? Am I looking for a murderer or an armed fugitive? For you, this might be a "simple" traffic stop, for me each traffic stop is a potentially dangerous encounter. Show some empathy for an officer's safety concerns. Don't make our job more difficult than it already is.
Cops are supposed to be trained to control their emotions. Citizens, by contrast, are untrained. They're also conditioned to expect to be treated as innocent unless proven guilty.
Dutta closes:
Community members deserve courtesy, respect and professionalism from their officers. Every person stopped by a cop should feel safe instead of feeling that their wellbeing is in jeopardy. Shouldn't the community members extend the same courtesy to their officers and project that the officer's safety is not threatened by their actions?
No!
The police are public servants who are supposedly trained to deal with crisis situations. The citizenry's safety and welfare is their sole reason for existence. This is not a symbiotic relationship and the obligations of the two parties are wildly different. While police are not soldiers, they are trained agents of the state authorized to use violence in the public's name. We expect them to act like trained professionals, and that decidedly includes restraint when facing fear—especially in the presence of unarmed civilians.
Now, in practice, I practice what Dutta preaches. Whether it's because my dad was a cop (albeit a military one) or because I was a soldier, I do in fact empathize with the stresses cops face on the job. While I don't cower at their every glare or jump to attention and salute when they issue instructions, I treat them as fellow professionals doing a stressful and sometimes dangerous job. That's the right thing to do. It shouldn't, however, be enforced at the threat of violence from our public servants.