In Response to John Podhoretz's Latest Column
Shame on him for defending authoritarian actions.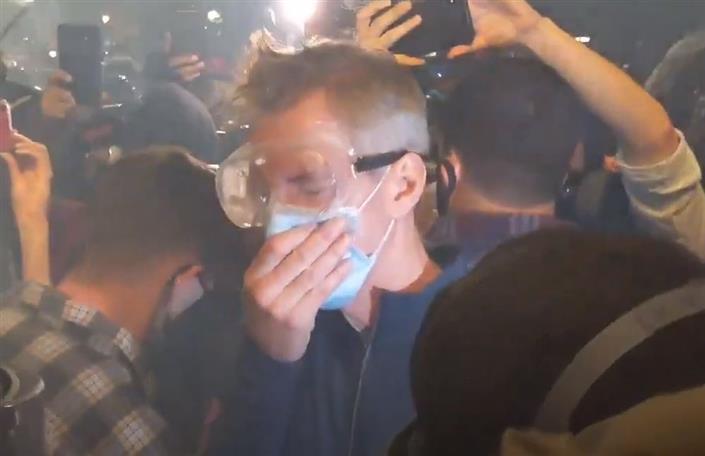 John Podhoretz latest column in the NY Post is titled as follows: No, it's not 'fascism' to protect federal property from riots, revolutionaries.
To which I would say, true. And to which I would further say: they are doing for more than protecting federal property. And to which I would ask, with some incredulity, revolutionaries?
In many ways, it is a wholly ignorable piece–a mix of apologia for clearly questionable, if not downright authoritarian, practices by federal law enforcement as well as a snarky attempt to assert that any objections to this behavior are just posturing.
He starts thusly:
Are the images of lawlessness and disorder pouring out of Portland, Ore., and the gun violence and crime waves overtaking New York and Chicago going to have a negative impact on the rising political fortunes of the left?
First, the inclusion of New York and Chicago are diversions in a column that is primarily about Portland and a defense of misbehavior of federal law enforcement actors. And the issue at hand is not the "political fortunes of the left" but, quite frankly, the appropriate use of force by federal agents who are not trained in crowd control or of building protection. (This statement may be incorrect in some measure since we don't really know who these people are it makes a full assessment of their likely training difficult to ascertain, but that rather underscores the problem, doesn't it?).
As such, the truly foundational question should be one of abuse of power by the DHS as ordered by Trump. Pretending like this is all normal gives it protection and affirmation.
A few paragraphs later he states:
Let's be clear here: There are federal law-enforcement agents "deployed" in every city in the United States, and feds tasked with the protection of federal buildings in those cities. Local and federal officers work together on task forces on a daily basis on matters that cross jurisdictional lines.
This is disingenuous, if not dishonest in context. Yes, plenty of federal law enforcement operate in US cities and states (indeed, by definition, all domestic law enforcement is done in cities, states, and territories). They are, indeed, assigned to those locations and not deployed in the sense of being sent to address a specific event. There are, for example, FBI offices across the land. They are assigned to specific areas and they operate within their appropriate jurisdictions. That is different than sending mostly unidentified paramilitary agents to stand guard and lob tear-gas at protestors.
Further, and this is very important, generally, we would expect deployment of this kind to be done in coordination with local law enforcement, not as some show of federal force that ended up result in the Mayor of the city in question being tear-gassed. I find it impossible to believe that a normally coordinated federal-local law enforcement scenario could result in such an outcome. Likewise, local officials don't tend to file lawsuits against federal actors when appropriate coordination has been engaged in.
Only the most radical among us, from the far left to the far right, see a fundamental problem with this — and generally speaking, that's because they believe law enforcement is itself inherently unjust.
Only someone being willfully blind, or acting as an apologist for improper use of federal force would fail to see the fundamental problem here. Pretending like all that is going on here is simply the protection of buildings is undercut by the images and videos we have seen, as well as the demonstrable ignorance of acting DHS Secretary Chad Wolf.
Given that fact — and the fact that it's usually liberals and leftists who demand federal intervention in local law-enforcement issues (especially those having to do with race) — we have every right to wonder at the good will of those who are suddenly embracing the glories of states' rights.
Speaking for myself, I have no general problem with the deployment of federal law enforcement. My problem, as with many others, is the deployment of anonymous federal law enforcement officers who have dubious jurisdictions and who are clearly operating independently from local authorities. I am especially troubled by things like taking citizens into custody in unmarked vehicles by anonymous officers dressed for combat. I am troubled by the obviously aggressive gassing of protestors. I am concerned about trying to reshape federal law enforcement groups into activities that they were not designed to address.
We should not have the acting head of DHS saying that individuals under his control are "proactively arrest[ing] individuals."
The primary mission of the federal officers in Portland is protecting federal assets. Recall that the worst event of Bill Clinton's presidency was the 1995 bombing of the federal building in Oklahoma City by the domestic terrorist Timothy McVeigh.
In truth, the main function of this deployment is to bolster Trump's electoral odds. It is a child's version of "law and order." And, further, this kind of deployment would not have stopped McVeigh's attack (this is Podhoretz either being sloppy or trying to appeal to emotion or both).
In the quarter-century since, and with 9/11 intervening, making sure that federal offices and federal property are unmolested by terrorists, foreign and domestic, has been a key responsibility. And we have all seen the footage of these Portland barbarians doing whatever they could to tear through the plywood to get at the glass windows to get inside the federal building to wreak havoc.

Barbarians is what they are. Lawless thugs. And yet their actions are apparently not worth criticizing, not when you can caricature the actions of federal law-enforcement officers as though they were "disappearing" enemies of the regime in ­Argentina in the 1980s.
Again: if the goal was to protect federal property, why no coordination of any significance with local authorities. And why would it include whisking away protesters in unmarked vehicles?
If one does not wish to wish to be compared to authoritarian regimes, do not engage in authoritarian practices. This is a pretty simple dictum.
There is a bizarre idea in the air that some awful crime against humanity was ­being committed because they were driving through the city in "unmarked vans" — as though it were somehow unsporting not to give the rioters sufficient notice with bright colors and clear lettering that they should run away.
I will reiterate what I said earlier this week: taking US citizens away by inadequately labeled law enforcement officials in unmarked vehicles is a tactic of state terrorism. It is an authoritarian move, not one of democratic governance. It deserves to be called out and criticized.
The gap between the sober reality — professionals trying to maintain order in the midst of psychotic madness — and the dystopian teen-lit fantasies promulgated by elite hysterics is startling.

The speaker of the House of Representatives, Nancy Pelosi, actually referred to federal agents as "stormtroopers."

How dare she. How dare she.
No, Mr. Podhoretz, how dare you try to normalize this kind of behavior. For forgiving these abuses and for setting the stage for further actions of this nature. Shame, very much, on you.
It's almost as though she and her ilk know what we're all seeing might trigger such revulsion and fear among the great American middle that it could disrupt Joe Biden's seemingly clear glide path to the White House. It's unnerving to them, and they're trying to change the plotline. And because they dominate the airwaves, their narrative is working in the short term.
Or, maybe, those who object to these behaviors and actions are truly concerned about federal agents being used as pawns to further escalate the confrontations in our streets. If the goal was to protect buildings and to provide aid, then coordinating with local officials would have been undertaken. Instead, acting Secretary Wolf stated "we don't have that local support, that local law enforcement support" and so they are acting on their own and, as noted, ending up doing things like gassing the mayor of Portland (or, the Wall of Moms, for that matter). What does that tell you?
I recognize that there are complex issues that surround these protests and the fact that there are subsets of bad behavior within the broader crowds. I fully accept that there might be a clear role for the federal government to aid local officials in difficult times. But coordination, training, and appropriate jurisdictions are key.
I will conclude by stating that defending and downplaying these abuses in a major newspaper is an enabling act that is worth criticizing.