A Simple Comparison
A thought experiment on what we have seen in Portland.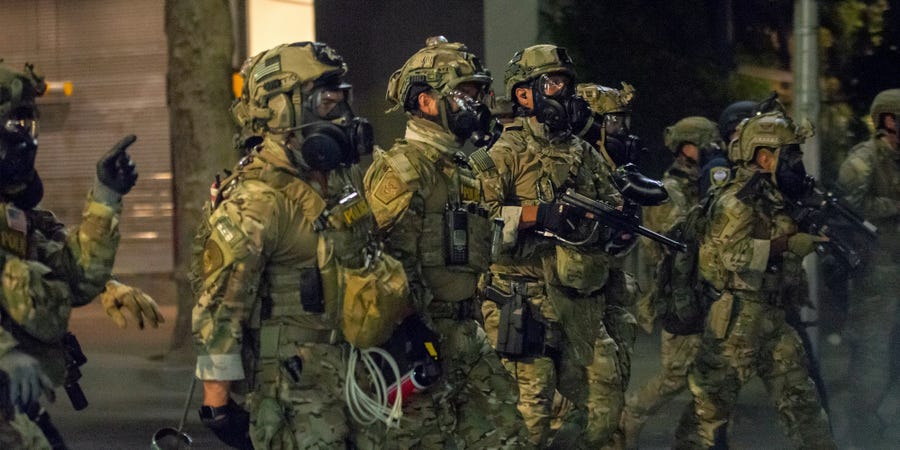 There is an awful lot to say and think about as it pertains to the unfolding events in Portland, Oregon, and specifically to the involvement and actions of federal law enforcement officials. For this post, let's just focus on a simple comparison of two scenarios.
Scenario One: An encounter with the local police or sheriff's office leads to your son being arrested. You are present for the arrest and you can see, both on the arresting officer's uniform and likely their vehicle what precise law enforcement entity is taking your son into custody as well as the identity of the arresting officer. If it possible that you will be provided a business card with contact information (although, depending on the nature of the encounter, perhaps not). At a minimum, you are aware what government agency has taken your loved one and where they are being taken. You have at least a rough idea of what next steps have to be taken in terms of items like bail and legal representation.
None of the above it to suggest it always proceeds exactly as described, nor am I suggesting the police always behave as they should. However, even in the avalanche of videos of police abuse that we have seen (and that sparked the protests we are discussing), there was no doubt as to whom was responsible, institutionally if not individually.
Scenario Two: Law enforcement agents (you hope) in uniforms that lack name tags and easily identifiable logos grab your son, place him in an unmarked car, and drive off with him.
What do you do? How do you get him legal help? Where has he been taken? Was he arrested? When will he be released? Was the action legitimate and if it wasn't, against whom could you file a complaint or lawsuit? Can I bail him out? How can I get him a lawyer?
Anyone who doesn't understand what the big deal is about these action needs to think about the profound difference between these scenarios.
Scenario One is the way law enforcement in a democratic setting is supposed to work. Scenario Two borders on (if not crosses over into) state terrorism. The goal of essentially anonymous, poorly identified agents taking people into custody at unknown sites with unknown processes is designed to frighten people into submission. Being dragged off the streets and whisked away is terrifying by definition.
This is not an acceptable practice in a democratic country.
It is decidedly not a legitimate means of law enforcement.
A side note: the root of the protest is police misconduct. Adding a new type of bad behavior by a new law enforcement entity is not only not going to quell existing anger, but it is also likely to create more anger.