Presidential Motorcades, Street Closures, and the Little People
The most congested part of DC was shut down at the most inconvenient time possible last evening so that President Obama could attend a partisan political event. It's a routine outrage.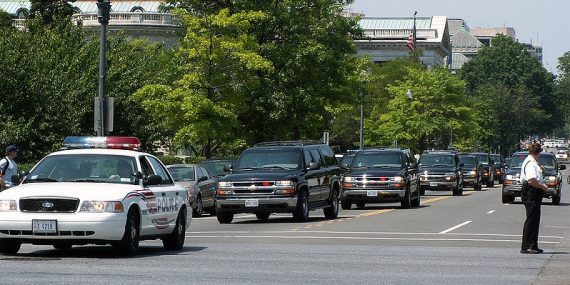 Margaret Soltan was in her GWU office and heard "endless sirens."   The cause?
The evening commute in the West End will get tricky as President Obama heads to George Washington University to host a "Moving America Forward" town hall meeting for the Democratic National Committee. The event is scheduled to start at 7 p.m., but that means authorities will be clearing streets before then. The distance isn't far, and authorities don't discuss the routes the president takes. However, the street closures should roll through the area fairly quickly. The best advice we can offer is to avoid the area around the campus during this time period if you don't have to be there. If you're headed to points west, try Constitution Avenue and M Street to steer clear of the delays.
So, the president is doing the business of his party — not the nation — and thinks nothing of closing down an already congested part of one of the worst driving cities in the country during the height of rush hour to attend to it.   Nice.
Obama's not unique in this regard, of course.   There's no evidence that other recent presidents have given much thought to how the extraordinary measures to ensure their security impact the hoi polloi.  But, in DC at least, this is a huge and constant problem.   And it's not just the president:  the mayor and myriad other Very Important People are afforded the luxury of motorcades and police escorts that shut down streets and delay the mere proletariat so that they might rush home to dinner or out to take in a play without the inconveniences of traffic.
My office is blocks from the White House, so the sirens are quite frequent.   And I often encounter motorcades whilst driving or even walking to various points in town.
I imagine that the average tourist, experiencing this for the first time in their life, is thrilled.   "Wow!" they say to themselves, "Is that the president?!"    It doesn't take long, though, for the novelty to wear off and the resentment to sink in.