Productivity Killing American Economy?
Derek Thompson argues that "the real reason Americans fell so squeezed" is our obsession with productivity.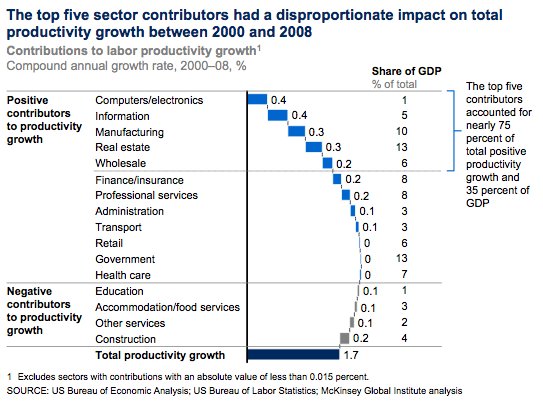 Atlantic business editor Derek Thompson argues that "the real reason Americans fell so squeezed" is our obsession with productivity.
Americans have a complicated relationship with productivity. We obsess about our personal efficiency, but we don't think much about efficiency across broad swaths of the economy. Productivity is the not-so-secret sauce in our GDP. We're the second-largest manufacturer in the world even though manufacturing jobs have shrunk to less than 10 percent of our economy. We're the world's third-largest agricultural nation even though only 2 percent of us farm. The reason we can do so much work with so little is that the U.S. economy is incredibly, and increasingly, efficient at making some things cheaply.

Don't ask David Allen to explain this. Ask David Autor. He's the MIT economist who, in last month's cover story, "Can the Middle Class Be Saved?", told Don Peck that technology and offshoring is replacing jobs for the middle-educated middle-class. "Almost one of every 12 white-collar jobs in sales, administrative support, and nonmanagerial office work vanished in the first two years of the recession," Peck writes, and one in six blue-collar jobs disappeared in production, craft, repair, and machine operation.

We know where the jobs are going — to machines, software, and foreign workers. We also know why they're going away. Global competition gives companies the incentive to be more productive, and technology and foreign labor gives companies the means to be more productive. Automation lets one employee handle the work of three, or three hundred. Off-shoring lets ten Asian workers receive the salary of one. As these corporate Getting-Things-Done strategies make the typical worker increasingly expendable, real wages have stagnated, or declined, to their 1950s levels.

What's so bad about 1950s wages, anyway? you may ask. They worked for the 1950s. We could make do with them today if the price of everything — from socks, to televisions, to medicine — moved at the same rate. But that is not what's happened. Instead, socks got cheaper, televisions got more complex, and health insurance got much more expensive.

[…]

In fact, eating and clothing ourselves is getting easier all the time. Before the Great Depression, about 35% of family expenditures went to food and threads. Today, we spend only 10% of our income on food and 3% of our income on clothes. Again, this is an achievement of manufacturing and farming efficiency.

It doesn't end there. Behind the most important technology stories of our time, there is a clear theme: The triumph of software. Consider the rise of Netflix over Blockbuster, music sharing over albums, Flickr over Kodak, Amazon over Borders, wireless Verizon over wired Verizon, webpages over printed pages. Everything getting cheaper feels the touch of innovation — especially online innovation, IT, and computer software.

But there's a dark side behind the advance of productivity: Cheaper goods need cheaper workers.

[…]

The reason why toasters are cheap and health insurance is not is that the productivity gains that made toasters — not to mention computers, media*, durable goods, food, and clothes — more affordable are not spilling over into health care. The next chart from McKinsey tells the story: More than half of total productivity growth comes from computers and information technology. Practically zero comes from health care and education. In fact, one reason why heath and education are adding the most jobs today is that employers can't meet new demand with technology or offshoring. They have to keep hiring people.
I used to tell my students that, if a job held by an American could be done more efficiently by an illiterate Third World peasant, it ought to be. The thinking was that people in high skill countries should gravitate toward high skill jobs. Naturally, things that are high skill today won't be tomorrow but that's creative destruction and has been a boon to Western society–and the world at large–for more than two centuries.
It's possible, though, that this bubble has burst. Thompson's solution is the usual one: education. But not everyone has the ability to master complex mathematics and scientific concepts. And it's quite possible that, even were that not a barrier, that there are simply not enough high skill jobs to go around.