Unskilled? No Problem!
Are we thinking about job training all wrong?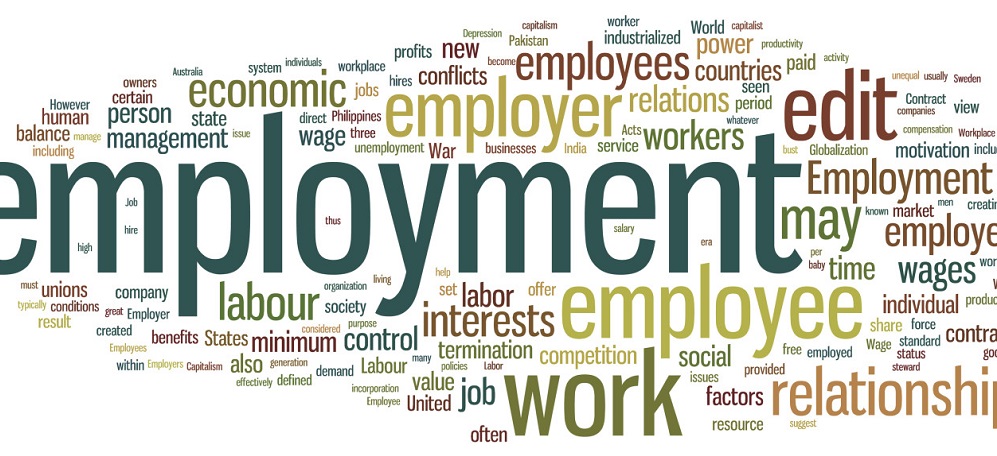 Atlantic staff writer Annie Lowrie contends that "Low-Skill Workers Aren't a Problem to Be Fixed" and insists that the label "flattens workers to a single attribute, ignoring the capacities they have and devaluing the jobs they do." While she makes interesting points, I don't find her larger argument compelling.
Being a prep cook is hard, low-wage, and essential work, as the past year has so horribly proved. It is also a "low-skill" job held by "low-skill workers," at least in the eyes of many policy makers and business leaders, who argue that the American workforce has a "skills gap" or "skills mismatch" problem that has been exacerbated by the pandemic. Millions need to "upskill" to compete in the 21st century, or so say The New York Times and the Boston Consulting Group, among others.

Those are ubiquitous arguments in elite policy conversations. They are also deeply problematic. The issue is in part semantic: The term low-skill as we use it is often derogatory, a socially sanctioned slur Davos types casually lob at millions of American workers, disproportionately Black and Latino, immigrant, and low-income workers. Describing American workers as low-skill also vaults over the discrimination that creates these "low-skill" jobs and pushes certain workers to them. And it positions American workers as being the problem, rather than American labor standards, racism and sexism, and social and educational infrastructure. It is a cancerous little phrase, low-skill. As the pandemic ends and the economy reopens, we need to leave it behind.
It's possible for a function to simultaneously be essential to society and yet require relatively little skill to accomplish. That's true of the mundane tasks we all perform to keep our households running and those required to keep our stores stocked. In any industry, there are jobs that require more skill, experience, and talent to do well than others.
I see no problem with acknowledging this reality or in seeking to ensure that people who would like to find work that's more well-paying or meaningful are equipped with the skills necessary to do so. The problem, as Lowrie suggests, is the inference that those who lack particular skills are therefore lesser citizens, unworthy of dignity and respect. But Lowrie goes further, arguing that these are inextricable.
The general policy prescription, however, is that we need to leave "low-skill workers" behind. Forget about being essential! These are the millions of Americans without the credentials and chops to succeed in tomorrow's economy, any number of white papers, panels, and conference colloquiums will tell you. Indeed, the Obama White House, as part of its Upskill Initiative, posited that roughly 20 percent of American workers need to address their on-the-job "deficiencies" to "realize their full potential," fretting that 36 million people "cannot compare and contrast information or integrate multiple pieces of information," per one test.

This description, like so many descriptions of "low-skill workers," is abjectly offensive, both patronizing and demeaning. Imagine going up to a person who's stocking shelves in a grocery store and telling him that he is low-skill and holding the economy back. Imagine seeing a group of nannies and blasting "Learn to code!" at them as life advice. The low-skill label flattens workers to a single attribute, ignoring the capacities they have and devaluing the work they do. It pathologizes them, portraying low-skill workers as a problem to be fixed, My Fair Lady-style.
So, walking up to anyone and yelling at them about job training would be exceedingly rude. But, presumably, people in low-wage jobs like stocking shelves would over time acquire the skills necessary to compete for more satisfying, higher-paying jobs either in retail or elsewhere. Yes, it's an essential job. It's honorable work. But almost anyone can be trained, in rather short order, to do it. It's the sort of work that we assume to be transitory, a step in a career progression.
In an ideal world, care-giving jobs like nannies or home eldercare workers would make a very good living. But, absent massive government subsidies, the sheer mathematics of that don't work. If I'm making $100,000 a year—a pretty solid wage anywhere in the country and a damned fine one in many—I can't very well pay $75,000 a year for childcare. So, either only the extraordinarily wealthy will be able to have nannies or nannies ill make a low-middle class salary.
Regardless, describing stockers or nannies as "low skill" workers doesn't flatten them, ignore their other qualities, or devalue them. Indeed, outside of a conversation about public policy or career counseling, I don't know why the label would ever come up. I made a quick grocery run this morning and encountered several folks hard at work in jobs that fit the category. Not once did I think, "That's a low-skill so-and-so. Learn to code!"
The next section of the piece, though, is quite strong. She makes more directly the point she hinted at early:
Academics do use the term low-skill with precision, to measure changes in employment and pay and to compare different countries' workforces. But in the broader political arena, this sneering language is often so imprecise as to be useless. The terms low-skill worker and low-skill job are conflated, for one, though those are very different charges.
And explains,
For individual workers, the problem, if any, is often not that they lack skills in general, but that they lack specific capacities or qualifications. A worker who came to the United States later in life might not be able to read or write in English, for instance. Is that worker really low-skill, or just in need of language classes? Many foreign-born workers cannot use employment certificates gained abroad in the United States. Is a foreign-born architect who ends up driving a taxi low-skill? Many "low-skilled" workers are young. Are those actually low-skilled workers, or just inexperienced ones?
So, absolutely, there are people with very high skills in low-skill jobs. Maybe they're a master craftsman in a field where most of the jobs got outsourced oversees or mechanized. Maybe they're a seasoned professional who fled their homeland and lack the language skills or credentials to work here. Maybe they're an English PhD who's waiting tables to supplement their pay adjuncting seven courses at four different community colleges. The solution for each of those problems is different and sometimes it's not more training.
When business leaders and policy types talk about "low-skill jobs" or "low-skill professions," things get even more imprecise. Frequently, they are lumping together entry-level jobs, jobs that do not require much education or a formal credential, jobs that do not require experienced workers, jobs without much opportunity for advancement, menial jobs, and—most of all—low-wage jobs. But those are all very different things, with wildly different policy implications. It is not a good thing for a country to have too few entry-level jobs, for instance. The country needs them, or else what are kids leaving high school supposed to do?
Again, this is right. "High-skill" and "low-skill" are an insufficient number of categories and they mean different things to different people. But this leads to an exasperating conclusion:
The most gutting problem with these terms is that many "low-skill jobs" held by "low-skill workers" are anything but. Many of these are difficult, physically and emotionally taxing jobs that, in fact, require employees to develop extraordinary skills, if not ones you learn at medical school or MIT. A great deal of skill is necessary to wash a lunch rush's worth of dishes. A great deal of skill is required to change the clothes of an immobilized senior who might not want to have her clothes changed, or to wrangle a class of toddlers, or to clean up an overgrown yard at breakneck pace, or to handle five tables of drunk guys who want their wings yesterday. The kind of patience and equanimity it takes to be a good care worker? Not a skill, apparently. The kind of fortitude it takes to be a fruit picker? Not a skill either.
Like the attempt some years back to argue that people who weren't good at reasoning, planning, creativity, critical thinking, and problem-solving could nonetheless be "intelligent" if they were good at picking up emotional cues, this gets at a perfectly good point in a decidedly unhelpful way. Yes, a lot of these jobs are hard. Yes, some people who are "high-skilled" in their professions lack the traits that would make them good at these jobs. But that doesn't make them "skills."
And, it would seem, the thing that really bothers Lowrie is something else altogether.
Who are we if our policy language demeans those skills and those workers? We are ourselves, I suppose, which is to say that the low-skill label is a social construct that at least in part reflects the structural racism and sexism endemic in our economy. We understand jobs to be low-skill because of the kinds of people who hold those jobs; we see certain skills as valuable because of the kinds of people asked to use those skills; we ignore other skills because of the kinds of people asked to use those skills; and we shunt workers into "low-skill" jobs due to circumstances out of their control.

The point is not that all jobs require the same skills or the same capacities. The point is not to dissuade workers from spending more time in school or training. The point is not that all jobs are equally difficult. The point is that we scarcely stop to recognize how our biases inform our understanding of what skilled work is and whose work matters. As the Harvard economist Claudia Goldin has demonstrated, women joining a given profession tends to "reduce the prestige" in that profession; she calls this the "pollution theory of discrimination." Other research shows that pay starts dropping when women show up. Similarly, Black workers being overrepresented in a given profession is associated with depressed wages. The same dynamics are surely at play in how we distinguish between low-skill, low-pay and high-skill, high-pay work. The terms are, in part, euphemistic, a proxy for social capital and compensation, a way of justifying 20-something McKinsey consultants making 10 times what veteran groundskeepers do.
LeBron James, a Black man whose formal education ended in high school, made more money, by orders of magnitude, than I, a white man with a PhD, will make in my entire lifetime, by the time he turned 19. Indeed, his rookie salary of $4 million a year, while paled in comparison to the 7 year, $90 million endorsement deal with Nike that he signed at the same time, is more than I'll ever make even not adjusting for inflation. For a variety of reasons, we simply value some jobs astronomically more than others. As hard as it is to earn a doctorate, being the best basketball player on the planet is an almost infinitely rarer skillset.
But, of course, athletics is perhaps unique in the Black-dominated occupations in this regard. It's almost certainly true that, by and large, professions that are dominated by white males have historically been higher-earning. But, even acknowledging the social and cultural barriers, the solution is almost always skill attainment. A Black woman will earn far more as a nurse than she would as a low-skill orderly or custodian at the hospital—and far more, still, as a cardiovascular surgeon or anesthesiologist.
At issue here, again, is not just rhetoric. The pandemic has helped us recategorize many "low-skill" jobs as "essential" jobs—jobs integral to the functioning of the economy, but whose importance so often does not translate into fair pay and good benefits. But I fear we are losing that paradigm shift as the world normalizes again. Cashiers and receptionists and delivery drivers and parents' helpers will once again be seen as economic deadweight, not vital economic utilities.
I find this argument frustrating. Yes, cashiers, stockers, floor sweepers, and all the rest perform vital functions. We can go far longer with, say, our Political Science departments closed than our grocery stores. It doesn't follow however, that those in vital but entry-level jobs should therefore earn more than those in jobs that take years of study to master but are "non-essential."
Lowrie's husband, Ezra Klein, made the point in a recent episode of his eponymous podcast that, had he been born a couple centuries earlier, his talents would have been far less valuable while his liabilities, like poor uncorrected vision, would have loomed much larger. Those of us in the learned professions should really be cognizant of that fact. Our relative success in navigating the current economy is something of a historical accident.
So, we should absolutely not look down our noses at those not blessed, by sheer accident of birth and historical timing, with the right talents to thrive. To the extent a given individual can't learn to code or is otherwise untrainable for the sort of jobs that earn a decent wage, we need to figure out how to create a safety net and social structure that allows them to support a family in a dignified manner befitting our modern social circumstance.
But I don't think Obama or President Biden are wrong in arguing that, for those who are trainable, that entry-level jobs don't become exit-level jobs. And, it seems, neither does Lowrie.
White House after White House, Republican or Democratic, has pushed retraining and upskilling initiatives that put the onus on workers to improve themselves in order to improve their job-market prospects and the American economy in general. In so doing, they make individual what is clearly a governmental and societal problem. The supposed lack of "skills" among American workers reflects the country's intergenerational poverty crisis, the brutal cost of higher education, the inaccessibility of quality and affordable child and health care, and the barriers it puts up for immigrant workers, as much as it does anything else.

How are you supposed to upskill yourself if you're earning $11 an hour and have no benefits? If you dropped out of your associate's program because you cannot afford not to work? What kind of technical training are you supposed to do if you're taking care of young children? What is the point of upskilling yourself if you get paid off the books because of your immigration status? Is learning to code really going to help you overcome the felony charge on your record?
These are all excellent questions. But most of the politicians touting "upskilling" are proposing answers to most of these. And, indeed, arguments for free community college or government-subsidized training programs are inherently about making what would otherwise be an individual-level problem a governmental and societal one.
We've been very slow to recognize child care as a barrier to training and maximization of potential in the labor market. Indeed, most of us probably didn't think about it all that much until the pandemic shut down the skills. (And I say that as a man who was suddenly widowed with a not-quite-3-year-old and a 5-month-old to take care of. Despite spending a hefty chunk of my income for childcare for eight years or so afterwards, it never occurred to me that it was anyone's problem but my own.)
The issues of illegal aliens (or whatever we want to call those here seeking employment in violation of our immigration laws) and felons are even harder to solve, in that they're as much social as they are political. I'm more amenable that most Americans to a much-more-open immigration policy but then we're unlikely to have a flood of Security Studies PhDs. And, while I very much think those who have paid their "debt to society" deserve another chance, I must confess that I would always prefer a non-felon to a comparably qualified individual who had done hard time recently.
But this just seems like wishful thinking:
Would workers upskilling themselves even do anything? Running the economy hot and pushing the unemployment rate toward scratch tends to solve the problem of worker-workplace mismatch. Higher labor costs also push employers to invest in making jobs better and training their own workforces. Workers, moreover, tend to be pretty good at equipping themselves with in-demand skills when they have the resources to invest in themselves and when companies are hiring. The problem lies not with American workers, but with American jobs and American policy infrastructure. Too many jobs pay too little. They're too dangerous. They offer too few benefits. They offer no union representation. They are inaccessible to millions of Americans who are pushed out of the labor market by illness, disability, poverty, the arrival of young children, or discrimination.

All jobs could be good jobs. But only policy makers and business leaders have the skills to make that happen, not workers.
Every job can be a "good job" in the sense of providing useful experience and a pathway to higher-paying positions. But it's absurd to think that every job generates enough economic value so that its holder can support a family of four in a middle-class lifestyle working 40 hours a week.
A Pew study from a year ago estimated that,
Middle-income households – those with an income that is two-thirds to double the U.S. median household income – had incomes ranging from about $48,500 to $145,500 in 2018. Lower-income households had incomes less than $48,500 and upper-income households had incomes greater than $145,500 (all figures computed for three-person households, adjusted for the cost of living in a metropolitan area, and expressed in 2018 dollars).
Whether that's a useful definition of "middle class" is debatable but it encompassed 52 percent of the US population, so it's probably close enough. And, as the same link notes, "middle" varies enormously by locality.
Regardless, let's call $48,500 the threshold. Let's say someone works 40 hours a week, 50 weeks a year. It would require an hourly wage of $24.25 to earn that. I'm not sure the average Walmart greeter, Safeway cashier, AMC ticket clerk, or Safeway produce stacker generates anything like that much return on investment—and that's before Social Security matching, unemployment, worker's compensation, and other mandates the employer has to cover.
Andrew Yang is the latest in a long line of people pushing a Universal Basic Income. I tend to agree with Paul Krugman that giving people like me $1000 a month extra would be absurd and that giving poor people $1000 a month would be inadequate. Still, it has slowly become obvious to me that we need to figure out how to provide security and dignity to those who can't make it in the modern economy. And maybe the answer is to fill the delta between 40 hours at minimum wage and the lower threshold of the middle class.
Ultimately, I think this is a productive line of inquiry. Americans, and American men in particular, are incredibly prone to derive their sense of self-worth from their work status and their ability to provide for their family. The economy is increasingly driving down the demand for those without certain kinds of skills and, while creative destruction remains very much a thing, society is increasingly unable to keep up.
I don't, however, think that the answer is pretending that those who are low skilled are instead merely differently-skilled and would be paid the same as those with in-demand skills if only politicians were smarter and businessmen less greedy.