Prosecutor Seeks ICC Warrant for Gaddafi
The ICC may issue a warrant for Gaddafi.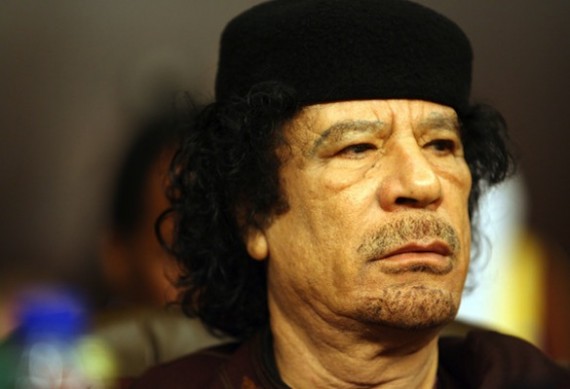 Via the BBC:  Libya: ICC prosecutor seeks warrant for Gaddafi
The International Criminal Court chief prosecutor is seeking the arrest of Libyan leader Col Muammar Gaddafi and two others for crimes against humanity.
Luis Moreno-Ocampo said Col Gaddafi, his son Saif al-Islam, and intelligence chief Abdullah al-Sanussi bore the greatest responsibility for "widespread and systematic attacks" on civilians.

ICC judges must still decide whether or not to issue warrants for their arrest.
I know it will shock you all to know that the Libyan government has declared that it will ignore the warrant.
The basis for the warrant request are pretty straightforward:
Mr Moreno-Ocampo said that after reviewing more than 1,200 documents and 50 interviews with key insiders and witnesses, his office had evidence showing that Col Gaddafi had "personally ordered attacks on unarmed Libyan civilians".

"His forces attacked Libyan civilians in their homes and in public spaces, shot demonstrators with live ammunition, used heavy weaponry against participants in funeral processions, and placed snipers to kill those leaving mosques after prayers," he told a news conference in The Hague.

"The evidence shows that such persecution is still ongoing as I speak today in the areas under Gaddafi control. Gaddafi forces have prepared a list with names of alleged dissidents, and they are being arrested, put into prisons in Tripoli and tortured," he added.

Mr Moreno-Ocampo said that Col Gaddafi had "committed the crimes with the goal of preserving his absolute authority".

"The evidence shows that Gaddafi relied on his inner circle to implement a systematic policy of suppressing any challenge to his authority."

"His second-oldest son, Saif al-Islam, is the de facto prime minister and Sanussi, Gaddafi's brother-in-law, is his right-hand man – the executioner, the head of military intelligence. He commanded personally some of the attacks."
Really, there can be little doubt that Gaddafi deserve prosecution for these crimes.  Some will, no doubt, retort that he deserves death.  However, I think that facing the humiliation of trial, as well as an open airing of his (and his regime's) crimes would ultimately be more useful.
Of course, facing a warrant will likely decrease the likelihood that Gaddafi would ever decide to give up and leave for a comfy retirement in exile.  Perhaps those days are done for dictators.
The ICC is controversial in the US and, indeed, the US does not recognize the jurisdiction of the Court due to fear that ICC warrants might be issued for Americans.  And, in general, the US tends to be only lukewarm (as best) to such international institutions (not the least of which because as a hegemonic power, it tends not to see the need to cede authority to institutions that it cannot control or, at least, heavily influence).