Chicago Alderman: No Building Permits For Chick-Fil-A
One Chicago politician is using clearly unconstitutional tactics in the political war on Chick-fil-A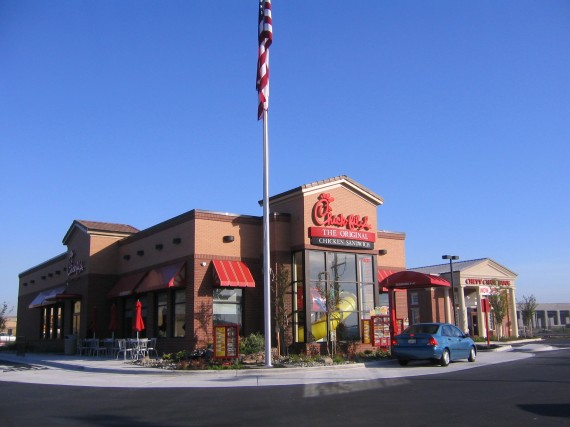 Chicago Alderman Joe Moreno is the latest politician to weigh in on the controversy that has erupted over the political positions taken in the past by the owners of restaurant chain Chick-Fil-A, and he also happens to be the one trying to use the most heavy-handed tactic to punish a private company for the political beliefs of its owners:
A Chicago alderman wants to kill Chick-fil-A's plans to build a restaurant in his increasingly trendy Northwest Side ward because the fast-food chain's top executive vocally opposes gay marriage.

Ald.Proco "Joe" Moreno announced this week that he will block Chick-fil-A's effort to build its second Chicago store, which would be in the Logan Square neighborhood, following company President Dan Cathy's remarks last week that he was "guilty as charged" for supporting the biblical definition of marriage as between a man and woman.

"If you are discriminating against a segment of the community, I don't want you in the 1st Ward," Moreno told the Tribune on Tuesday.

Moreno stated his position in strong terms, referring to Cathy's "bigoted, homophobic comments" in a proposed opinion page piece that an aide also sent to Tribune reporters. "Because of this man's ignorance, I will now be denying Chick-fil-A's permit to open a restaurant in the 1st Ward."

The alderman has the ideological support of Mayor Rahm Emanuel.

"Chick-fil-A values are not Chicago values," the mayor said in a statement when asked about Moreno's decision. "They disrespect our fellow neighbors and residents. This would be a bad investment, since it would be empty."

Moreno is relying on a rarely violated Chicago tradition known as aldermanic privilege, which dictates that City Council members defer to the opinion of the ward alderman on local issues. Last year Moreno wielded that weapon to block plans for aWal-Martin his ward, saying he had issues with the property owner and thatWal-Martwas not "a perfect fit for the area."

Chick-fil-A already has obtained zoning for a restaurant in the 2500 block of North Elston Avenue, but it must seek council approval to divide the land so it can purchase an out lot near Home Depot, Moreno said.

In opposing Chick-fil-A, Moreno stakes out a position likely to resonate in his hipster ward and much of the rest of the city, where public officials have long cultivated the lesbian, gay, bisexual and transgender community. But Moreno also enters the complex intersection of property and free-speech rights.
Moreno gets one thing absolutely wrong here. There's absolutely no evidence that Chick-fil-A or its franchisees have ever discriminated against anyone. Indeed, I would bet there are gays and lesbians working and and eating at a Chick-Fil-A somewhere as you read these words. We aren't talking about discrimination at all, we're talking about the political opinions and activities of the owners of the company. Now, I happen to disagree with those opinions myself but the fact of the matter is that the position that Don Cathy and his fellow owners hold on same-sex marriage is still, by an admittedly small and shrinking margin, the majority opinion in the United States, a fact most recently affirmed in the state of North Carolina. I'd like to change that, and I think it will, but that's a fact. Where's the logic in targeting Chick-fil-A when they happen to hold an opinion that a majority of Americans continue to hold? The most important fact, though, is that Moreno lies when he says that Chick-fil-A is discriminating against anyone and unless he can point to even a single overt act committed by the company, its employees, its franchees, and their employees, he should retract that statement immediately.
But the lies are only the first mistake that Moreno makes, the second is his attempt to use the power of the state to punish what he considers to be unacceptable political beliefs.
As Dave Schuler explains, Chicago Alderman have extraordinary power over the issuance of building permits in their wards because they must sign off on all building permits that are issued. While this sounds like its essentially a pro forma function, in reality the Alderman have essentially unlimited discretion in whether to sign off on a permit or not, and can apparently base their decision on anything they wish. This being Chicago, of course, the potential for bribery of one kind or another is really rather obvious, but this episode also demonstrates how that power can be used in ways that may not be corrupt, but which still give politicians far more power than they reasonably ought to have. If an Alderman can grant or deny a permit for any reason, for example, then what's to prevent him from using it to discriminate against particular ethnic groups or, in this case, to punish people who have political opinions different than him? What's to stop him from using it to ruin the business of someone who backed the guy who ran against him in the last election. Apparently, there's nothing to stop him, at least not inside the Chicago political system.
Regardless of Chicago politics, though, it is really rather obvious that what Moreno is attempting to do here is completely unconstitutional:
Denying a private business permits because of such speech by its owner is a blatant First Amendment violation. Even when it comes to government contracting — where the government is choosing how to spend government money — the government generally may not discriminate based on the contractor's speech, see Board of County Commissioners v. Umbehr (1996). It is even clearer that the government may not make decisions about how people will be allowed to use their own property based on the speaker's past speech.

And this is so even if there is no statutory right to a particular kind of building permit (and I don't know what the rule is under Illinois law). Even if the government may deny permits to people based on various reasons, it may not deny permits to people based on their exercise of his First Amendment rights. It doesn't matter if the applicant expresses speech that doesn't share the government officials' values, or even the values of the majority of local citizens. It doesn't matter if the applicant's speech is seen as "disrespect[ful]" of certain groups. The First Amendment generally protects people's rights to express such views without worrying that the government will deny them business permits as a result. That's basic First Amendment law — but Alderman Moreno, Mayor Menino, and, apparently, Mayor Emanuel (if his statement is quoted in context), seem to either not know or not care about the law.
A Chicago politician that doesn't care about the law? How shocking.
Josh Barro points out, correctly, that this political attack against Chick-fil-A, which Boston Mayor Mike Menino started, is no different than the efforts that some engaged in two years ago to get New York City to deny permits to the Islamic Community Center being built at the site of an old Burlington Coat Factory a block-and-a-half away from the site of the World Trade Center. In both cases, people were seeking to deny permits solely because of the content of the speech of the people applying for them. The First Amendment is very clear about this. The government cannot punish an entity solely based on the content of its speech, and Alderman Moreno has made it eminently clear that he would seek to deny a permit solely because he doesn't like the content of the applicant's speech. Moreno says that Chick-fil-A would not find a welcoming community in his ward. If he's correct, then they'll quickly find that out I suspect. However, it's not his place to deny them the attempt to try solely because he didn't like what one of their owners say.