Civil Rights Group Alleges Discrimination By Chick-Fil-A Because Of Dan Cathy's Opinion
The latest round of the Chick-fil-A controversy is perhaps the most absurd yet.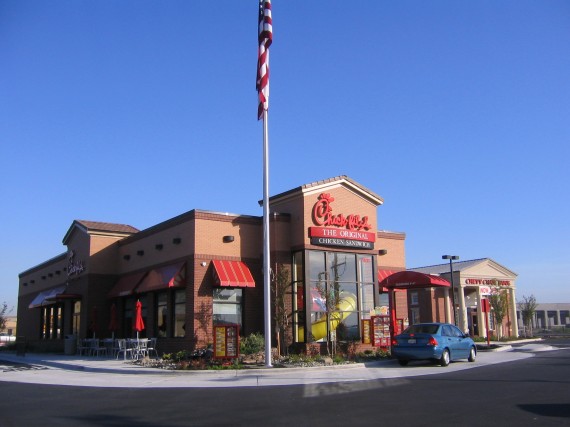 A Chicago-based Civil Rights group called, conveniently enough, The Civil Rights Agenda, has filed a Complaint with the Illinois Department of Human Rights against Chick-Fil-A alleging that the political opinions of the company's President Dan Cathy,along with the political contributions he makes to groups that oppose same-sex marriage constitute discrimination under Illinois law. Here's how the group describes it a Press Release:
The Civil Rights Agenda (TCRA), Illinois' largest lesbian, gay, bisexual and transgender (LGBT) civil rights advocacy organization, working with cooperating attorneys and on behalf of claimants, filed multiple complaints against Chick-fil-A with The Illinois Department of Human Rights.  Among other things, the complaints allege that Chick-fil-A's "intolerant corporate culture" violates Illinois law, specifically Section 5-102(B) of the Human Rights Act, which prohibits a "public accommodation" from making protected classes "unwelcome, objectionable or unacceptable."

"In our current high speed media and social media environment, Chick-fil-A has announced and caused to be published, to hundreds of millions of people, that LGBT people are unacceptable and objectionable," said Jacob Meister, Governing Board President of The Civil Rights Agenda and the attorney who filed the complaint. "They have made it clear the lives of LGBT individuals are unacceptable to them and that same-gender families are unwelcome at Chick-fil-A."

(…)

Since it is against Illinois law to discriminate against a protected class and the company had a history of discrimination against minorities, Alderman Moreno made clear his conviction of protecting Chicago residents. "It's my responsibility, as a community representative, to have responsible businesses [in my Ward], and part of that responsibility is to not have [a business with] discriminatory policies" Moreno told Chris Matthews on MSNBC's "Hardball" yesterday.  "I'm not going to back off."

The dialogue between TCRA and Chick-fil-A stalled once the news of Dan Cathy's comments broke. "I spoke to a Senior Vice President the week before Dan Cathy's comments hit the press. Since then, we have not been able to get a hold of anyone at Chick-fil-A," stated Meister.

The Civil Rights Agenda is quick to point out that this is not a First Amendment Issue.  "The complaint has nothing to do with freedom of speech or religious liberty as some might suggest," insists Martinez. "This is about Chick-fil-A having a policy, a corporate culture, which promotes discrimination. The COO in his personal capacity can say or think whatever he wants, it may be hateful, but it is his right.  But when he speaks on behalf of the company, and the company starts implementing policy that reflects that hatred it is against the law in Illinois."
Despite what the press release says, it's fairly obvious that there are serious First Amendment problems with this Complaint. The complaint does not allege at all that any of the unnamed Complainants were denied service at a Chick-fil-A location, denied employment at a Chick-fil-A location, or made to feel unwelcome at said location by the actions and omissions of Chick-fil-A employees because of their sexual orientation. In fact, it's not even clear from the Complaint than any of them have ever actually visited a Chick-fil-A, or that they would but for the political positions of the company's President. The entire basis for the discrimination claim here is because of what the owners of the company happen to do with the money that they earn from the business. How can it possibly be "discrimination" against someone in Illinois for a man who lives all the way down in Georgia? It would be one thing if Cathy had direct comments personally to one of the Complainants, but this strikes me as a bridge too far.
Eugene Volokh agrees:
Despite the Agenda's protestations ("The Civil Rights Agenda is quick to point out that this is not a First Amendment Issue"), the complaint is all about speech: Because the corporation's officials are expressing views that disapprove of homosexuality, the theory goes, the government is supposed to hold the company liable — again, without any evidence that any particular person was denied service because of his homosexuality.

I have argued that such "hostile public accommodations environment" theories violate the First Amendment even when patrons claim that a business's decor insidethe business is offensive based on race, religion, sex, sexual orientation, and so on. (See also Daniel Koontz, Hostile Public Accommodations Laws and the First Amendment, 3 NYU J. Law & Liberty 197 (2008). If a restaurant or a bookstore, for instance, wants to hang Confederate flags, Playboy centerfolds, pictures hostile to Catholicism, or insults of Republicans (in those cities which ban public accommodations discrimination based on political affiliation) or whatever else, it has a First Amendment right to do that, I think, even if some patrons as a result feel offended.

But the Civil Rights Agenda is going further still: They are arguing that it violates public accommodations environment law for companies to express certain viewpoints even in their officials' public statements. That theory is even more clearly violative of the companies' First Amendment rights.
In the Koontz paper [PDF] that Volokh refers to, the author proposes a test to determine when speech that is claimed to be the basis for a discrimination claim should not be considered protected under the First Amendment:
(1) The proprietor or employee of the public accommodation speaks directly and specifically to a member of a protected class, as opposed to the public at large;

(2) The speech would cause a reasonable member of the protected category to believe that the proprietor did not want to extend to him or her full and equal enjoyment of the accommodation as a result of his or her membership in that protected category; and

(3) The totality of the circumstances indicates that the proprietor's offensive statements are motivated by a desire to exclude the patron because of the patron's membership in a protected category
It's fairly clear that the "hostile speech" that is the basis in this Complaint does not fall within any of criteria listed here. Cathy's comments, as well as the contributions that are made to "pro-family" groups by Chick-fil-A and other members of the Cathy family, are not directly to any specific member of a protected class (I'm assuming without checking that gays and lesbians are a protected class under Illinois law.) It is also clear that no reasonable person would consider comments made by a corporation officer located in Georgia to a religious magazine about his personal opinions on a matter of public controversy were an indication that Chick-fil-A wants to deny services or employment to people who happen to be gay. Finally, there's no evidence that the statements are motivated by a desire to exclude people because they are homosexuals. Rather, it's eminently clear that they are meant to influence public debate on a subject of public controversy. You can disagree with them if you wish, I certainly do. You can choose not to patronize the company if you wish. There is not, however, a legitimate claim of discrimination here and TCRA is clearly just using the Chick-Fil-A controversy to draw attention, and quite likely donations, to itself.
H/T: Jonathan Turley