Chick-Fil-A Says It Has Made No Agreement To Stop Funding Anti-Gay Groups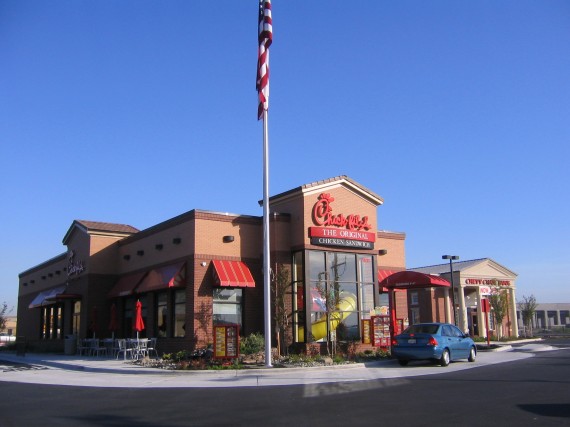 Despite reports last week, Chick-Fil-A is saying through it's CEO Dan Cathy that it has not made any change in its practice of negotiating to groups that oppose same-sex marriage and other "pro-family" groups:
Well, this Chick-fil-A back-and-forth is certainly getting old. For those who care about where a sandwich chain stands on marriage equality, former Arkansas governor Mike Huckabee assured his Facebook fans that Chick-fil-A is as bigoted as ever.
"I talked earlier today personally with Dan Cathy, CEO of Chick fil-A about the new reports that Chick fil-A had capitulated to demands of the supporters of same sex marriage," Huckabee writes. "This is not true." Cathy issued a statement that Huckabee posted on his website:

There continues to be erroneous implications in the media that Chick-fil-A changed our practices and priorities in order to obtain permission for a new restaurant in Chicago. That is incorrect. Chick-fil-A made no such concessions, and we remain true to who we are and who we have been.
Politico reminds readers it was Huckabee who organized the "Chick-fil-A appreciation day" this summer.
The Chicago alderman who was at the center of last week's news wants clarification:
 A Chicago alderman says Chick-fil-A's president is publicly contradicting what company executives personally assured him for months — that the fast-food chain is changing its stance on gay marriage — and he asked the company Sunday to clarify.

Alderman Joe Moreno made news last week when he announced Chick-fil-A has ceased making donations to anti-gay groups and has enacted workplace protections for its employees against discrimination.

Moreno said the two concessions were the result of 10 months of negotiations he had with Chick-fil-A executives as he weighed whether to support a new Chick-fil-A restaurant in his Chicago ward. He said the executives gave him documents backing up the new positions.

(…)

Moreno said Sunday that Cathy's statement "at the least, muddied the progress we had made with Chick-fil-A and, at the worst, contradicted the documents and promises Chick-fil-A made to me and the community earlier this month."

Moreno said Chick-fil-A executives gave him a letter earlier this year saying the company's non-profit arm, the WinShape Foundation, will not support organizations with political agendas. "We were told that these organizations included groups that politically work against the rights of gay and lesbian people," Moreno said.

He said the executives confirmed to him that both the foundation and the company in 2012 has not given money and will not give money to those groups.

Cathy's conflicting statement, Moreno said Sunday, is "disturbing."

"I am simply asking Mr. Cathy to confirm statements and documents that HIS company executives provided to me," Moreno said in a written statement, capitalizing "his" for emphasis.
If Chick-Fil-A wants to continue it's previous practices regarding what type of groups it donated to, that is certainly its right. However, with these two stories it seems like they're trying to have it both ways, telling the public that they're not donating to groups with political agendas while reassuring Hucakbee and people who support him that " we remain true to who we are and who we have been." You can't have it both way guys.