Rand Paul's Biology 'Degree'
The Kentucky Senator and medical doctor claims an undergraduate degree he doesn't have.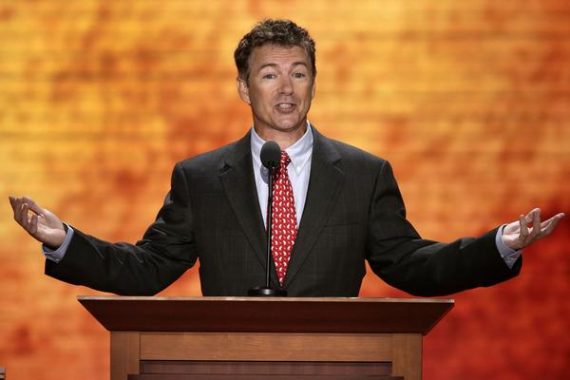 WaPo's Glenn Kessler notes that Senator Rand Paul twice in one day referred to a biology degree that he doesn't have.
"I have a biology degree, okay?"

– Sen. Rand Paul (R-Ky.), in remarks at the Lincoln Labs "Reboot Congress" conference, Feb. 12, 2015

We first spotted a version of this quote in a Bloomberg column by David Weigel, and then checked the quotes with our colleague Jose DelReal, who had attended the conference.

This is a bit of an odd one, given that Paul does not have a college undergraduate degree.

Paul mentioned his alleged degree at the conference not once, but twice. First, in an exchange with TechCrunch founder Michael Arrington, Paul said:
Arrington: "Let's talk about economics because maybe you can actually explain this to me. I have an econ degree which means I know just enough not to understand any of what our government is [inaudible]"

Paul: "Mine's in biology and English so this is going to be a great conversation."
Then, later in the conversation, expounding on what he considered the virtues of Bitcoin, Paul said:
"This is just me. I have a biology degree, okay? But with Bitcoin my concern always was whether or not something has real value. So I could imagine a kind of coin that was exchangeable. This gets back to the whole idea, does money have to be exchangeable for something to be of value?"
The interesting thing about these references is that previously Paul's staff has blamed the media for misunderstanding his unusual educational background.

Paul attended Baylor University between 1981 and 1984 but never graduated. Yet he was able to attend Duke University Medical School and received a degree there in 1988. At the time, Duke's medical school did not require students to have a bachelor's degree, though the policy has since changed, according to a 2010 report in the Lexington Herald-Leader. (Ron Paul, his father and the former member of Congress, does have a biology degree.)
Paul's communications director sent in this explanation:
"It is unfair to give Senator Paul 3 Pinocchios because a M.D. Degree is the study of biomedical sciences according to the Duke University School of Medicine. In other words, a M.D. is a biology degree. Merriam-Webster defines biology as 'a branch of knowledge that deals with living organisms and vital processes.' Dr. Paul never said he had an undergraduate degree in biology, and it is accurate for him to say that he has a biology degree. You are making inferences from his statement that are unwarranted. It is common knowledge that the study of medicine is the study of human biology, and a MD has a doctorate degree in one area of study of the science of biology."
That's a bit of a stretch and doesn't explain the "and English" addendum; an MD certainly isn't an English degree. That said, while I find Paul to be a bit of a kook and certainly wouldn't want him as president, this is at best a 1 Pinocchio situation. He studied Biology and English at Baylor for three years before going to and graduating medical school. If he were filling out a form which asked whether he was a "college graduate," I'd expect him to answer in the affirmative. Having a post-graduate or professional degree trumps the lack of a baccalaureate; it's the adult equivalent of "skipping a grade." (Similarly, while I would look askance at someone with only a GED claiming to be a "high school graduate," I'd have no issue with someone with a GED and a bachelor's degree making that representation.)
While Kessler sees this as "resume-inflation," I see it as conversational—humble, even. If Paul had responded to Arrington's "I have an econ degree" with "I'm a medical doctor," it could have come across as  high-handed, whereas "I have a biology" degree is jocular and allows the conversation to flow more naturally.