Republican Ad In Nebraska House Race Brings Up Memories Of Willie Horton
Everything old is new again.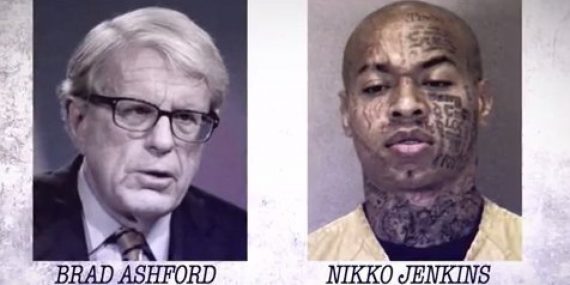 A new campaign ad airing in a closely fought race in Nebraska's Second Congressional District is bringing up memories of 1988's "Willie Horton" ad, and leading some to accuse the National Republican Congressional Committee, which created the ad, of stoking racial fears the same way that twenty-six year old ad did:
The National Republican Campaign Committee is going up with a hard-hitting TV ad in Nebraska's 2nd congressional district that links Democratic candidate Brad Ashford to a convicted felon who went on a savage killing spree in Omaha.

"Four murders in 11 days. The judge decides Nikko Jenkins is responsible for all of them," a newscaster says in the opening moments of the ad, invoking the high-profile murder case that has gripped the Omaha community since 2013.

The ad will surely catch voters' attention in the competitive district, where Ashford is fighting to unseat incumbent GOP Rep. Lee Terry. The ad puts a spotlight Jenkins's early release for "good time" after he served just half of his 21-year prison sentence. Jenkins's release came despite repeated displays of violent behavior while in prison, including assault on an officer.

"The head of the Omaha police union says Nikko Jenkins is the posterchild for why the 'good time' law is a farce," says the narrator. "Brad Ashford supported the 'good time' law and still supports it, allowing criminals like Nikko Jenkins to be released early."

The state GOP and Terry have repeatedly accused Ashford of neglecting sentencing laws as chairman of the judiciary committee in the state legislature, at times indirectly referring to the Jenkins case. The NRCC's new ad, airing just two and a half weeks before the election, attempts to directly link Ashford's work in the state legislature to Jenkins's crimes.

The race is labeled as a "pure toss up" by the Rothenberg Political Report. The TV spot is backed by an initial $170,000 in the Omaha media market and will run on broadcast and cable, according to an NRCC spokesperson.
The reaction to the ad is about what you'd expect. The DCCC issued a statement calling the ad "repellent" and race-baiting." Paul Waldman and Ed Kilgore both contrast the ad with the efforts of Senator Rand Paul to reach out to minority groups and his efforts on behalf of criminal sentencing reform, with both of them arguing that ads like this reveal where the GOP is really at far more than the Senator's efforts. Even conservatives don't seem to be rushing to defend the ad, though, as Greg Sargent points out:
[E]ven right-leaning news outlets are surprised at the ad's tone. The Washington Examiner described it as "risky," noting that it could invite comparisons to the "Willie Horton" ad against Democratic presidential nominee Michael Dukakis, and open up the national GOP to the same sort of "similar accusations of playing with subtle racism" that greeted the Willie Horton spot.

(…)

Indeed, one GOP strategist made an interesting point to me about it: This is exactly the opposite of how Republicans should be talking about crime right now.

"Any idiot can use too much hot sauce — this is too much hot sauce," GOP strategist Rick Wilson, who has been known to craft some very negative ads in his time, told me. "This is not as consequential in the long term as all that, but it's a data point that people are going to throw back in your face to say, 'You guys are using the scariest possible images in these ads.'"

"If we were smarter, we would be talking to African Americans about reforming the criminal justice system," Wilson continued. "But I don't think this ad is a step in that direction. African Americans actually do respond to messages about crime. This is a lost opportunity."
To put the ad in context, it's worth noting that the Nebraska 2nd includes both the city of Omaha and the areas surrounding it, but that it is overwhelmingly (roughly 83%) white while African-Americans make up roughly 10% of the population, and Latinos 6%, with other ethnic groups making up the remainder. Republican has Lee Terry has represented the District since 1999, however he faced a tough fight for re-election in 2012 and in 2008, the year in which President Obama won the District and gained a single electoral vote due to the manner in which Nebraska allocates its Electoral Votes. For those reasons, the race was considered a potential swing district heading into the midterms. As for the "Good Time" release law at issue in the ad, Ian Millhiser provides some background on that, as well as Jenkins himself:
Nikko Jenkins is a severely mentally ill man who was previously incarcerated on robbery and assault charges. A prison psychiatrist diagnosed him with schizophrenia and post-traumatic stress disorder, and labeled him "one of the most dangerous people I have ever evaluated." While he was incarcerated, Jenkins repeatedly told prison officials that he "planned a violent, murderous rampage upon his release." Less than a month after he was released from prison in 2013, Jenkins carried out his threats, killing four people in Omaha.

Jenkins believes that he was ordered to kill by Apophis, an evil, ancient Egyptian serpent god. A report by the Nebraska State Ombudsman's Office criticized state prison officials for not attempting to have Jenkins committed due to his mental illness once it became clear that it was not safe to release him from prison.

The NRCC's ad, however, tells a very different story. In the GOP's narrative, "Nikko Jenkins was released from prison early, after serving only half his sentence" thanks to a law that Ashford supports.

The law at issue is the state's "good time" law, which has existed in various forms for nearly half a century. Under the good time law's framework, prisoners earn "good time" for the time that they spend in prison, and this good time is counted against the time that they need to serve behind bars. Meanwhile, prisoners who commit various offenses can lose their good time — Jenkins for example, lost 18 months of good time for offenses that included an assault upon a prison guard. Thus, the law gives prison officials some flexibility to release inmates who behave well while incarcerated, while requiring other prisoners to serve more time.

Under a 1992 amendment to the good time law that overwhelmingly passed the state legislature, prisoners earn one day of good time for each day they spend in prison — that's the likely basis for the GOP's claim that Jenkins served "only half his sentence" (Ashford was a member of the state legislature when this amendment was enacted, but he was not present for the vote). In 2011, the state's Republican Gov. Dave Heineman successfully lobbied the legislature to increase the amount of good time earned by inmates even further. This 2011 amendment was proposed by Heineman's own Corrections Department. Ashford cosponsored this bill.
Millhiser certainly puts much more context to the issue, not only regarding Jenkins condition but also to the "Good Time" law, which was quite obviously something that was supported by members of both parties in Nebraska, including the state's Republican Governor. Indeed, "good time" provisions with regard to jail and prison sentences is something that exists in many parts of the country. In some ways, the policy is intended as a way of encouraging prisoners to follow prison rules with a minimum of disruptive behavior, but it's also intended to reduce prison crowding by getting people who are serving shorter sentences out by, well, shortening their sentences if they comply with certain behavior. It's also not uncommon for prisoners to get credit for early release if they have cooperated with law enforcement in other criminal investigations, or with prison authorities in investigations of crimes in prison. Each state varies in terms of what the policy says and which crimes it applies to, but Nebraska is certainly not unique in having such a law and, as Millhiser argues, it certainly doesn't appear that Ashford was the only, or even a major, force behind the passage of Nebraska's version.
Here's the video of the ad:
Just for comparison, here's a video of the most infamous of the "Willie Horton" ads. for those of you who may have forgotten it:
This ad was aired by a Political Action Committee unaffiliated with the George H.W. Bush campaign. The Bush campaign had its own version of an ad that mention the Massachusetts furlough program, but it didn't mention Horton by name, nor did it use his picture in the ad.
Leaving aside the stylistic differences, the themes of the two ads are fairly similar. In both cases, the ad seeks to tie its target to the release of a criminal who, upon release, went on to commit horrible crimes. In both cases, the criminal question is black and the targeted politician is a white Democrat. And, of course, in both cases we get the booming voice and the scary imagery, complete with scary pictures of the criminal in question. Willie Horton didn't have tattoos all over his face like Nikko Jenkins does, but the message is basically the same. Support this Democratic candidate, it's saying, and you're supporting a guy who is in favor of releasing dangerous African-American criminals into your neighborhoods where he's going to kill you. Just as in the Willie Horton case, of course, the ad is made to appeal to the public's fear of crime and, not so subtly, to fears about race that remain just below the surface. And it does so in a format that makes any effort to have a rational discussion about the "Good Time" law that is the basis for the attack, nor does it even explain why Jenkins was even initially in jail or what circumstances led to his eligibility for early release. As with many similar political ads over the years, the ad is meant to appear to base emotions and, yes, racial prejudice, and there's really no other way to describe that other than utterly despicable.
Finally, as Rick Wilson states in the quote above, the ad itself seems completely out of step with the times and in direct contradiction to the stated objectives by Republican leaders and politicians to reach out to minority groups. In many cases, those efforts are genuine, and Senator Paul's efforts on issues like sentencing reform are to be commended. However, when an ad like this runs and get press attention nationwide, as the NRCC had to know that it would, it completely undercuts those efforts and reinforces the image of the Republican Party that already exists in the minds of minority groups and younger voters. Regardless of what happens in the Nebraska 2nd, that seems like a very high price to pay for one Congressional District.