Wendy Davis's Campaign Takes The Low Road
The nastiest campaign ad of the 2014 cycle is here, and Wendy Davis should be ashamed of it.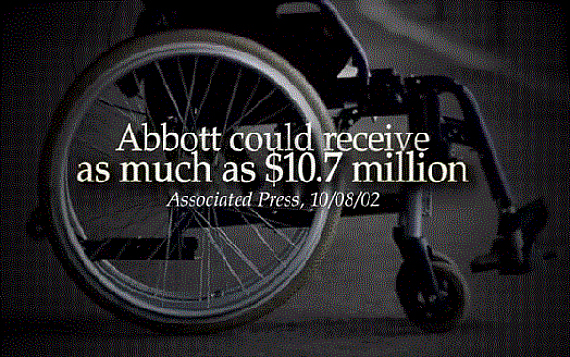 Wendy Davis is out with an ad attacking Greg Abbott, the Republican nominee for Governor of Texas, that is receiving much criticism today, and which likely will go down as the nastiest ad of the 2014 campaign cycle:
Texas state Sen. Wendy Davis' latest television ad directly references gubernatorial rival Greg Abbott's partial paralysis — including the image of an empty wheelchair — to charge the Republican with hypocrisy.

The spot says Abbott filed a lawsuit following the accident that led to his paralysis, but then worked to limit liability to other accident victims. The Abbott campaign calls the ad a "historic low."

"A tree fell on Greg Abbott. He sued and got millions," a narrator says over the image of a wheelchair. "Since then, he's spent his career working against other victims."

Abbott was paralyzed in 1984 when, out jogging during a storm, he was struck by a falling oak tree. He sued the homeowner and eventually won a $10 million settlement. He has used a wheelchair since the accident.

The spot cites three cases Abbott worked on as a state Supreme Court justice or attorney general. In one case, Abbott's office argued a woman with an amputated leg wasn't disabled because she had a prosthetic limb. In another, he said a door-to-door sales company wasn't responsible when one of their employees raped a woman. (The Texas Supreme Court ruled in the woman's favor.) In the third, he helped a hospital defend themselves against a lawsuit after a doctor botched surgeries.

"Greg Abbott," the narrator says. "He's not for you."

The Abbott campaign responded forcefully.

"It is challenging to find language strong enough to condemn Sen. Davis' disgusting television ad, which represents a historic low for someone seeking to represent Texans," said Abbott spokeswoman Amelia Chasse. "Sen. Davis' ad shows a disturbing lack of judgment from a desperate politician and completely disqualifies her from seeking higher office in Texas."
Here's the ad:
There is, predictable, plenty of criticism for this ad being aimed at Davis from the right, but even people on thNegative ads are, of course, have a long history in American politics that predates our modern mass media. During the Elections of 1860 and 1864, President Lincoln was referred to by numerous epithets and insults, and insinuations were made about him possibly having African-American blood. Allegations regarding a child born out of wedlock hovered over all three of Grover Cleveland's campaigns for the Presidency in the late 19th Century. And, of course, the Election of 1800, which most historians consider the first Presidential contests involving two organized political parties, was remains among the nastiest in history, as this amusing video demonstrates quite aptly. In more recent times, campaigns have made use of television to deliver incredibly negative message about their opponents. The most famous, of course, is the so-called "Daisy" ad that ran just once during the 1964 Presidential Campaign, but which helped set the tone for a Johnson campaign that sought to portray Barry Goldwater as someone who couldn't be trusted in the White House. Many people saw the so-called Willie Horton ad, which was run in 1988 against Michael Dukakis by a group that was not affiliated with the George H.W. Bush campaign, as one of the most negative ads since the Johnson ad ran. Below, the Presidential level, Jesse Helms ran an ad during his 1990 re-election campaign that has been called among the most racist campaign commercials ever run by a candidate for office.
I've said in the past that there isn't  anything necessarily bad about negative campaign ads, especially when you're talking about the kind of "negative" ads that highlight things about an opponents record, past positions, or past life that the public is not aware of. These kinds of ads perform a useful service for voters even when they come across as "attack" ads. It strikes me, though, that there is a line between that kind of ad and the kind of gratuitous attack ads that many people think of  when they think of "negative campaigning." This is especially true when these ads focus on things that have nothing to do with the race itself and instead delve in to personal attacks or appeal to base emotions that have nothing to do with the issues. For example, regardless of what one thinks of the candidates in the races affected by these ads, there was certainly something nasty about each of them, especially the ads that appealed to racial prejudices to advance a political agenda. While I would never suggest banning such ads, they do deserve to be condemned, and candidates who run them deserve opprobrium.
While Davis's ad doesn't do that, of course, there is something beyond the pale about using Abbott's disability and the fact that he sought damages from the parties responsible for the injuries that caused it against him in this manner. Abbott himself has never made the fact that he has confined to a wheelchair an issue in the campaign, and it certainly hasn't hurt him in his campaigns for office in Texas. Using it in this fashion strikes me as despicable and something of a low blow. Even the substance of the ad, which apparently attempts to draw some kind of distinction between Abbott seeking compensation for his injuries and the manner in which he has handled certain cases that came before him as a Judge and as Attorney General is bogus. In both cases, the Davis campaign is basically attacking Abbott for doing is job, nothing more and nothing less. As an Associate Justice on the Texas Supreme Court, Abbott was charged with interpreting the law as it applied to the cases before him. As Attorney General, his job is to represent the legal interests of the State of Texas in court and before government agencies zealously and with the interests of his client, the state, at the forefront of his priorities. As I've noted before when a similar ad was run against the Democrat running against Governor Nikki Haley in South Carolina, this kind of ad is deeply disturbing. There is, quite simply, no similarity between how Abbott acted in response to his injuries and the positions he took as Associate Justice and Attorney General, and the Davis campaign should be ashamed for putting this ad out there.
The ad is obviously being condemned on the right, but the Davis campaign is also being criticized from the left by people who are otherwise inclined to support the campaign. Mother Jone's Ben Dreyfuss, for example, calls the ad "offensive and nasty," and says that it shouldn't exist. Additionally, as Aaron Blake notes, this kind of ad is the kind of desperation move that one sees from a campaign that is losing and losing badly. In Davis's case, she has trailed Abbott by double digits in polling for months now, and the RealClearPolitics Average currently gives Abbott an 11.3 point average in the race. In other words, Davis is going to lose this race. It's too bad she couldn't lose with dignity.