Republicans Against The Sixth Amendment
Republicans attack an attorney for doing his job. So much for that whole "constitutional conservative" thing, I guess.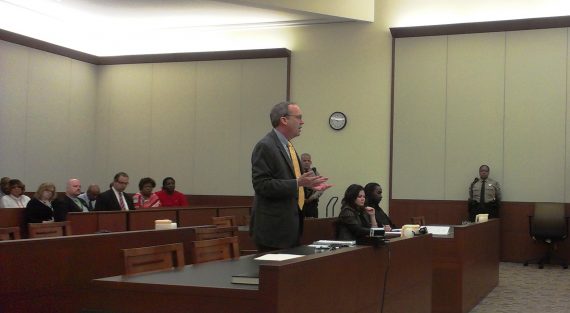 The Republican Governors Association is out with an ad attacking Nikki Haley's Democratic opponent that may well be one of worst campaign ads in recent memory:
If you want to run for office some day, you better not believe that everyone is entitled to legal counsel before the government locks them away. Or, at least, that's the message sent by a new Republican Governors Association ad targeting Vincent Sheheen, a former prosecutor who now represents civil and criminal clients in private practice. Sheheen is a Democratic candidate for governor against incumbent Nikki Haley (R-SC).

The RGA's ad attacks Sheheen for "defend[ing] violent criminals" and ends with the tagline "Vincent Sheheen protects criminals not South Carolina."

The implication of this ad is that Sheheen is somehow unfit for public office because he once provided legal counsel to people accused of crimes. Indeed, the ad lists several serious crimes, including sex offenses and child abuse, that Sheheen's clients were accused of committing. It is likely that many of these clients are very, very bad people.
Here's the ad:
Ed Kilgore comments:
You'd think the "constitutional conservatives" of the Republican Party might be aware there's an item in the Bill of Rights—the Sixth Amendment to be precise—that guarantees those accused of criminal acts the right to "the assistance of counsel." A really deep-thinking constitutional conservative might even understand that we don't know who the "criminals" are until they are given a fair trial. In an especially despicable little twist, the anonymous narrator of this ad twice notes that Sheheen was paid for defending "violent criminals who abused women." Would it have been better if he had represented them for free?
And Steve Benen notes that this isn't the first time we've seen Republicans attack attorneys for, well, doing their job:
In early March, the Senate rejected Debo Adegbile, President Obama's nominee as an assistant attorney general, in large part because members in both parties forgot a rather basic American principle: attorneys are not supposed to be judged by the crimes of their clients.

In the case of Adegbile's nomination, we saw an extremely well-qualified attorney with a classic American background – he's the child of a mixed-race family, who overcame poverty to become an accomplished Supreme Court litigator – who was nevertheless rejected by the Senate. Adegbile worked on the legal team that successfully persuaded a federal court to commute Mumia Abu-Jamal's death sentence.
The basic implication of this ad, of course, is that Sheheen is not fit to be Governor of South Carolina because he represents guilty people for money. Indeed, it's hard to garner any other lesson from the ad other than this. What makes it so despicable is the fact that the RGA is essentially attacking Shaheen for doing something that is absolutely essential to the proper functioning of our justice system. Having access to counsel is a right guaranteed by the Sixth Amendment, and the rest of the rights that people are entitled to when accused of crimes would be meaningless if there weren't attorney out there willing to defend even people accused of the most despicable of crimes. It's most likely true that most of the people that Sheheen represented in Court over the course of his career were indeed guilty of the crimes they were accused of, and probably of others as well. However, that's an irrelevant point. Our criminal justice system presumes that everyone accused of a crime is innocent until they are proven guilty beyond a reasonable doubt. That means that every person accused of a crime deserves representation by competent counsel whose job it is to protect their rights and force the state to meet its burdens of proof. Implying that there is something wrong with this to the point that a person who works as a criminal defense attorney is unqualified to hold public office, as this RGA ad does is nothing short of reprehensible.
Kilgore is correct to note the hypocrisy of a political party that likes to trumpet its devotion to the Constitution turning around and attacking an opponent for performing a task that is protected, indeed necessitated, by that same Constitution. However, it's not like this ought to be very surprising. We've seen plenty of examples of Republicans attacking people for exercising their rights under the Fifth Amendment and supported a President who used the "War On Terror" to eviscerate the Fourth Amendment. Indeed, one seriously doubts that most "constitutional conservatives" would be quite so upset about the NSA's data mining program if the President were a Republican. Conservatives haven't shown much respect for the First Amendment over the years, either, and their antipathy to the 14th Amendment when it comes to issues like the rights of immigrants, legal or illegal, and marriage equality, has been on display for many years. Of course, if they end up before a judge someday, they're going to want an attorney like Sheheen defending them. They just apparently don't think anyone else should have that right.