Conservatives Attack Hillary Clinton For Being A Criminal Defense Attorney 40 Years Ago
Once again, Republicans are attacking someone for doing a job the Bill of Rights itself makes necessary and important.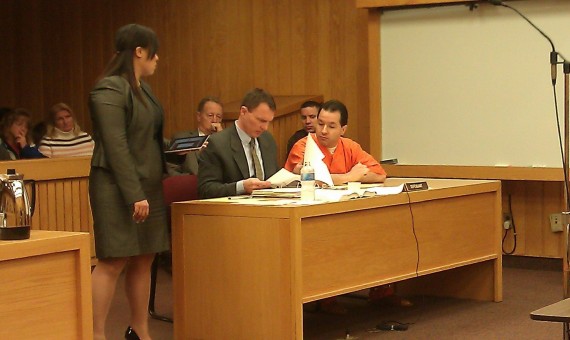 Earlier this week the Washington Free Beacon, a conservative online publication that has gained significant traction on that side of the aisle in the past year or so, published a story based on recordings of an interview with Hillary Clinton in the 1980s in which she discussed her representation of a man  named Thomas Alfred Taylor, who was accused of raping a twelve year old girl. It was, apparently, one of the first cases that Hillary handled as a young attorney just out of law school and trying to build a legal career in Arkansas, where she had moved with her new husband. As you might expect, the Free Beacon's version of events paints Clinton in the worst possible light, but it's a necessary starting point:
Newly discovered audio recordings of Hillary Clinton from the early 1980s include the former first lady's frank and detailed assessment of the most significant criminal case of her legal career: defending a man accused of raping a 12-year-old girl.

In 1975, the same year she married Bill, Hillary Clinton agreed to serve as the court-appointed attorney for Thomas Alfred Taylor, a 41-year-old accused of raping the child after luring her into a car.

The recordings, which date from 1983-1987 and have never before been reported, include Clinton's suggestion that she knew Taylor was guilty at the time. She says she used a legal technicality to plead her client, who faced 30 years to life in prison, down to a lesser charge. The recording and transcript, along with court documents pertaining to the case, are embedded below.

The full story of the Taylor defense calls into question Clinton's narrative of her early years as a devoted women and children's advocate in Arkansas—a narrative the 2016 presidential frontrunner continues to promote on her current book tour.

Her comments on the rape trial are part of more than five hours of unpublished interviews conducted by Arkansas reporter Roy Reed with then-Arkansas Gov. Bill Clinton and his wife in the mid-1980s.

(…)

Twenty-seven-year-old Hillary Rodham had just moved to Fayetteville, and was running the University of Arkansas' newly-formed legal aid clinic, when she received a call from prosecutor Mahlon Gibson.

"The prosecutor called me a few years ago, he said he had a guy who had been accused of rape, and the guy wanted a woman lawyer," said Clinton in the interview. "Would I do it as a favor for him?"

The case was not easy. In the early hours of May 10, 1975, the Springdale, Arkansas police department received a call from a nearby hospital. It was treating a 12-year-old girl who said she had been raped.

The suspect was identified as Thomas Alfred Taylor, a 41-year-old factory worker and friend of the girl's family.

And though the former first lady mentioned the ethical difficulties of the case inLiving History, her written account some three decades later is short on details and has a far different tone than the tapes.

"It was a fascinating case, it was a very interesting case," Clinton says in the recording. "This guy was accused of raping a 12-year-old. Course he claimed that he didn't, and all this stuff" (LISTEN HERE).

Describing the events almost a decade after they had occurred, Clinton's struck a casual and complacent attitude toward her client and the trial for rape of a minor.

"I had him take a polygraph, which he passed – which forever destroyed my faith in polygraphs," she added with a laugh.

Clinton can also be heard laughing at several points when discussing the crime lab's accidental destruction of DNA evidence that tied Taylor to the crime.
Not surprisingly, the Free Becon's story was picked up by several conservative bloggers, including Jim Geraghty, who wondered if Clinton 'regretted' her actions in the forty year old case. The story received new life later in the week when The Daily Beast Josh Rogin ran an interview with the woman who was victim in the case, and who claimed that Clinton had smeared her during the course of her representation of the Defendant. Specifically, this accusation apparently involves an affidavit in which accusations are made about the girl's mental instability at the time of the attack. That affidavit, which is included in a collection of documents related to the case that the Free Beacon has posted online, was in support of a motion requesting a psychological examination of the victim in the case. While this may seem like an odd request in the modern era, it was not at all uncommon in rape cases in the 1970s, even in cases involving accusations made by children. In the interview, the victim asserts that this was a falsehood, which is a serious allegation since it essentially accuses Clinton of lying under oath to a Judge. Ed Morrissey picks up on this part of the story to argue that this entire story is about more than just an attorney's zealous representation. The problem with that line of argument is that Clinton's statement in the affidavit that she "has been informed" of certain facts regarding the victim would only be a lie if it could be proven that she had not been so informed. Nearly 40 years after the fact, that's impossible to prove, and it's pretty weak sauce for an argument that Clinton did anything wrong here.
The connotations of the article are blindingly obvious, of course. The Free Beacon, which is yet another in the long line of partisan websites that exist on both sides of the aisle which purport to practice journalism but are in fact primarily interesting in partisan advocacy, is attempting to smear Clinton based on her representation of someone who was accused of a heinous crime, the rape of a child. The fact that they are talking about an event that happened thirty-nine years in the past, that Clinton's involvement in the case was already public knowledge, including being the subject of a 2008 piece by Glenn Thrush in New York Newsday, doesn't really matter. Indeed, the Beacon's original article notes that Clinton was doing nothing different from what every other criminal defense attorney does in cases they are assigned on a daily basis:
From a legal ethics perspective, once she agreed to take the case, Clinton was required to defend her client to the fullest even if she did believe he was guilty.

"We're hired guns," Ronald D. Rotunda, a professor of legal ethics at Chapman University, told the Washington Free Beacon. "We don't have to believe the client is innocent…our job is to represent the client in the best way we can within the bounds of the law."
Along those same lines, The Volokh Conspiracy's  Jonathan Adler laments the Beacon article, along with the rather predictable response to it from the right, as yet another example of the Republican's willingness to attack attorneys for doing their job:
What should we make of this story?  Perhaps nothing more than that Hillary Clinton represented someone in need and fulfilled her duty as a member of the bar to provide a zealous defense of her client.  This is not something for which she should be attacked.  We are all the worse off if the message sent to young lawyers is that representing guilty or unpopular clients is likely to be a political liability down the road.  Ably and effectively representing a criminal defendant — even one you believe to be guilty — is not "scummy" or inappropriate. Forcing the state to prove its case before it deprives an individual of their life, liberty or property is a noble endeavor.  So while I think the story is newsworthy, I think most of the attacks on Clinton for this episode are misplaced, and a bit opportunistic. [Note that some attacking Clinton are also calling for more more due process protections for college students accused of rape.]

(…)

The bottom-line here is that Hillary Clinton's work on this case as a young attorney 40 years ago is interesting and newsworthy, but that's about it.  Unless and until more damaging evidence emerges, there's no basis for the new attacks on her.  Anti-Hillary folks should look elsewhere.

Contra The Washington Free Beacon, there is nothing "scummy" or "semi-sociopathic" about what she did (and, no, I don't find the uncomfortable laughter on the audio tape interview with Clinton a decade-or-so after the fact to be troubling either — listen to it for yourself.)  She engaged in able and (as far as we know) ethical defense work — and defense work is a noble calling.  The WFB may be correct that it's not a winning political argument to defend the work that defense attorneys do.  If so, that's a sad commentary on our political system, and not something thoughtful commentators should celebrate or exploit.
This isn't the first time that conservatives have attacked defense attorneys for doing their job. Almost as soon as he was named as President Obama's nominee for Attorney General in 2009, Michelle Malkin and other conservatives attacked Eric Holder because Covington & Burling, the law firm at which he was a partner prior to being nominated, had represented several men who had been held at the prison at Guantanamo Bay. That accusation continues to follow Holder to this day despite the fact that he never worked on any such cases and that Covington & Burling is a 700 lawyer firm with offices all over the world. More recently, the Republican Governor's Association ran ads against the Democratic challenging Governor Nikki Haley in South Carolina due to his past as a criminal defense attorney. Adler had written about that incident when it occurred  here and here, and I also lamented the GOP's willingness to demonize something that is a necessary part of our criminal defense system:
 What makes it so despicable is the fact that the RGA is essentially attacking Shaheen for doing something that is absolutely essential to the proper functioning of our justice system. Having access to counsel is a right guaranteed by the Sixth Amendment, and the rest of the rights that people are entitled to when accused of crimes would be meaningless if there weren't attorney out there willing to defend even people accused of the most despicable of crimes. It's most likely true that most of the people that Sheheen represented in Court over the course of his career were indeed guilty of the crimes they were accused of, and probably of others as well. However, that's an irrelevant point. Our criminal justice system presumes that everyone accused of a crime is innocent until they are proven guilty beyond a reasonable doubt. That means that every person accused of a crime deserves representation by competent counsel whose job it is to protect their rights and force the state to meet its burdens of proof. Implying that there is something wrong with this to the point that a person who works as a criminal defense attorney is unqualified to hold public office, as this RGA ad does is nothing short of reprehensible.
In the South Carolina case, at least the attacks on Haley's opponent involved something that had occurred relatively recently in the past, and indeed involved what Shaheen had been doing for a career outside of politics. In Clinton's case, we are talking about a case that was over four decades ago, and which occurred at the start of Clinton's legal career. Like many young attorneys, Clinton was no doubt interested in obtaining courtroom and trial experience, and one of the best ways to do that even today is to take part in representing people accused of crimes who can't afford an attorney, which was apparently the case here. Taylor was entitled to an attorney in any case, and he was entitled to have an attorney who represented his interests zealously within the bounds of the law. That's exactly what Clinton did here, and it strikes me as improper to attack her for doing so.
This impropriety would seem to be especially true for a political party that claims to value the Constitution and the Bill of Rights given the fact that they are essentially attacking people who are performing a necessary rule under those documents. The Sixth Amendment, of course, provides that every person is entitled to be represented by counsel in criminal trials such as the one that Taylor was faced with. It's also an oft-repeated axiom that, in our system, a person is presumed innocent until proven guilty. Given this, one would think that they would recognize the invaluable role that criminal defense attorneys play and they wouldn't be so quick to attack people for performing that job. After all, the signal things like the attacks on Shaheen and Clinton send is that young attorneys who might be thinking about a future in politics should think twice before defending people accused of crimes. Presumably, one would think that most people would want to encourage such representation on the off chance that they or someone in their family would need to take advantage of the services of a defense attorney at some point in the future.
Criminal defense work is a noble profession, more so when it involves the defense of people accused of heinous crimes and facing potentially long prison sentences, if not the death penalty itself. We should be thanking the people who do that work, not attacking them for cynical partisan gain.
Photo via MLive.com