'Democrat' Artur Davis Speaking at Republican Convention
A black 'Democrat' who seconded Obama's nomination in 2008 is endorsing Romney in 2012. It's not a big deal.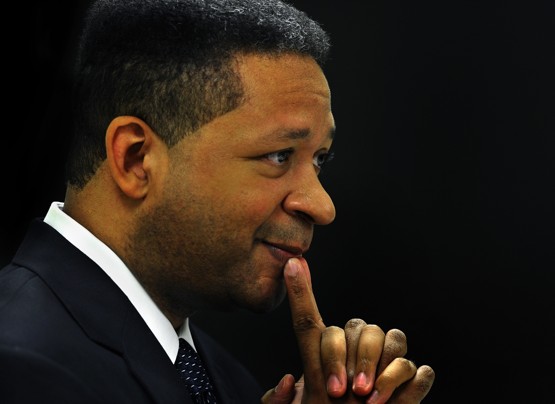 Following news that unnamed Republicans will speak at the Democratic convention, former Democratic Congressman Artur Davis announced that he'll be speaking at the Republican convention.
WaPo ("Artur Davis, who backed Obama in 2008, to speak at GOP convention"):
Former congressman Artur Davis, who officially seconded President Obama's nomination at the 2008 Democratic convention, said Wednesday that he will cap a remarkable political metamorphosis by addressing the Republican convention this month — calling for Obama's defeat.

Davis, 44, who served in the House as a Democrat from Alabama from 2003 to 2011, said in a telephone interview that he has been given a speaking slot at the Aug. 27-30 Republican convention in Tampa.

[…]

Davis has since become a vocal advocate for Republican presidential candidate Mitt Romney in Virginia, where he now lives. On Wednesday, he spoke on Romney's behalf at an event in Ballston, attacking Vice President Biden for a recent comment that Republicans would put voters "back in chains."

Davis accused Biden on Wednesday of spreading "racial viciousness" and said the vice president's comment "ought to embarrass President Obama." He said in a CNN interview: "It's a divisive tactic that's insulting to African Americans. It's insulting to the American people." He added, "It was wrong … and the president ought to say it was wrong."

[…]

While serving in the House, Davis became one of Obama's earliest and most vocal supporters on Capitol Hill. In 2008, he told the Democratic convention crowd that watching the nomination of Obama, a fellow African American, "tells us everything that is right about my country."
Davis is an impressive figure, having graduated from Harvard and Harvard Law and gotten elected to Congress at 35. He represented Alabama's "majority minority" district, the 7th, where I lived as a graduate student in the 1990s (I'd just moved to Virginia when he was elected).
Is this a big "get" for the Republicans? Not really. As with Zell Miller and Joe Lieberman, the degree to which he's really a Democrat is in dispute.
Sure, Davis endorsed Obama four years ago and he's nominally a Democrat. And, yes, he's black. Still, he's contemplated running for Congress as a Republican, voted against ObamaCare, and  has written for National Review.
He ran for governor of Alabama in 2010 but lost in the Democratic primary. He received widespread criticism for running as a centrist and ostentatiously refusing to seek the support of the state's black political machine. Consequentially, he actually lost the black vote, including his own district. Charles Dean's write-up for the Birmingham News ("Artur Davis' loss in Alabama's black precincts 'stunning") puts it in perspective:
Artur Davis had hoped to make a different kind of history than he did Tuesday. He had hoped to become the first black man in Alabama's 181-year history to win his party's nomination for governor. Instead, the 42-year-old Birmingham congressman became the first African-American candidate in a statewide Alabama race to lose the black vote. And he lost it overwhelmingly to white opponent Ron Sparks, who crushed Davis in the Democratic primary.

Sparks beat Davis in 61 of the state's 67 counties. In Davis' 7th Congressional District, an expanse of 12 counties that runs from downtown Birmingham southwest to Tuscaloosa and then dips down to include nine of the state's Black Belt counties, Davis managed to win just two counties, Choctaw and Sumter. Even there, his victory was slim; Sparks pulled 48 percent of the vote in those counties.

In predominantly black counties such as Wilcox and Perry, Sparks got 70-plus percent of the vote. In Greene, Marengo, Lowndes and Hale counties, Sparks picked up 60-plus percent of the vote. In Pickens, Dallas and Macon counties, Sparks got 50-plus percent of the vote.

Davis lost his home county, Jefferson, where Sparks racked up 58 percent of the vote. Davis won only a single majority black polling place in all of Jefferson County. He even lost his own polling place — Southtown Housing Community Center — by a handful of votes to Sparks.

In majority-white counties, the news was even worse for Davis, who had pinned his hopes for white votes on a record as a more conservative black lawmaker who was willing to build coalitions across race and party lines.

White voters didn't seem to buy it Tuesday. In heavily white-populated counties such as DeKalb, Jackson, Randolph and Cherokee, Sparks got 80-plus percent of the vote. Twenty-one of the state's 67 counties, most of them predominantly white, gave Sparks 70-plus percent of the vote. Another 24 counties gave Sparks 60-plus percent of the vote.

Davis' biggest win came in Mobile County, the state's second most-populous county. Davis picked up 60 percent of the vote there. Davis also beat Sparks in heavily Republican Shelby and Baldwin counties, where relatively few people cast Democratic ballots compared to Republican ones.

The magnitude of Sparks' win and Davis' loss shocked longtime political observers.

"It's stunning. It's absolutely amazing," said Birmingham-Southern College political science professor Natalie Davis. "You can't thumb your nose at your base and that is what Artur did when he voted no on health care. Still, when you look at how Davis lost a race that was so much his to win, it's just staggering."

Glen Browder, a former congressman and professor emeritus of political science at Jacksonville State University, said Davis gambled that, by voting no on President Barack Obama's health care overhaul and then refusing to court longtime black political organizations for their support, he would appeal to white voters. "And it is so clear now that Davis' gamble failed miserably," Browder said.
Indeed, Davis hinted on his personal blog a few months back that he might officially change parties.*
As with Lieberman, it's not shocking that Davis is embittered with a party that rejected him so soundly. Miller, who had been a hero of the Democratic Party before his raucous and over-the-top speech castigating John Kerry in 2004, was a big get for the Republicans. Davis, not so much.
________________
*I added this sentence to the original post and put scare quotes around 'Democrat' in the title subsequent to original publication.