Republican Congressman Declines To Condemn Person Who Asks "Who's Going to Shoot The President?"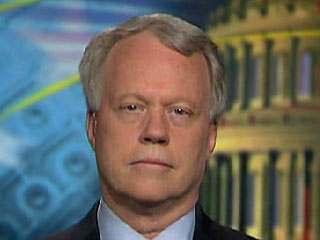 Georgia Congressman Paul Broun has gotten attention before for things that he's said., this time he's getting attention for something he didn't say:
A constituent at a town hall for Georgia Rep. Paul Broun drew laughter on Tuesday when asked, "Who is going to shoot Obama?" and the Republican didn't come anywhere near condemning the question in his response.

"The thing is, I know there's a lot of frustration with this president," Broun said, according to the Athens Banner-Herald. "We're going to have an election next year. Hopefully, we'll elect somebody that's going to be a conservative, limited-government president … who will sign a bill to repeal and replace Obamacare."

The question came after Broun asked who had driven the farthest to be at the Oglethorpe County event, and let that person ask the first question.

Brown's press secretary, Jessica Morris, confirmed to the paper that the question was asked. "Obviously, the question was inappropriate, so Congressman Broun moved on," she said. Morris did not immediately respond to POLITICO's request for comment Friday morning.
Sorry, not good enough. Someone asks about shooting the President and you move on? Even if it was a joke, it was a tasteless one, and the idiot who should've said ought have been called out. Instead, Broun treated it as a serious question.