Republicans Losing Fear of Trump
As the President becomes less popular, there are signs he's losing support from his co-partisans in Congress.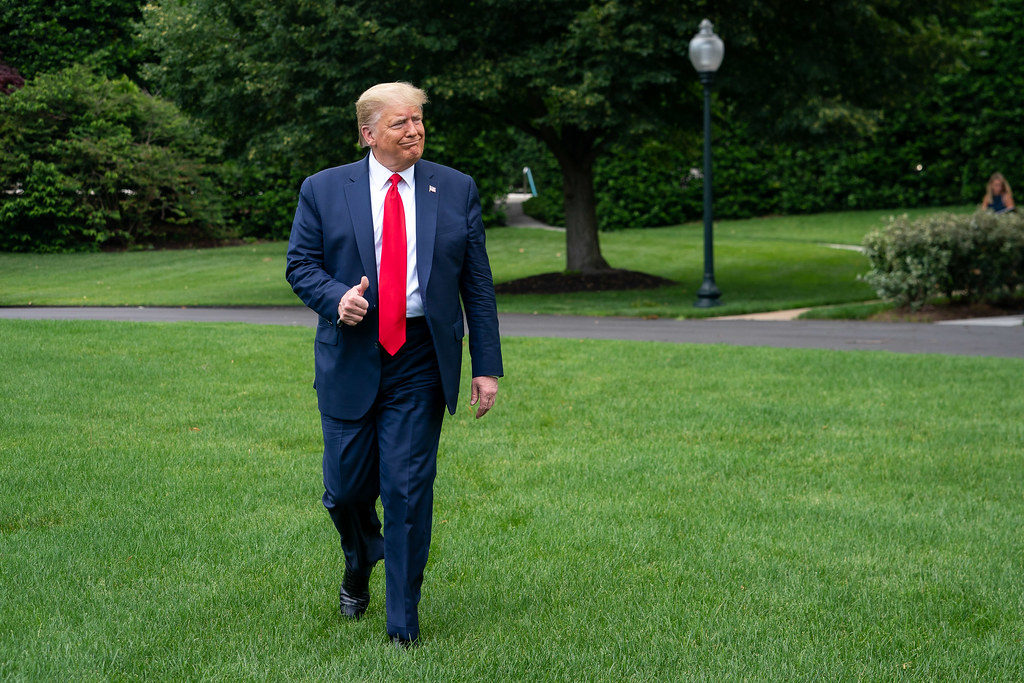 A series of headlines over the last couple of days have me wondering if we have finally reached the Emperor Has No Clothes point of the Trump presidency.
The two leading newspapers have very similar stories.
WaPo ("Trump pushes fights over racist legacy while much of America moves in a different direction"):
At a time when much of the country appears to be moving in a different direction, President Trump has charged into a series of fights over the nation's racist legacy — gambling that taking divisive stances on Confederate symbols and policing will energize his mostly white supporters in November.

But many Republicans and even some of Trump's own advisers worry that the approach risks further alienating voters who have already started to abandon him, including college-educated whites, and to harden opposition to him among minorities.

Though Trump has long sought to exploit class resentment and racial tensions for political gain, his decision to continue to do so in the wake of the death of George Floyd — an unarmed black man killed in Minneapolis policy custody — has left some in his orbit uneasy, and Democrats eager to capitalize on what some say is a racist president revealing his true beliefs.
NYT ("As Americans Shift on Racism, Trump Digs In"):
NASCAR is demanding that its fans no longer fly Confederate flags at races. The Pentagon and some Republican senators are open to renaming military bases that bear the names of Confederate soldiers. Corporate America is taking stances against racial injustice. A majority of Americans say the police show racial bias in their use of force, and a majority of self-described conservatives acknowledge protesters' frustrations are at least somewhat justified.

Yet with public opinion shifting quickly on racism in America, and even some of the most cautious leaders and institutions talking openly about discrimination and reconciliation, there is still one glaring outlier: President Trump.

Whether it is suggesting shooting protesters or siccing dogs on them, pre-emptively defending the Confederate names of military installations or arguing that his supporters "love the black people," Mr. Trump increasingly sounds like a cultural relic, detached from not just the left-leaning protesters in the streets but also the country's political middle and even some Republican allies and his own military leaders.
On the topic of renaming Southern bases named last century after Confederate leaders, Republican Congressional leaders are in open defiance.
CNN ("GOP-led panel moves to remove Confederate names on military assets amid Trump's opposition"):
A Senate plan to remove names of Confederate leaders on military assets has sharply divided Republicans — and has now put a GOP-led panel at odds with the White House at a time of a wide-ranging re-examination of race in the United States.

The amendment, offered by Democratic Sen. Elizabeth Warren, calls for the removal of names of Confederate leaders from all military assets — whether it's a base, installation, facility, aircraft, ship, plane or type of equipment — within three years. The plan was adopted behind closed doors by voice vote with the support of some Republicans, even as President Donald Trump condemned any action to remove Confederate leaders' names from military bases — and the White House vowed to veto any such legislative effort.

"There is always a history that we don't want to forget," Sen. Mike Rounds, a South Dakota Republican who sits on the Senate Armed Services Committee, said when asked about the plan, which he supports. "With regard to that I agree with the President that we don't want to forget our history. … But at the same time that doesn't mean that we should continue with those bases with the names of individuals who fought against our country."

The amendment comes at a precarious time for Trump, who has struggled to win support within the black community and has seen his poll numbers drop sharply amid his handling of both the coronavirus pandemic and the deep racial unrest caused by the death of George Floyd, an unarmed black man killed while in Minneapolis police custody.

The amendment put GOP leaders in an awkward spot — stuck between their efforts to court black voters in a high-stakes election year and a President who demanded that Republicans tow the line and fight back on the amendment.

On Thursday, Senate Majority Leader Mitch McConnell declined to say whether he would support the plan, telling CNN: "That'll be up to the committee to decide."
To be clear, the Republican Party is very much still the party of Trump. He still enjoys approval from something like 78 percent of registered Republicans and many, if not most, Republican Senators are backing his play of these issues.
Still, we're seeing much more open defiance and not just from the likes of Mitt Romney. To the extent Trump and his white nationalist platform are seen as hurting the party and, most importantly, the re-election prospects of Republican politicians, they're going to start abandoning ship. That's especially true if public sentiment continues to hold as we close in on Election Day and it becomes clear Trump is about to become a lame duck.