Republicans Say Obama Called Americans "Lazy," Except He Didn't
Another bad meme from the GOP.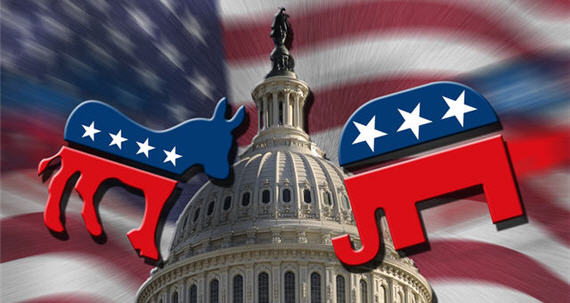 A remark made by President Obama during the Asia-Pacific Economic Conference is being used by Republican Presidential candidates to attack the President:
A video clip of President Barack Obama calling America "a little bit lazy" is quickly becoming a focus of Republican campaigns, and GOP operatives say it will get plenty of play not only on the presidential battlefield but also in down-ballot congressional races.

Obama was talking about America's pursuit of foreign investment, but the context may not matter as much as the punch line.

"Can you believe that? That's what our president thinks is wrong with America? That Americans are lazy?" Republican presidential candidate Rick Perry said in a campaign ad released Wednesday. "That's pathetic."

Rival Mitt Romney struck in less expensive fashion on Tuesday: "Sometimes, I just don't think that President Obama understands America," he said at a campaign event.

One tier down, several Republican congressional candidates, including Senate hopefuls from swing states, such as Heather Wilson of New Mexico and George Allen of Virginia, are already using the comment on the trail.

While it took the word "lazy" a few days to amble into the political sphere — Obama was speaking at last weekend's Asia-Pacific Economic Cooperation conference in Hawaii — it is now spreading across the campaign landscape on winged feet. Republicans say it's another example in a troubling trend of the president trash-talking his own country, and they warn that the video is now sitting in the vault, ready to be rolled out for campaign ads at all levels next fall. Moreover, some Democratic strategists privately concede that it was a bad moment for the president, even if it's harder to pin the remark on other Democrats.

"You will definitely see more of it," said Carl Forti, a former top official at the National Republican Congressional Committee who is a founder of political consulting firm Black Rock Group. "It's definitely something campaigns will use."
Here's the Rick Perry ad that this has inspired:
The problem is that the ad, and the new Republican meme, are a pretty clear distortion of what the President actually said:
The full context of Obama's remarks made Saturday during a meeting of CEOs in Honolulu indicates he wasn't suggesting that at all.

Boeing CEO James McNerney asked Obama about his thinking on the perception by some countries of "impediments to investment" in the U.S.

Obama replied that "we've been a little bit lazy" about actively trying to attract private foreign investors to U.S. soil — referring broadly to American government and business sectors, not the American people themselves.

Obama's comments in full:

"I think it's important to remember that the United States is still the largest recipient of foreign investment in the world. And there are a lot of things that make foreign investors see the U.S. as a great opportunity — our stability, our openness, our innovative free market culture.

But we've been a little bit lazy, I think, over the last couple of decades. We've kind of taken for granted — well, people will want to come here and we aren't out there hungry, selling America and trying to attract new business into America. And so one of things that my administration has done is set up something called SelectUSA that organizes all the government agencies to work with state and local governments where they're seeking assistance from us, to go out there and make it easier for foreign investors to build a plant in the United States and put outstanding U.S. workers back to work in the United States of America.

And we think that we can do much better than we're doing right now. Because of our federalist system, sometimes a foreign investor comes in and they've got to navigate not only federal rules, but they've also got to navigate state and local governments that may have their own sets of interests. Being able to create if not a one-stop shop, then at least no more than a couple of stops for people to be able to come into the United States and make investments, that's something that we want to encourage."
That's not calling the American people lazy. That's saying that we as a country, businesses and government, have been complacent in promoting investment in America abroad.  You can criticize that comment for suggesting that business and government should be involved in some kind of partnership, but that's a different argument. Perry's ad is misleading, deceptive, and about as vapid and empty as the rest of his campaign has become.
This is part of a broader pattern we've seen over the past four years or so. Republicans have said virtually since the day that he entered office that the President has gone around the world "apologizing for America," for example, except, as I've noted before, there's absolutely no support for that argument. There are plenty of reasons to oppose this President. I could come up with a boatload of them. Making up nonsense, taking words out of context, and deliberating editing video to make it appear that someone said something they didn't is stupid and sophomoric.